According to the UN food and agriculture organization, global food prices increased by about 130% since the year 2000. Many explanations were offered over the years, ranging from arguments for a commodity super-cycle, to increased wealth in the developing world and the proliferation of bio-fuels, causing demand to push prices higher. The real story however is this: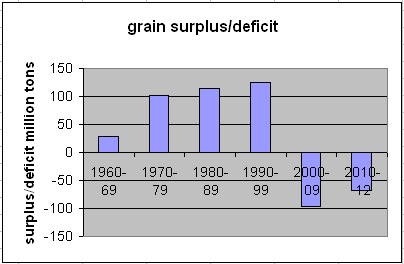 There have been many years in past decades where there was a supply deficit, other years there was a surplus, but since 1960, there was never a decade, which had a grain deficit, until last decade. The current decade as we can see is not shaping out to be much better either, although it is still way too early to say whether it will be a second decade in a row of reserve draw-downs. The USDA forecasts a significant global grain surplus for the current year, but even so, the current decade remains in deficit.
A report by the OECD predicts the decade to 2022 will see food production increase by an average of 1.5% per year, which is significantly less than the 2% average yearly increase we saw in the previous decade. We should remember that last decade we had a shortfall, in other words we consumed more than we produced, despite the more robust rate of production increase. The difference last decade was made up from stockpiles. Current global stockpiled reserves of about 500 million tons are considered to be adequate for about 75 days worth of consumption, but as my graph shows, in only one decade, we lost the equivalent of 20% of that. Before the turn of the millennium, we had almost 120 days worth of reserves, so we are clearly headed in the wrong direction and the trend is not likely to be broken for at least another decade if we are to go by the OECD report. Our cushion of food reserves measured in days of stockpiles available gets thinner as time passes in the absence of a net surplus, because yearly consumption tends to grow. When the stockpiles are shrinking, while consumption rates increase, that cushion evaporates very fast.
If consumption continues to increase at an average rate of 2% per year, while production will only increase by 1.5% per year, by 2022, we will have our food reserve cushion cut to just 45 days. To put things into perspective, going into the millennium we had enough food reserves to last for a third of a year. It would have been enough to last us potentially until somewhere on this planet, we would have entered into a harvest season, relieving the shortage. 45 days is only a month and a half so whatever the nature of the food disruption event such as an extreme drought or lack of summer temperatures for a whole summer, stretching across one of the hemispheres, we will no longer have anywhere near enough to feed everyone until we manage to get more food to the market. In other words, crop failure in one of the hemispheres would be catastrophic. At some point leading up to such a precarious situation panic will set in at national level, especially in countries where domestic food production potential is limited, such as is the case with the Middle East region. Panic buying and hoarding will push prices into a super-spike like we have never seen before. Such a spike will not be broken until there will be concrete evidence of significant demand destruction taking shape and a reverse of the trend away from eating into stockpiles and towards re-building them.
Needless to say that there are few goods out there, which can cause more suffering once demand destruction sets in than food. Other commodities such as petroleum, which we constantly argue about, whether it will meet our future needs or not are also very important, which is precisely why we argue the topic passionately. Food availability is not only something we might argue passionately about, we tend to start revolts over it. I should know, for I witnessed one such revolt myself in my childhood. Revolts tend to descend into a period of chaos. The chaos can persist and deepen or it can dissipate and lead to a return to normal life, depending in large measure on external stability.
As we see with the Arab Spring, which was sparked by a period of food price increase, the chaos can persist for many years after, as is the case with Syria and Egypt. Efforts to try to stabilize states like Egypt, including the recent $12 billion in donations courtesy of their oil-rich neighbors have not helped stabilize that state just yet. We need to contemplate the real possibility of dozens of countries descending into chaos, including some of the larger ones, such as India and maybe even China. We most definitely do not have what it takes to deal with such a scenario. Given the shrinking buffer we have at the disposal to fend off one or two bad global harvest years, we need to realize that we could be on the verge of a global crisis the likes of which we have not seen in a very long time and we are not prepared for it.
What could we do?
The first thing we need to consider is a clear strategy for dealing with such a crisis once it appears. The most important food crisis measure we need to consider seriously is to make sure to have a policy of immediate cessation of bio-fuel production as soon as we come to the realization that we are headed into a food crisis. The measure should come with a plan in place to make up for the lost fuel by releasing some of the petroleum reserves in stock. Better yet, a stockpile of usable gasoline should be established in order to have on hand a direct substitute for the lost volumes of ethanol.
Given that this is not only a short to medium-term problem, we need to start thinking of ways to deal with the reality of food availability constraints for the long term. Finding ways to prevent food waste is a good place to start. Providing under-developed countries where population growth is highest with more support to tackle their ballooning population growth trajectory is also something we should look at. Global population growth is still running at over 1% per year, which means that average yearly food demand cannot dip under 1% for more than a year or two, regardless of any measures we may come up with to curb food waste. Looking for ways to increase production tends to be the first choice for most, but at this point we need to realize that it is not enough. The market is already acting to encourage increased food production through higher prices, but as we can see we are still headed for slower production growth rather than faster as one would expect given the market price signal.
Most important thing of all is to start taking this issue seriously, because there is nothing more serious on this planet than food.
Disclosure: I have no positions in any stocks mentioned, and no plans to initiate any positions within the next 72 hours. I wrote this article myself, and it expresses my own opinions. I am not receiving compensation for it (other than from Seeking Alpha). I have no business relationship with any company whose stock is mentioned in this article.