Goldman Sachs (NYSE:GS) has been receiving more than its fair share of positive press recently that has the potential to help shares run higher from current levels. Recently, Goldman was added to the Dow Jones Industrial Average, presumably to replace Bank of America (NYSE:BAC) that was removed. While this news may not, in itself, drive the stock higher, it is a positive for the stock - becoming a component of one of the oldest stock indexes in the U.S. is good news for the stock.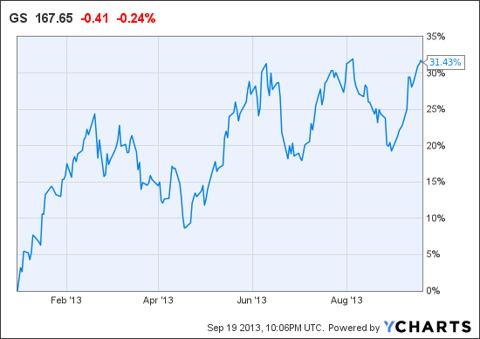 Likely to have a more substantial catalytic effect on the stock is the announcement that Twitter selected Goldman to be the lead underwriter on its IPO. Largely as a result of the negative outcome when Morgan Stanley (NYSE:MS) handled the Facebook (NASDAQ:FB) IPO a few years ago. This is likely to be one of the best covered IPOs in quite some time - the positive press and financial benefit to Goldman of taking the lead position could spark shares to trade higher, particularly if the offering goes smoothly. In the video below, I discuss some of Goldman's successes and what it could mean for the stock.
Disclosure: I have no positions in any stocks mentioned, and no plans to initiate any positions within the next 72 hours. I wrote this article myself, and it expresses my own opinions. I am not receiving compensation for it (other than from Seeking Alpha). I have no business relationship with any company whose stock is mentioned in this article.