Starbucks (NASDAQ:SBUX) recently hit a new 52-week high, following on the momentum that shares have been riding since the company announced favorable earnings results. At the release, the company beat earnings and revenue expectations and increased guidance for both the next quarter and the next full year. Additionally, foot traffic increased and the company was able to keep costs under control.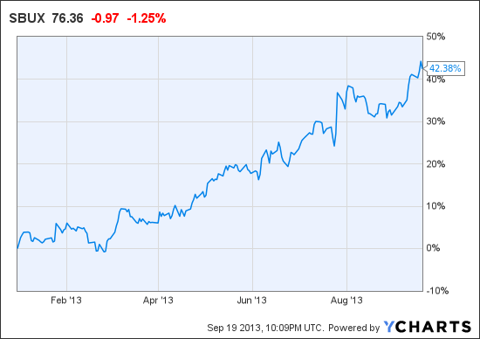 Another big driver, and in my opinion, an undervalued one is the increasing popularity of Starbucks' loyalty program. The program relies heavily on the Starbucks' app on Apple's (NASDAQ:AAPL) iOS. The program has a powerful ability to turn coffee buying into an interactive, app-driven experience. This feature is likely to help the company boost sales and drive business. As a result, I think that, despite the strength of the stock thus far, it has the potential to go higher and deserves an allocation on your portfolio.
Disclosure: I have no positions in any stocks mentioned, and no plans to initiate any positions within the next 72 hours. I wrote this article myself, and it expresses my own opinions. I am not receiving compensation for it (other than from Seeking Alpha). I have no business relationship with any company whose stock is mentioned in this article.