For the past several months, Dennis Gartman of the famed "Gartman Letter" had been a big proponent of gold, but recently in an interview with CNBC, he reversed his position and admitted that he had been wrong. Mr. Gartman, who looked at the stabilizing situation in the Middle East as a catalyst for gold's recent slide, cited several factors that had led to his change of heart. Gold, as represented by the SPDR Gold Trust (NYSEARCA:GLD) had risen by over 10% from the beginning of July until the recent reversal.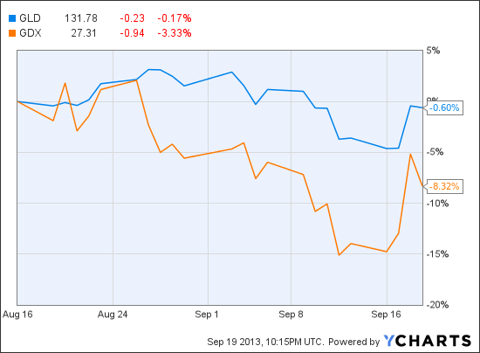 When noted commentators change position, it can often be a catalyst in itself. Similarly, noted bond investor Jeff Gundlach recently mentioned that he "kinda liked" the Gold Miners ETF (NYSEARCA:GDX). The gold miners, including majors like Barrick Gold (NYSE:ABX) and Newmont Mining (NYSE:NEM), have underperformed the commodity for some time. This reversal by Gartman and endorsement of the miners by Gundlach might reverse this disparity, making it worth considering.
Disclosure: I have no positions in any stocks mentioned, and no plans to initiate any positions within the next 72 hours. I wrote this article myself, and it expresses my own opinions. I am not receiving compensation for it (other than from Seeking Alpha). I have no business relationship with any company whose stock is mentioned in this article.