Oil prices recently hit a 2-year high near $110 per barrel, largely because of ongoing tension over the situation in Syria. The story on oil prices is both a supply and a demand one, as various factors are contributing to both the spike and increased volatility. In addition to the Syrian question, supply disruptions in Libya coupled with positive news from the Chinese economy - driving demand - are pushing prices higher.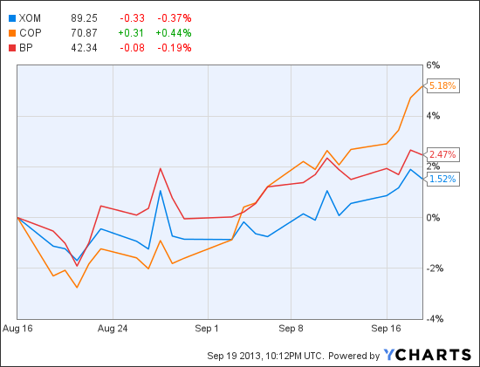 Looking at the bigger picture on the demand side, the Energy Information Administration (EIA) recently said that consumption grew by 0.7 million barrels per day in 2012. The EIA further expects that demand is expected to further grow by 1.1 million barrels per day in 2013. This news is generally bullish for oil majors like Exxon Mobil (NYSE:XOM), ConocoPhillips (NYSE:COP) and BP Plc (NYSE:BP), but as the situation has calmed, prices could well settle or contract. Ultimately, watching the situation in Syria should influence your investment decisions surrounding oil. In the video below, I discuss factors driving the price of oil and look at how you might decide to play the commodity as a result.
Disclosure: I have no positions in any stocks mentioned, and no plans to initiate any positions within the next 72 hours. I wrote this article myself, and it expresses my own opinions. I am not receiving compensation for it (other than from Seeking Alpha). I have no business relationship with any company whose stock is mentioned in this article.