Darden Restaurants (NYSE:DRI) has been posting the kinds of numbers dividend growth investors like to see: 4.4% yield, 10% 1yr DGR and 22.4% 5yr DGR. Hard to argue against that, right? Or is it?
Darden is the leading company in the casual dining world with names like Red Lobster, Olive Garden, LongHorn Steakhouse, The Capital Grille, Bahama Breeze, Seasons 52, Eddie V's Prime Seafood, and Wildfish Seafood Grille. It has managed to maintain annual sales growth at about 7% by opening new restaurant locations at a rapid pace. But is that growth sustainable? More importantly, is it driving earnings growth? Analysts are shaking their heads on the first question, and the hard numbers are saying "not so much" on the second.
For openers, S&P (requires login, see screen shot below) reports a PEG of 5.2, which should give a DRI investor pause.

Profit margin is a meager 4.8%. There are restaurants under that, but none that I'd feel confident holding.
EPS growth clocks in at a dismal -12.5% with a consensus estimate of a -16% YOY decline when DRI reports next. That's expected to be Friday.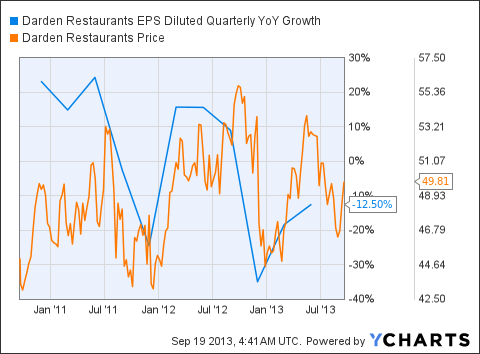 Compare this to, say, Dunkin' Brand Group (NASDAQ:DNKN) which sports an off-the-scale EPS growth of 232% (and a 1yr DGR of 26.67%). Or to get more down to earth, Cracker Barrel Old Country Store, Inc. (NASDAQ:CBRL) with EPS growth of 22% (1yr DGR of 87.50% and 5yr at 33%), Chipotle Mexican Grill, Inc. (NYSE:CMG) with EPS growth at 29% (no dividends, however), or even the potentially worrisome Texas Roadhouse (NASDAQ:TXRH) at 13.6% for EPS growth and 33% 1yr and 50% 2yr DGR. By comparison, DRI's situation does not feel like a scenario for sustaining its attractive dividend increases.
Debt is problematic as well. Total debt to equity is 1.36. Current ratio is 0.5 and the Quick ratio is 0.29. Even in the restaurant industry, where debt tends to run high, these numbers should be a source of concern for DRI shareholders.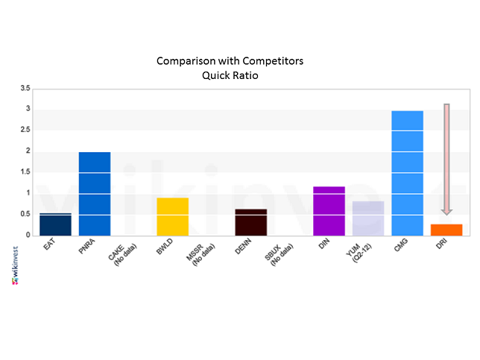 Darden's line up of casual restaurants is under pressure from competition from restaurants sporting a less pricey dining format. John R. Conway did a recent analysis of the changing consumer preferences noting the move away from the casual dining toward the hybrid-casual sector typified by Chipotle or Buffalo Wild Wings (NASDAQ:BWLD).
DRI was noted as having attractive valuations and dividend metrics when it was at a low point about a year ago. From following the comments and discussions at SA, I've inferred that several dividend growth investors who are active here opened a position in DRI about that time. I didn't, but I do remember taking a hard look. Those who did might want to consider closing that position. While I appreciate the strong "buy and hold" philosophy that many DGI adherents follow, one could pick up something like 8 to 10% at the current price. Not a lot compared to what's been available in the broad market; but, it is 8 to 10 quarters of dividend income plus a ticket out. After Friday's earnings report, it could be a while before that money is back on the table.
Disclosure: I have no positions in any stocks mentioned, and no plans to initiate any positions within the next 72 hours. I wrote this article myself, and it expresses my own opinions. I am not receiving compensation for it (other than from Seeking Alpha). I have no business relationship with any company whose stock is mentioned in this article.