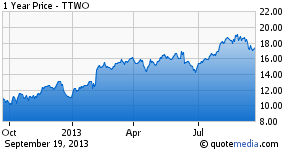 Take-Two Interactive Software (NASDAQ:TTWO) might be on the verge of having a great upcoming quarter after the release of the latest edition in the Grand Theft Auto series. On Tuesday, Take-Two Interactive released "Grand Theft Auto V," which generated more than $800 million worldwide in sales within the first 24 hours after its release.
In addition, the game has received rampant critical acclaim with IGN giving it a 10/10 and Game Informer giving it a rating of 98 out of 100. Sales of GTA V have already far surpassed those of its competitor Activision (NASDAQ:ATVI), which had broken records last year with their launch of "Call of Duty: Black Ops II" which made Activision $500 million within 24 hours after its initial release on November 16th 2012. Keeping that in mind, if "Call of Duty: Black Ops 2" ended up raking in over $1 billion within fifteen days of its release, then GTA V-with far superior critical acclaim and initial sales-is likely to generate at least two times its current profits.
Last February, Sterne Agee constructed a profitability model for Take-Two Interactive on the basis that GTA V had what they considered to be "great sales." In this detailed "hypothetical profitability model" they estimated the total development costs of the game to be $137.5 million and marketing costs to range anywhere from $69 to $109.3 million. Based on conservative estimates, in which the game only sold 15 million units total, Take-Interactive would still have stood to gain more than $193.6 million in operating profit and an earnings per share contribution of $2.11. However if the game had sold 25 million copies then Take-Two's operating profit from GTA V would have been over 390.8 million, with a total EPS contribution of $4.26.
Following Sterne Agee's conservative profitability model we can assume that Take-Two has already turned an operating profit of $193.6 million with over 14 million units of the game already sold in the first day according to retailers. Unlike other forms of media such as film, the video game industry typically doubles its sales over the course of the following weeks after a big game's initial launch. Meaning that if GTA V doubles the sales it had in its first day (which is the most conservative scenario) then they will have sold more than 28 million units. 28 million units sold would signify an operating profit of around $450 million dollars.
This kind of profitability would dwarf previous operating profits that came from Take-Two Interactive in the past. In addition, the company will stand to gain tremendously with the release of upcoming DLC packages for game series such as BioShock and GTA V. After GTA IV was released the first DLC for the game, "The Lost and Damned" sold more than 1 million copies and GTA V's DLC is bound to do the same if not better.
Similar to how Activision has cornered the 1st person shooter market with the Call of Duty franchise, Take-Two Interactive is doing the same with the sand box game franchise. All of their most recent releases from L.A. Noire, Bioshock, to Red Dead Redemption have all capitalized on similar in-game structures and mechanics, which GTA V has as well. Additionally, the company has sustained itself as the best sandbox video game maker for more than 10 years now, over the course of which, hundreds of games have come out attempting to replicate their features.
This is significant because it justifies Take Two's high multiple. The biggest issue with interactive media positions has to do with the fear that the companies will not be able to sustain their current prices due to potential future flops and or failures. The reason this isn't the case with Take-Two however is because they have literally monopolized a sector of the gaming market. By maintaining a choke hold on sand box games they ensure their future within the gaming industry for many years to come.
Ultimately the sand box game experience will always be desired, as players will always seek to have open world gaming mechanics to create a sensation of in-game freedom. Investors should also take confidence in knowing that Take Two's CEO Strauss Zelnick is attempting to heavily franchise each game that Take-Two believes will have the potential for new installments:
"Our Goal is to try to create permanent franchises… That's a unique goal in the industry… Our competitors don't see it that way. Our competitors' view is that our franchise will have a certain life, and at the end of that life, you move onto the next thing, so you better make hay while the sun shines."
The fact that Take Two's CEO has successfully managed to implement this rather out of the box industry strategy whilst simultaneously profiting tremendously from game franchises such as BioShock, Grand Theft Auto, Borderlands, and Max Payne bodes well for the company going forward. Take Two currently stands to gain tremendously in their upcoming quarter's operating profits and as of now they are priced pretty modestly at $17.43 a share.
Currently out of a total of 19 analysts following the company, 14 have rated the company a buy whilst 5 have rated it a hold. In forecasted growth the median projected estimates represent a +20.48% increase from the current price of 17.43 a share.
Disclosure: I am long TTWO. I wrote this article myself, and it expresses my own opinions. I am not receiving compensation for it (other than from Seeking Alpha). I have no business relationship with any company whose stock is mentioned in this article.