After a nice start to his tenure as Fed Chairman, you know what hit the fan in late 2007 for Ben Bernanke. In what ended up being the worst crisis for the financial system since the Great Depression, Mr. Bernanke dug in and did what he felt he had to do to help save the system. Regardless of how he did it or what's to come, Bernanke will likely be feeling pretty good about his tenure whenever he actually does exit as Fed Chairman.
As shown below, the Dow Jones Industrial Average has regained all of its losses -- a 50% loss -- from the financial crisis and gone on to make a new all-time high. Since he began his tenure as Fed Chairman in February 2006, the Dow is up 43.14%, or 4.81% on an annualized basis.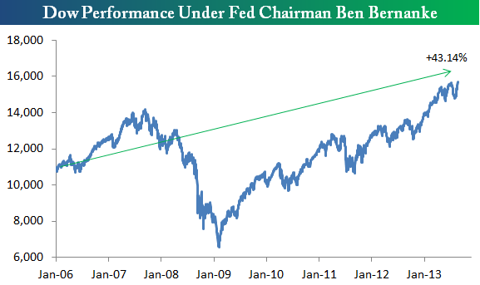 So how does the market's performance under Chairman Bernanke compare to past Fed Chairmen? Using start and end dates from the Wikipedia page for the Fed, below is a table highlighting the Dow's performance during the tenures of all 14 Fed Chairs. As shown, Daniel Crissinger had the best annualized return of any Fed Chair at 17.72% from 1923 to 1927. Noted hawk Paul Volcker ranks second with an annualized gain of 15.42% from 1979 through 1987. Keep in mind, though, that both of these chairs left just in time to avoid historic market crashes. Relatively speaking, Bernanke's annualized gain of 4.81% is in the middle of the pack, but most people will take it given where things stood just a few years ago.