September has historically been the worst month of the year for stocks, but this year the month has bucked the trend. As shown below, the average stock in the S&P 500 is now up 6.48% in September. All of the cyclical sectors are doing even better, with Industrial stocks leading the way with an average MTD gain of 8.34%. Materials and Technology are averaging the second and third best gains, followed by Consumer Discretionary and Financials. The defensive sectors are underperforming, which is typical in a strong market.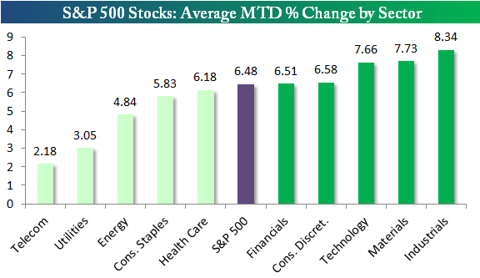 Year to date, the average S&P 500 stock is now up 25.75%. Two sectors have posted average gains of more than 30% -- Consumer Discretionary at 33.55% and Health Care at 31.41%. The other two sectors that are outperforming the overall market are Technology and Financials.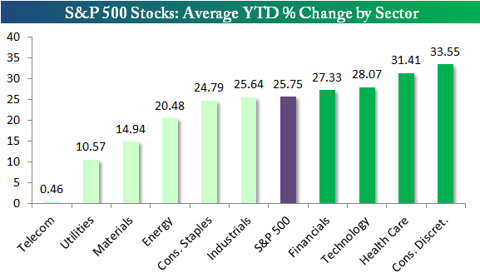 Below is a look at the 30 best performing S&P 500 stocks year to date. As shown, Netflix (NASDAQ:NFLX) leads the way with a gain of 231%, followed by Best Buy (NYSE:BBY) at 229% and Micron (NASDAQ:MU) at 172%. Boston Scientific (NYSE:BSX) and Gamestop (NYSE:GME) round out the top five and are the only other S&P 500 stocks up more than 100% YTD.