Executive Summary: Alamos Gold (NYSE:AGI) is among the lowest cost producers in the entire gold mining sector and has made two acquisitions this year which could result in a 50% rise in North American gold production over the next two years. With steady to rising gold demand, likelihood of rising metal prices into 2014 attributable to continued Federal Reserve stimulus, and conservative operations, Alamos Gold is priced for 15%-30% near term upside should gold prices remain at current levels or rise.
Introduction
Well, the Federal Reserve has given investors the green light to pile back into precious metals and equities. The key to finding a successful gold/silver equity is to realize individual miners have little influence on the price of the metals, but as a collective can have an impact. However, chances are you are not financially able to create your own ETF basket of equities in a sector. Therefore, most of you are probably searching for one or two miners, and maybe a third speculative one at most. Realize, that one thing each miner can attempt to manage is their costs. All in all, the industry has not been performing well on this front. Average productions costs are up year after year. Labor costs rise, machinery costs are up as is fuel costs. Now, when the price of gold was rising, companies were focused on producing more rather and funding exploration rather than on cutting their expenditures. With gold $550 off its highs in 2011, times have changed. Most gold miners have started to implement a multitude of cost-cutting measures. One successful miner that I believe is seriously worth your consideration is Alamos Gold.
I do not think it is a buy only because the Fed is continuing to purchase assets, which will drive metal prices higher through year end. First there is still strong demand for gold. Second, AGI has managed to keep its costs as low as possible. The company has stated that its second quarter all-in sustaining costs were just $682 per ounce. This is the reason why Alamos Gold has and will continue to outperform other miners, especially if demand for gold increases along with prices.
Gold Demand
Earlier this year, the U.S. Mint ceased production of the 1/10th oz American Gold Eagle due to record demand. This was a sign of record buying, but what is more interesting was a recent World Gold Council Report, which highlights the demand worldwide. It noted continued strong demand in jewelry, particularly in India. The report also suggests a decreased demand for investment gold, but further investigation reveals that the decline in investment demand relative to Q1 2012 was solely attributable to the net outflows from ETFs, which obscured the strong rise in investment demand for gold bars and coins at the retail level. In technology, demand has been stable, holding around 100 tons over the last year and a half. Central banks also added 109.2 tons of gold to their reserves in Q1 2013 and more in Q2, marking ten consecutive quarter of net purchases.
Gold Supply
For the first quarter of 2013, there was supply of 1,050 tons. This was little changed from first quarter of 2012 but also means central banks purchased 10% of the world's gold supply during the quarter. Furthermore, the US Geological Survey reveals that gold mine supply has dropped every month in 2013. Thus, less gold is coming to market. With less gold coming to market, obviously supply is decreasing in the face of steady and/or increasing demand. Eventually, the laws of economics will catch up.
Projects
AGI has two main projects, one in Mexico (mulatos) and two others (Agi Dagi, Kiralzi) in Turkey (Figure 1, Figure 2). More information about these projects can be found here.
Figure 1. Alamos Gold's Mexican Holdings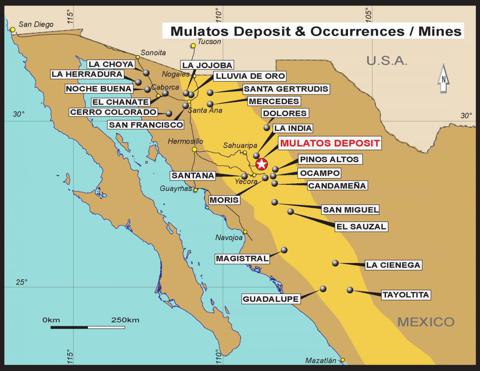 Click to enlarge
Figure 2. Alamos Gold's Turkish Holdings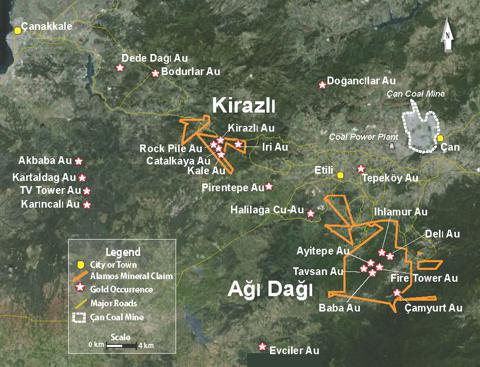 Click to enlarge
The Company's Strong Performance
AGI is improving each quarter and had a strong Q2 both operationally and to some degree financially. AGI generated operating margins in the quarter as a result of continued low cash costs. Despite a substantial drop in the price of gold, AGI generated strong cash from operating activities in the quarter. Cash from operating activities before changes in non-cash working capital in the second quarter of 2013 of $33.8 million ($0.26 per share) decreased 19% relative to the same period of 2012 primarily as a result of lower gold prices. After changes in non-cash working capital, cash provided by operating activities dropped significantly to $13.2 million from $44.1 million in the second quarter of the prior year. Cash flow from operations were negatively impacted by lower realized gold prices, but also because of a $12.3 million payment of withholding taxes which will be recovered throughout the remainder of 2013.
Earnings
Earnings before income taxes in the second quarter of 2013 were $19.1 million or $0.15 per basic share, compared to $38.7 million or $0.32 per basic share in the second quarter of 2012. On an after-tax basis, earnings in the second quarter of 2013 of $8.8 million, or $0.07 per basic share, decreased 64% over the comparable period of 2012 as a result of lower realized gold prices. This number however built in a number of issues that must be considered in the long-term growth story of AGI. The decreased earnings include accounting losses on the disposition of AGI's investments in Aurizon, foreign exchange losses, increased amortization costs and a higher effective tax rate. On a year-to-date basis, both cash flows from operations and earnings have been substantially reduced compared to the prior year as a result of lower gold prices, increased amortization, foreign exchange and other losses and a higher effective tax rate. However, it's not all bad news.
Capital expenditures in the second quarter of 2013 totaled $15.2 million. Sustaining capital spending in Mexico in the second quarter of 2013 included operating and expansion capital of $4.5 million, consisting of $1.8 million for component changes on mobile equipment, $0.6 million for modifications to the leach pad, and $2.1 million invested in other smaller capital projects. In addition, AGI invested $4.8 million in Mexico focused on continuing development of the El Salto portion of the Mulatos pit, pit design and stability work at Escondida and $1.5 million in capitalized exploration. AGI also invested $5.8 million in development projects in Turkey, focused on exploration, engineering and permitting work. These investments will help AGI grow long-term.
Second Quarter 2013 Operating Results; The Key Is Increased Production at Lower Costs
AGI achieved gold production of 53,000 ounces in Q2m which was an increase of 10% compared to 48,200 ounces in the second quarter of 2012. On a year to date basis, gold production increased 22% to 108,000 ounces. Higher gold production in the second quarter of 2013 relative to the second quarter of 2012 was attributable to both a higher recovery ratio and improved throughput of machinery, allowing more ore to be processed in a shorter amount of time. But here's the kicker which separates this company from most of its peers. Cash operating costs were only $378 per ounce of gold sold in Q2, which came in significantly below AGI's original guidance of $415 to $435 per ounce for the quarter. Relative to AGI's peers, the company is trouncing most of its competition when it comes to keeping costs down (figure 3, figure 4).
Figure 3. Total Cash Costs For Alamos Gold Relative To The Industry, 2005-2013.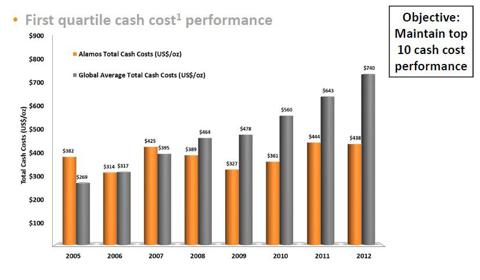 Click to enlarge
Figure 4. All-in Sustaining Cost Basis, Alamos Gold Versus Major Competitors, 2013.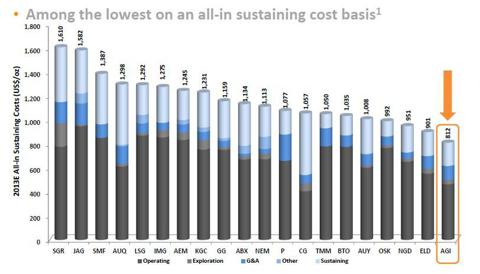 Click to enlarge
Figures 3 and Figures 4 just scream "wow" for any serious mining investor. Like many other miners, cash operating costs were indeed higher than the comparable quarter last year however, increasing 19%. Much of this was a result of higher input costs, including labor, cyanide and diesel, as well as slightly lower grades of ore mined. The increased costs were partially offset by an improved recovery ratio. However, despite this increase, cash costs are way below average for the gold mining sector. Considering this is a growing company with lower expenditures, we may have a real winner in the space long-term.
Expect Increasing Production And Revenues as Alamos Has Growth Prospects
AGI has recently finished the completion of its acquisition of Esperanza Resources (OTC:ESPZF) for $69 million in cash. The company believes that in perspective, this small investment would bring 50% growth to its Mexican operations. Cash costs of gold production at Esperanza are estimated to be below $900 per ounce, in line with Alamos Gold's strategy to remain a low-cost producer. Speaking about the acquisition, President and CEO of AGI John McCluskey said:
"We are very pleased to announce the closing of the Esperanza acquisition. We believe the Esperanza Gold Project fits the Alamos profile perfectly, as a low capital intensity, low cost, and low technical risk project that will augment our strong development pipeline. While the transaction represents a small portion of our market capitalization, we believe it has the potential to grow our production by more than 50% in Mexico".
That's not the only acquisition being made. In addition Esperanza, AGI has announced the acquisition of Orsa Ventures (OTC:ORNSF), an exploration company with properties located in the western United States. They recently closed this deal last week. Speaking about the acquisition, McCluskey said:
"We are very pleased to announce the closing of the Orsa acquisition. We believe the Quartz Mountain Project fits the Alamos profile perfectly, as a low capital intensity, low cost and low technical risk project that further strengthens our development pipeline."
After both of these important acquisitions, AGI still have approximately $445 million in cash on its balance sheet. That is impressive.
Stock Statistics
Despite AGI being a growing miner, it is a lower mid cap stock with a market capitalization of approximately $2.1 billion. Operating margins are a strong 46% for AGI, with a healthy 28.7% profit margin. Because the company is sitting on nearly $450 million in cash, they have roughly $3.60 per share in cash, which is unusual for a gold miner. The stock currently trades at $16.75 with a 52 week trading range of $10.40-$19.96 and a P/E of 20. For a gold mine this ratio is quite strong as there has been significant multiple expansion in these names over the last 9 months. On average about 100,000 shares exchange hands daily. Finally, the company pays a conservative dividend of $0.10 biannually, currently yielding 1.3%. I believe that as earnings grow, this dividend will increase, as it has for the past two years.
Conclusion: The Risk Is To The Upside
Alamos Gold is a fantastic low-cost gold mining play that can weather the storm if gold prices decline. However, with the announcement of no tapering of asset purchases by the Fed and continued strong demand for gold, I think this stock is set to move much higher into 2014 with the potential for dividend increases. With their expansion efforts, phenomenal cost controls and rising metal prices, this stock could deliver outsized returns in the coming months. I think the stock easily will challenge its 52 week high by year's end. Assuming prices of gold hit $1500 and climb higher, with current production numbers (likely increasing), cash costs remaining flat, and acquisition costs now behind them, earnings per share could double into 2014. I surmise a conservative upside potential of 30% in the next 12 months should these assumptions prove correct. If not, and gold hold its current $1350 price and cash costs remain the same, I still see the stock approaching $19-20, which still offers 13%-19% upside The company has plenty of cash to spend on growth projects and has no debt. The management shows good strategy to focus on costs rather than on the quantity of ounces. Overall, AGI is in the perfect position to increase profits.
Disclosure: I have no positions in any stocks mentioned, and no plans to initiate any positions within the next 72 hours. I wrote this article myself, and it expresses my own opinions. I am not receiving compensation for it (other than from Seeking Alpha). I have no business relationship with any company whose stock is mentioned in this article.