The "4% Plan" is a permanent income stream solution based off simple investing strategies suitable for any investor alive today, whether retired or saving, young or old, rich or getting-rich, experienced or inexperienced. This article will explain the plan and argue why investors, financial advisors and fund managers will trend toward portfolio investments that are yield-oriented for both income-oriented investors and savers alike.
The 4% Plan Defined
The main goal of the 4% Plan is to achieve a 4% yield on capital invested from dividends only and without requiring asset sales. Every dollar, therefore, must yield 4% per year on average in dividends. The 4% yield, on each $100,000, would naturally equate to $4,000. This adds up to an average $1,000 per quarter.
Getting Started
The first part of the plan is investment contributions. An income investor, who requires monthly dividends, would first note either the total portfolio available or the capital required to earn a target stream of capital distributions.
For example, an investor with $150,000 to invest would expect, on the investment of the $150,000, to produce a yearly income of $6,000, or $500 per month. A high-net worth investor, however, may have several portfolios and may opt to do the reverse analysis of determining how much to invest for a particular monthly income. Here is a chart of initial capital required to earn set income targets, which can be used for both reference and inspiration to save.
Simply put, an income-investor can state "how much do I need to invest to achieve $2,000 or $4,000 per month of income?" The younger investor who is saving for retirement can learn what is required to save to achieve these same amounts. Both income scenarios are highlighted below to showcase such results. For fun (or real life if you are a high-net worth individual), the investor can note what it would take to achieve $10,000, $100,000 or even a cool $1 million per month in income.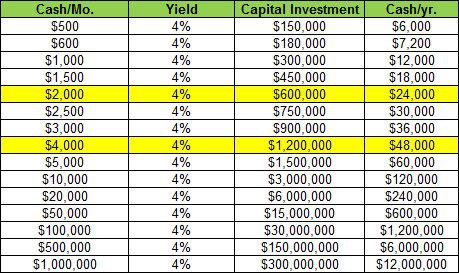 Initial Contribution
The 4% Plan requires trading ETFs, mutual funds and stocks with a minimum of 15-20 positions. At $100,000, the cost of 20 positions would be (averaging $9 per trade) a total of $180, or .18% of initial capital. In this regard, until a mutual fund is created with this agenda, the cost of the initial investment is too high to start with less than $50,000. Also, adding to the investment for savers would be punishing as well, as $180 per year to add to positions is costly unless contributions are at the $50,000 level.
The best investment (until a mutual fund exists) for the 4% Plan is to determine the capital allocation to the portfolio, separate it from any other portfolio (as its own account) and determine whether or not to reinvest the dividends.
As always, dividends reinvested will achieve a higher rate of return in the long run as more company stock is purchased. Whether dividends are reinvested or not, 4% is just the starting point and over time, companies will raise their dividends and the 4% Plan investor will be able to either reinvest dividends into a generally higher stock price or enjoy a higher-than-4% income off of their initial contribution.
Why A 4% Yield-On-Capital Makes Sense Now
The 10-Year U.S. Treasury currently yields 2.75% (see current Treasury rates here) and annual inflation, at 1.2% today, is expected to slowly climb to a range of 1.7% to 2% in 2016. The SPY ETF (S&P 500 Index ETF), which holds several non-dividend and low-dividend stocks, is kicking off a 1.93% yield.
Producing a 4% initial yield on a diversified stock, bond and commodity portfolio in this climate can be done with ease by targeting stable dividend achievers in the stock portion of the portfolio. With an equity premium in place in this environment, the risk associated with purchasing a portfolio leaning toward stable, income-oriented stocks can easily top 4%.
Asset Allocation
The 4% Plan portfolio is divided into four general areas: equities, bonds, commodities and cash.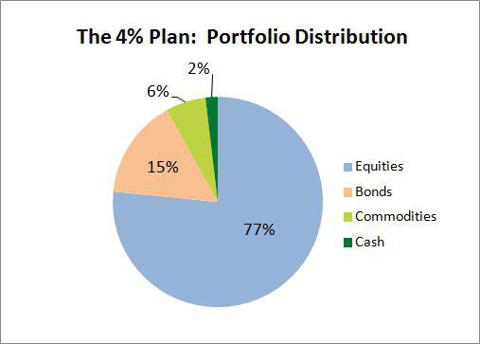 1. The Equity Portion Of The 4% Plan
77% of Total Portfolio Value
The equity portion serves dividends and capital appreciation, the bonds provide a balance of risk to the equity portion while providing income and commodities serve as a hedge against portfolio risk. Cash, while earning a near-zero return, is held at a minimum level to pay for monthly distributions. Fluctuations in price may lead to allocations that are over or under the target area, however yearly adjustments can be made to keep the asset allocation close to this target range.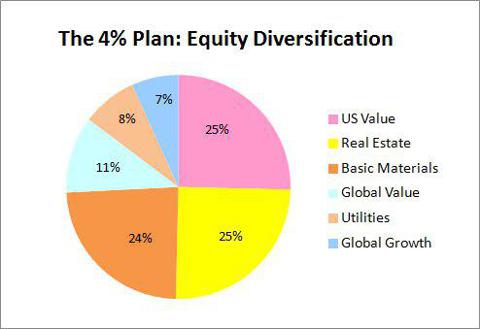 U.S. Value
25% of Equity Position
The U.S. Value category is compromised of two sub-categories of stock. First and foremost there are stable and growing dividend players represented by large-cap companies that hold a low risk profile, such as Wal Mart Stores, Inc. (NYSE:WMT), The Coca-Cola Company (NYSE:KO) and consumer staple companies that are well-represented by the easy-to-trade Vanguard Consumer Staples ETF (NYSEARCA:VDC).
The second category of the U.S. Value allocation strategy includes secular-growth companies, defined as companies that may or may not pay a dividend however are viewed as long-term growth options. This will boost the portfolio and as these sectors grow, dividends will likely occur. An excellent example of a recent secular-growth story is technology over the last 10-20 years. As we know tech in general hardly served dividends during the dot-com bubble, however now it has become commonplace with even Apple Inc. (NASDAQ:AAPL) joining the parade.
For this part of the asset allocation, one area I like is healthcare. The headwinds of the aging demographic, limited supply, government sponsorship and economic expansion all play a role in supporting healthcare as an excellent long-term domestic growth story. Remembering that dividends are key to the 4% strategy, a strategy of limiting 20-25% of the U.S. Value portion of the portfolio in secular-growth areas should be noted (as dividends are likely to be lower than 4% or hardly existent).
To invest in healthcare, an easy, low-cost strategy is to purchase the Health Care Sector SPDR (NYSEARCA:XLV), which tracks a U.S. healthcare index that included companies ranging from pharmaceuticals to biotech, healthcare supplies and healthcare technology. The fund expense ratio is .18% and yields 1.56% as of the close of trading on 9-19-13.
Real Estate [REITs]
25% of Equity Position
A high-income stock option are Real Estate Investment Trusts, or REITs, that legally must pay at least 90% of their income to shareholders. To learn more about REITs and my take on why they are in the midst of a giant bull market, please see my recent Seeking Alpha article here.
For the 4% portfolio, a balance of REIT investments should net over 4% to help balance the commodity hedge. REITs that are over $20 billion in market capitalization and yield less than 4% can be avoided, as most mid-cap and small-cap REITs have yields of 4-6%, while several also showcase a strong case for long-term secular growth. To learn more about secular-growth REITs in this area, I highlighted seven in another article here.
Remember that a purchasing a 3-3.5% yield with a stalwart like Avalonbay Communities Inc. (NYSE:AVB) or Simon Property Group Inc. (NYSE:SPG) will help reduce alpha and portfolio growth, however the total REIT portion of the portfolio can easily remain north of 4.5% by leaning more heavily on a team of stable 5-6% yield players such as HCP, Inc. (NYSE:HCP) at 4.84%, Realty Income Corp. (NYSE:O) at 5.4% and Digital Realty Trust (NYSE:DLR) at 5.48%.
Basic Materials
24% of Equity Position
The Basic Materials category of equities refers to dividend-players in the energy sector of the U.S. and global economy. Keep in mind that dividends from non-U.S. companies are taxed 15% before the cash even hits your account, so foreign purchases should be limited to stable companies yielding over 5%. Also, foreign dividends are often distributed on an annual or bi-annual basis, which is less preferred for a monthly dividend-producing portfolio.
An easy and recommended way to diversify here is with the ALPS Trust MLP ETF (NYSEARCA:AMLP), which invests alongside an index of limited and master-limited partnerships in the U.S. energy sector and offers a healthy distribution of 6%. The fund has an expense ratio of .85% and is only three years old, however the diversified exposure to the Algerian MLP Infrastructure index it tracks makes this ETF an easy option for dividend-seekers. Companies represented here are engaged in the production, distribution and transformation of commodities and are exempt from corporate taxes like REITs.
I would suggest a 50-67% allocation of AMLP into the portion of the funds dedicated to the energy allocation of the equity portfolio. To balance this out, oil majors such as Exxon Mobil Corporation (NYSE:XOM) at 2.82% and Statoil ASA (NYSE:STO) at 5.03% (4.28% after foreign-holding taxes) are both excellent options.
Also, gold and precious metals mining falls into the basic materials category. A small portion of the energy allocation of funds, perhaps 15%, can be used to engage in this area of investing. Keep in mind that the yields are low, however with AMLP pushing 6% and an oil-major also producing stable income that this field can be legitimately explored. Choose a low-cost fund wisely or pick a stock or two up here. Although commodities will be purchased in this portfolio, a small holding here will serve as another portfolio hedge as well as potential gold-mine for growth when the next commodity cycle hits (pun intended).
The fund I have always preferred here is the Vanguard Precious Metals & Mining (MUTF:VGPMX), however the cost may outweigh the benefit depending on the investor's brokerage purchase fee. Another option is the SPDR S&P Metals & Mining ETF (NYSEARCA:XME) that charges .35% to manage while yielding 1.57%. For the larger portfolios, single-stock allocation to the metals and mining component of this portfolio can be attained with gold and copper producer Freeport McMoRan Copper & Gold Inc. (NYSE:FCX) which yields approximately 3.6%.
Global Value
11% of Equity Position
Global Value stocks are defined here as non-energy and non-real estate companies that offer dividend stability and a global reach that is dominant and hard to compete with. A little global exposure is good to balance out the portfolio, however value stocks are to be from industrial countries, such as those in Europe, that are heavyweights with a market cap of over $50 billion.
Three companies that offer such balance are Vodaphone Group PLC (NASDAQ:VOD) with a yield on capital of 4.54%, Companhia de Bebidas ADR (ABV) also known as AmBev, at 3.09% and Diageo PLC (NYSE:DEO) at 2.15%.
Utilities
8% of Equity Position
The ultimate low-growth, stable-dividend companies are utilities. They are legal monopolies that are allowed to increase pricing to customers. Also, unlike credit cards or other bills, utilities must be paid and therefore are just as an important human staple (in our industrialized country) as is food and shelter.
Unless an investor has a portfolio of over $1 million allocated to the 4% Plan or has industry-expertise and interest in individual utility stocks, there is no need to diversify here as the Utilities Select Sector SPDR ETF (NYSEARCA:XLU) is a low-cost method of doing just that. The volatility in this fund is low (beta of .21) and will help provide both income and stability to the total portfolio.
Global Growth
7% of Equity Position
The final asset class in the equity position of the 4% Plan portfolio is global growth. The purpose here is to achieve somewhat of a hedge against the U.S. while gaining exposure to companies with high-growth rates and somewhat of a dividend. My favorite company here is Philip Morris International Inc. (NYSE:PM), which split from Altria Group Inc. (NYSE:MO) and is responsible for all non-domestic cigarette sales and production of the brand. With a yield of 3.76% and no shortage of non-domestic smokers seen for years to come, this dividend plus growth story should just captivate investors' hearts.
The low-beta and dominant position PM has on a global scale, accompanied by a great yield is enough reason to hold this stock as the entire position in the global growth category. A large investor or someone who likes to pick foreign stocks may research further, however any picks here must be non-energy and non-real estate to follow this allocation strategy.
2. The Bond Portion Of The 4% Plan
15% of Total Portfolio Value
The bond portion of the 4% Plan starts with an allocation of 15% of the total portfolio. Without going into much detail here, bonds should be focused into two categories.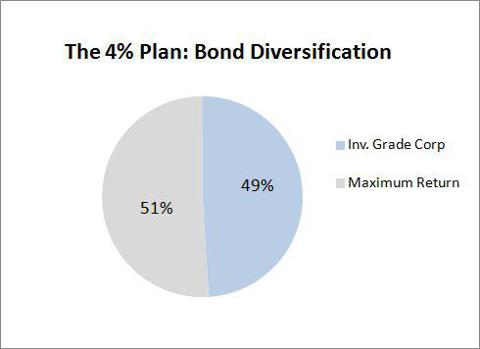 Corporate Investment Grade Bonds
51% of Bond Position
The first category is safe and diversified corporate investment-grade bonds. Rather than spend time here, smaller investors should allocate 51% (over 50% here to showcase preference of stability) of the category to the iShares Investment Grade Corporate Bond Fund (NYSEARCA:LQD), which yields 3.66%. With $17 billion in assets, a .15% expense ratio and a very-high level liquidity, it would not make much sense for the average investor to trade individual bonds here.
Maximum-Return Bond Fund (Leveraged)
49% of Bond Position
The second bond category, with a 49% recommended weighting is a leveraged bond fund seeking a maximum return. Look no further than the PIMCO Corporate Opportunity Fund (NYSE:PTY), a closed-end fund yielding 8.86%. The fund is managed by bond-guru Bill Gross, who is also a major investor in its shares. His holdings in this fund alone amount to just under $16.7 million with purchases coming in between $18.94 and $20.30. While Gross is still holding a boat-load of shares, the fund now trades for $17.61, which is an investor's dream opportunity to get in at a lower cost basis than the top bond-trader in the world.
The high yield of PTY coupled with the LQD safety and stability will give the investor a yield-on-capital-invested cost basis of 6.21% if initially split 51/49.
3. The Commodity Portion Of The 4% Plan
6% of Total Portfolio Value
The commodity portion of the 4% Plan is solely used as a hedge against portfolio risk. When inflation rises, commodities are a source of refuge, which also could be rapidly bought with any loss of major confidence in the economy or markets. The 6% can be any variety of metals, of which gold, platinum and silver are great choices for both value, demand and liquidity.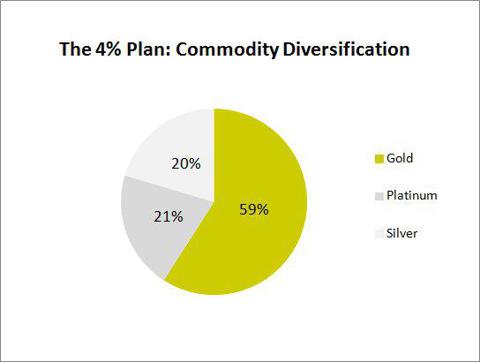 Gold, Silver and Platinum
Investor's Choice
Above is an example of what an investor may choose, however there is no right or wrong answer here. The key here is diversification of the base-metal hedge. Utilizing all three of these choices will reduce the risk and add stability to the portfolio.
ETFs that hold each metal in vaults are the suitable investment choices, which include SPDR Gold Shares (NYSEARCA:GLD), iShares Silver Trust (NYSEARCA:SLV) and EFTS Physical Platinum Shares (NYSEARCA:PPLT). Also to note, Schwab clients trade EFTS Physical Gold Shares (NYSEARCA:SGOL) and EFTS Physical Silver Shares (NYSEARCA:SIVR) at no cost, which are less liquid yet very respectable counterparts to GLD and SLV.
Total Commodity Hedge Note
With 15-20% of the basic materials equity position in gold and mining stocks, the total portfolio value of direct commodity exposure will range from 8.88 to 9.85% (6% commodities plus 77% equities times 15% is 8.88%, repeat with 20% to get 9.85%).
4. The Cash Portion Of The 4% Plan
2% of Total Portfolio Value
The cash portion of the account amounts to 2% to cover the dividends to be distributed on a monthly basis. If dividends are reinvested, then this level will slowly drop over the years.
If the portfolio is yielding above 4% and the distributions total 4% per year, that is 1% every three months or approximately .33% per month. To account for the annual and bi-annual distributions of the small amount of foreign stocks in the portfolio, the 2% cash level acts as a buffer as 1% of the yearly yield will not always take place in each quarter. Monthly dividend yields, such as both bond funds LQD and PTY, as well as REIT options such as the mentioned recommendation of Realty Income Corp. help with cash stability.
Fund Maintenance
Over the years the fund may have asset allocations that move out of place. For example, if gold triples, silver doubles and platinum, bonds and stocks are up 40%, then gold and silver can be sold for platinum, bonds and stocks to maintain target allocation amounts. Keep in mind that rebalancing is complicated with so many numbers to follow, I recommend using Microsoft Excel. Also, with higher prices across the board dividends may not have had a chance to catch up. In this scenario, selling gold and silver (non-dividend producing assets) for dividend-paying assets (stocks and bonds) would clearly keep the portfolio yield on initial cost above 4%. Otherwise the investor could sell the gold and silver portions that are out of balance and buy a new car, house or college education.
Fund Growth
Any fund manager can sell you on growth, with charts of "what if this and what if that." All the investor needs to remember is that the concept is to either reinvest or distribute 4% of the aggregate initial capital invested on a monthly basis. Theoretically, as the fund grows the dividends will increase, as will the total portfolio value. In a time of higher or lower rates, the equity risk premium will change the price and yield of stocks and bonds accordingly, to the point where this fund may be called the 5% Plan, the 3% Plan or another name in another time or place.
Conclusion
With equities yielding an aggregate of 4% at a 77% weighting and bonds yielding 6.2% on a 15% weighting, the total yield on these investments is 4.01% as (77% x .04) + (15% x .062) = 4.01%. As physical commodities yield nothing and cash yields almost nothing, their weightings are not included in this equation.
If someone starts a fund of this nature, it would likely be a closed-end fund since 4% cannot be guaranteed with eventual rate movements. It would be the opposite of the popular target-date funds, as they would have different start dates and different names. It would be interesting to see, however in the meantime I hope that this is insightful and helpful to the collective group also known as "the individual investor."
Disclosure: I have no positions in any stocks mentioned, and no plans to initiate any positions within the next 72 hours. I wrote this article myself, and it expresses my own opinions. I am not receiving compensation for it (other than from Seeking Alpha). I have no business relationship with any company whose stock is mentioned in this article.