Weakness in coal demand and the slowdown in China have created a fear discount in shares of Joy Global (NYSE:JOY) that is counter to the reality of long-term fundamentals. The shares get no credit for being the most efficient company in the industry. The extremely low valuation, high profitability and position as a pure-play on a sector with long-term demand makes the company a perfect takeover candidate. The shares offer a double-digit upside on fundamentals and a 59% plus return on a possible buyout.
The most hated stock on the street
Only seven companies in the S&P500 carry a strong sell recommendation by Standard & Poor's. All are exposed to a level of short interest but sellers of Joy Global account for more than a sixth (17.8%) of the tradable shares.
The shares have been downgraded twice in the last month and analysts have slashed 2014 earnings estimates by 29% over the last 30 days.
There is a lot not to like about the business in which the company operates. Sales to coal miners account for two-thirds of the company's revenue and the commodity is seeing headwinds worldwide. Coal prices in the U.S. market have tumbled as natural gas becomes a viable alternative in energy production. In China, the largest coal consumer in the world, growth has slowed and iron ore port inventories topped 100 million tons in 2012. Joy books approximately 20% of its revenues to the U.S. coal industry with another 45% to international coal miners. While the company sees another 15% of its revenue to copper producers, sentiment and the ultimate share price are more closely tied to coal.
Order bookings plummeted 36% in the third quarter of 2013 to $695 million with a decrease in original equipment orders across every region except China. Analyst estimates are for sales to drop by 32% through 2014 to $3.83 billion. Earnings are expected at $3.88 next year from estimates of $5.85 this year and $7.24 in 2012.
Coal fears are overblown
Environmentalists preaching the death of coal in the United States may be basing their expectations more on hope than on reality. The 15 gigawatts (GW) of coal-fired capacity that have been shut or converted since 2009 only accounts for about 4.5% of the 318 GW used in power generation. Only 3.8 GW of capacity are expected to be shut in 2014, just over one percent of total capacity, compared to 10.9 GW closed in 2012.
While the share of electricity generated by coal in the United States has dropped to 37% in 2012 from over 50% as late as 2003, it is expected to stabilize around 40% over the coming years. Further, natural gas prices could jump over the next few years as export capacity increases to countries where prices are between three and five times more expensive than the U.S. spot price.
The marginal loss of coal-fired capacity in the United States is dwarfed by growth across the rest of the world. Approximately 90 GW of capacity is expected to be built in 2013 with 304 GW coming online by 2017.
The real growth story in coal is in emerging Asia which accounts for 90% of the expected capacity build. China produces more than 70% of its electricity from coal and uses so much of the commodity that imports increased by a compound annual rate of 17% over the three years to 2013. While growth in electricity generation (graph below) has slowed, it is still averaging an increase of 5% to 10% per year. Growth should be fairly sustainable as 300 million people move into the cities over the next six years and require more power.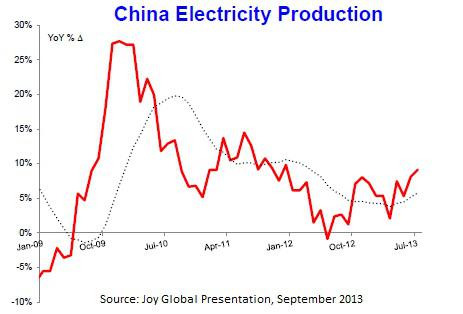 The market for mining equipment in China has largely been filled by local producers, limiting the potential for foreign players like Joy Global in the past. The company bought Wuxi Shengda in 2008 and increased its ownership in International Mining Machinery to 69% in 2012. These acquisitions could help the company gain significant market share in the country.
India is a country that is often overlooked for growth but should support the market with 110 GW of capacity coming online by 2017 and coal imports increasing at a compound annual rate of 22% over the last three years. Despite the historically low price of natural gas in the United States, the fact remains the producing electricity from coal is still much cheaper in most of the developing world.
After-market sales are also a strong support to the company's bottom line. Service and maintenance on previously sold equipment accounted for 53% of 2012 sales or about $3 billion. The equipment produced by the company can be extremely long-lived, up to 40 years, which locks in customers and creates significant switching costs.
Best of Breed Management
While the environment for coal has weakened the shares from a high of over $100 in 2011, the company seems to be getting no credit for a superbly efficient management team. Against a slowdown in capital expenditures by mining companies, Joy Global was still able to increase sales by more than 28% in 2012. Sales growth was more than twice that of peers like Caterpillar (NYSE:CAT) or Deere & Company (NYSE:DE).
The company's operating margin, the key test of how efficiently expenses are managed, is almost twice the industry average. Joy Global is able to produce $0.21 of operating earnings from each dollar of sales, well above the 10.9% margin at Caterpillar or 14% at Deere & Company. The company has been able to improve profitability by updating legacy facilities and processes at acquisitions, streamlining manufacturing processes to reduce cycle times.

Despite being the smaller of the group and increasing capital expenditures to $242 million in 2012, Joy Global still had the most free cash flow among industry peers. The company authorized a share repurchase of up to $1 billion over the three years to 2016. This is on top of the $74 million returned to shareholders annually in the form of a 1.3% dividend yield.
Competition and possible buyout
Caterpillar paid $7.6 billion after debt for Bucyrus in 2011, valuing the mining-equipment maker for 15 times enterprise value over EBITDA. The proposed deal was a premium of 32% on the shares' most recent closing price. The acquisition left Joy Global as the only pure-play mining equipment maker and made Caterpillar the only direct-competitor to the company.
After the Bucyrus deal, Joy Global has been constantly rumored to be a possible target. As the only pure-play mining-equipment maker left, it could help to diversify sales for several peers.

Not shown, and long thought to be the most likely acquirer is Komatsu Limited (OTCPK:KMTUY) which segments its results by Construction, Mining and Utility (90% of FY12 sales) and Industrial Machinery (10%).
The focus on mining equipment at Joy Global makes comparables difficult. While peers in the industry all make heavy-equipment and machinery, demand drivers for their products can be vastly different. Strong demand for construction and agricultural equipment has supported sentiment in shares of other manufacturers while mining weakness has hurt Joy Global almost exclusively.
Double-digit upside on fundamentals alone
The fear in global coal has the shares trading at an extreme low. The stock traded for a price multiple of 19.7 times in 2011 and a five-year average of 11.9 times trailing. The industry itself, admittedly skewed by better short-term prospects in construction and agriculture, trades for an average of 11.4 times trailing earnings.
My own model estimates fiscal year revenue at $4.0 billion with a net margin of 13.0% yielding earnings of $4.92 per share. The consensus is looking for revenue of $3.8 billion with a net margin of 10.7% for earnings of $3.88 per share. While estimates for sales may not be too far off, consensus expectations for net margins are ridiculously low. The company has averaged a net margin of 12.8% over the last five years with margins improving to 13.4% just last year. While my estimate for sales may prove high, I am confident that margins will be higher than consensus.
The matrix below shows price expectations against earnings and multiples. My base case, as described above, is shown relative to a weak case of $3.8 billion in sales and 12% margin and a best case with $4.1 billion in sales and a 13.5% margin. I believe that a rebound in the outlook for coal after next year will significantly improve sentiment and multiples.

A target price of $61.50 would yield a 13.9% return on top of the 1.3% cash return to October 2014. A double-digit return is nice for a late-stage bull market but I think the real potential in the shares lies in a potential takeover.
While Komatsu has been the most frequently mentioned as a possible buyer, I think both Deere & Company and CNH Global (NYSE:CNH) could benefit from the diversification in product category. Neither company has exposure to the mining sector. While this has been a benefit over the last year, what happens when spending on agricultural or construction equipment slows? Prices on grains have almost halved since last year's high meaning that farmers may have to cut back on equipment purchases in the future.
Anyone in the equipment business knows the cyclical nature of the products and the long-term potential behind metals and coal. The near-term weakness presents a perfect opportunity for a larger player to diversify their product mix.
On a price multiple, Joy Global may be worth $86 per share on the median price-earnings in the industry of 13 times. While the Caterpillar-Bucyrus valuation of 15 times EBITDA would be out of the question, a valuation of 9 times EBITDA would still be cheap and would price the company at $93 per share. Even at the lower multiple-valuation, investors would see a 59% return off the current price.
A buyout target in which investors can feel safe waiting
Investing on the potential for a buyout, especially of a large $5.7 billion company, is not within the risk tolerance for most investors. Fortunately for investors of Joy Global, there is significant upside over the next few years to merit an investment on the fundamentals alone. The rise of cheap natural gas and a slowdown in China have created the perfect amount of fear in the market to distract investors from the long-term drivers in the market.
This has created an opportunity for investors or another company to take ownership in a superbly-managed company with double-digit upsides on top of a yearly cash return.
Disclosure: I am long JOY. I wrote this article myself, and it expresses my own opinions. I am not receiving compensation for it (other than from Seeking Alpha). I have no business relationship with any company whose stock is mentioned in this article.