FireEye (NASDAQ:FEYE) is offering 14,000,000 shares of its common stock in the price range of $15 and $17 per share. The expected listing date is September 20, 2013 on NASDAQ Global Select Market. (Source: IPO prospectus)
Company Overview:
FireEye is a cyber/IT security firm that provides real-time protection to enterprises and governments worldwide against the next generation of cyber attacks. The company claims that its security technology is unique, most advanced and among the best technologies available in the cyber security industry.
Technology:
Its technology is based on a purpose-built, virtual machine-based security platform. The core of its technology is its MVX engine, which identifies and protects against known and unknown threats.
The company released its Web Malware Protection System, or Web MPS, in 2008, Email MPS in 2011 and File MPS in 2012. It also provides management and analysis appliances, specifically its Central Management System, or CMS, and its Malware Analysis System, or MAS. It supports and enhances the functionality of its products through its Dynamic Threat Intelligence, or DTI, cloud, a subscription service that offers global threat intelligence sharing.
Industry Overview:
Nowadays almost every organization depends on an increasingly distributed IT infrastructure (Internet, cloud, data centers, social-media, etc). This dependence has greatly increased the vulnerability of these organizations to potential security attacks. This greater reliance on information technology has resulted in significant investments in IT security products and personnel. According to IDC, a global market research firm, 2013 worldwide IT security spending will be approximately $17.9 billion, including investments in traditional security technologies such as firewalls, intrusion prevention systems and endpoint security software.
Customer Base:
The company primarily sells its virtual machine-based security platform to Global 2000 companies in a broad range of industries and governments worldwide. Its customer base has grown from approximately 190 customers at the end of 2010 to over 1,100 end-customers as of June 30, 2013 in more than 40 countries, including more than 100 of the Fortune 500. Its business is not dependent on any particular end-customer as no end-customer represented more than 10% of its revenues in 2011 or 2012 or the six months ended June 30, 2013. So far, the company had installed over one million virtual machines.
Financials:
The company generates revenue from sales of its products, subscriptions and services.
Product revenue:
Product revenue consists primarily of revenue from the sale of its MPS portfolio of software-based appliances, consisting of its Web MPS, Email MPS and File MPS, as well as sales of its MAS and CMS appliances. Revenue associated with its Email MPS is recognized ratably. By contrast, revenue associated with its Web MPS, File MPS, CMS and MAS products is recognized upon shipment.
Subscriptions and services revenue: This revenue consists primarily of revenue from subscription of its DTI cloud and Email MPS Attachment/URL engine, as well as other support and maintenance services. Revenue from such subscriptions is recognized ratably over the subscription period (one to three years). This segment generates the higher margins as compare to product segment (see the chart below).

During the years ended December 31, 2010, 2011 and 2012, its revenue was $11.8 million, $33.7 million and $83.3 million, representing year-over-year growth of 617%, 186% and 148%, respectively. During the six months ended June 30, 2012 and 2013, its revenue was $29.7 million and $61.6 million, representing year-over-year growth of 165% and 107%, respectively.
Its net losses were $9.5 million, $16.8 million and $35.8 million during the years ended December 31, 2010, 2011 and 2012, respectively. Its net losses were $14.3 million and $67.2 million during the six months ended June 30, 2012 and 2013, respectively.
Geographical distribution of revenues:
During the year ended December 31, 2012, approximately 80%, 8% and 8% of its revenue came from the United States, Asia Pacific and Japan ("APAC"), and Europe, the Middle East and Africa ("EMEA"), respectively. During the six months ended June 30, 2013, approximately 74%, 9% and 14% of its revenue came from the United States, APAC and EMEA, respectively.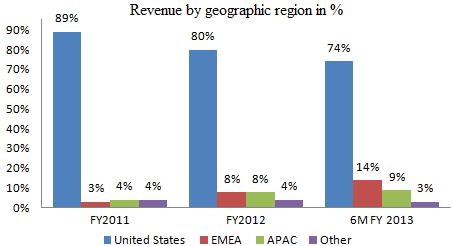 Key points:
Key Positives:
1. Growth in deferred revenues:
Deferred revenues indicate the future revenue generation capability of the company and also reflect the actual outcome of its present business efforts (sales and marketing) which doesn't reflect in its profit and loss account. Moreover, for the company, these deferred revenues are even more important as these deferred revenues normally consist of "subscriptions and services" revenues, which give much higher gross margins. The chart below shows the constant increase in the company's deferred revenues.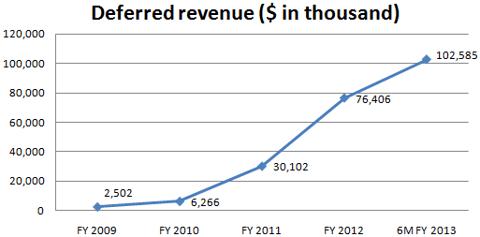 2. Huge addressable market (explained above).
3. Availability of dynamic threat protection data:
The company's Dynamic Threat Intelligence, or DTI, cloud interconnects the FireEye appliances deployed within customer networks, technology partner networks, and service providers around the world to identify emerging threats, collects threat samples, and replicates, reviews and characterizes attacks. The company leverages the threat intelligence it conducts from its appliances to update its malware descriptors, attack definitions, scanning engines, and other security solution components. This unique cloud based platform allows the company to update its security data in real time, to give the enhanced protection to its customers.
4. Rising share of revenue from Subscriptions and Services segment:
The revenue from "subscriptions and services" segment (segment with higher margins) is constantly on the rise since the last few years, and now the company generates almost half of its revenues from the said segment. (see the chart below).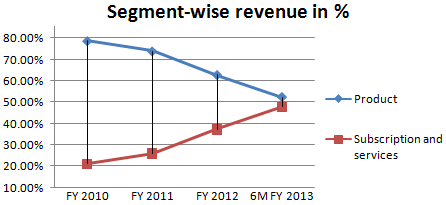 5. Leader in protecting organizations against the new breed of cyber attacks:
The company claims that its technology is far better than other traditional technologies and can provide much better protection against the new breed of cyber attacks.
As stated by the company in the IPO prospectus:
"As part of our sales strategy, we often provide prospective customers with our products for a short-term evaluation period."

"During this period, the prospective customer conducts evaluations with the assistance of our system engineers and members of our security research team. These evaluations have been part of our ordinary course business practices for the past two years. In over 95% of these prospective customer evaluations, we have discovered incidents of next-generation threats that were conducting malicious activities and that successfully evaded the prospective customers' existing security infrastructure, including traditional firewalls, next-generation firewalls, intrusion prevention systems, anti-virus software, email security and Web filtering appliances."
Key Negatives:
1. Loss making entity:
The company is a loss making entity and has reported operating losses each year since its inception. Its balance sheet holds stockholders' deficit of about $45 million (as on June 30, 2013).
2. Declining gross margins:
The company's gross margins had shown a sharp decline in the recent past (see the chart below).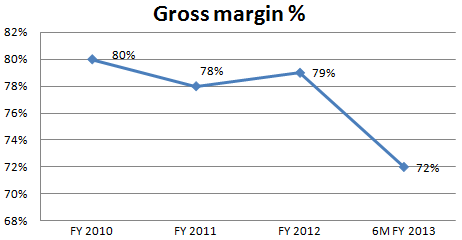 3. Recent rise in operating expenses:
The operating expenses of the company had shown a constant decline (as a percentage of total revenue) in the last few years, but during the first six months of FY 2013, the operating expenses had shown a huge rise (see the chart below).

4. Competitive market:
The company operates in a competitive market and competes with players that are much bigger and more established. Some of its biggest and most prominent competitors are: Cisco (NASDAQ:CSCO), Intel (NASDAQ:INTC), and IBM (NYSE:IBM).
Valuation:
At $16 (mid range of offer price) the company's valuations stand at $1.86 billion. At $16, the company is available at a P/S of about 16x (trailing twelve months).
Recent deal valuation:
Recently in July 2013 Cisco announced that it intends to acquire Sourcefire, a cyber security firm, for about $2.5 billion (cash adjusted) i.e. about 10.5 times of Sourcefire's trailing twelve months revenues.
Conclusion:
The company operates in a dynamic, rapidly evolving, and competitive industry. The company is in its growth phase so the operating expenses are on the higher side. The worrying thing is the recent and sudden increase in its operating expenses and decline in its gross margins (explained above). On the positive side, its revenues as well as deferred revenues are growing at a rapid pace.
The company got everything that a cyber security firm needs, to be successful, except the profits. The company offers one of the most advanced and futuristic technologies in the cyber security space that can provide better protection against the new breed of cyber attacks. It operates through a hybrid platform where its software-based appliances are installed on customer networks but the security is constantly enhanced through the cloud platform (DTI cloud). The company deals in the cloud computing sector and cyber security industry, both are creating a lot of enthusiasm among investor community, due to their future growth potential.
Data source: IPO prospectus.
Disclaimer: Investments in stock markets carry significant risk, stock prices can rise or fall without any understandable or fundamental reasons. Enter only if one has the appetite to take risk and heart to withstand the volatile nature of the stock markets.
This article reflects the personal views of the author about the company and one must read offer prospectus and consult its financial adviser before making any decision.
Disclosure: I have no positions in any stocks mentioned, and no plans to initiate any positions within the next 72 hours. I wrote this article myself, and it expresses my own opinions. I am not receiving compensation for it (other than from Seeking Alpha). I have no business relationship with any company whose stock is mentioned in this article.