Around this time last year, Mellanox Technologies Limited (Nasdaq: MLNX) stock was trading at an all-time high level of $115-$120. The stock has declined 65%-70% since then on concerns like revenue deceleration, competitive issues and threat of technology being embedded as part of other chips.
Concerns like the technology shift away from Mellanox and missing design cycles have proven to be short-lived after the revenue growth coming back, as is typical of a normal technology transition.
The beaten up stock is handing out a good opportunity for investors to buy at a good valuation as the following catalysts unfold:
Revenue growth from Interconnect chips at 100g/second speed.
Ethernet interconnect solutions become a big part of total revenue and drive growth rates.
Intel Corporation (Nasdaq: INTC) ramping up Ivy Bridge should help the company on the revenue growth front.
Earnings estimates may be proved conservative due to operational leverage and acquisitions.
Mellanox's long-term strategic position is intact
Top technology companies have their interest aligned with Mellanox. Oracle (NASDAQ:ORCL) has made a strategic investment in the company and owns 3.8 million shares, almost 9% of the outstanding shares. IBM makes 20% of the revenue and Hewlett-Packard 10%.
Mellanox is a "fabless" semiconductor company and has a leading position in providing a full range of interconnection products that helps the data transmission between servers, storage systems and communication equipment. Main customers it serves are storage vendors, High Performance Computing (HPC), "Cloud" infrastructure providers and Web 2.0, that all are growing with the increase in the amount of data stored and its computing complexity.
Revenues are concentrated and the top 10 customers represent 70% of revenues, but once the customer selects a chip, it's hard to replace it. Turned-around business, orders received and fulfilled in the quarter, is close to 50%.
Temporary revenue weakness has hurt the stock
If an investor considers two quarters as temporary, then Mellanox revenue weakness of 2nd half 2012 was a temporary phenomenon.

Chart source: YCharts
The stock took a hit about the same time as revenues started to decline on the back of reasons mentioned below but now that revenues are growing again, the stock has yet to catch up, providing opportunities for investors.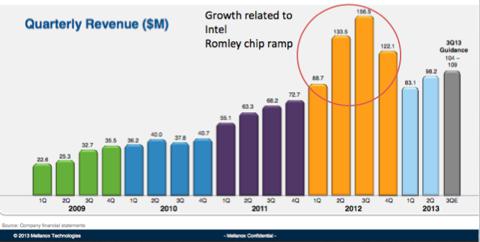 Revenue data source: Mellanox Technologies
As the chart suggests, the company experienced a brief lull in revenue growth after years of strong revenue growth rates. This weakness was on account of:
Intel's Romley chip ramp tapering off: Company was supplying interconnect chips with Intel's Romley platform chips for servers.
Slowdown in InfiniBand products: Another reason was the slowdown in InfiniBand protocol, even though Ethernet captured some growth but it was not enough.
Order push-outs by some customers.

Source: SEC filings
But after a 2-quarter weakness, revenues are growing back again, as the worksheet above shows. When InfiniBand protocol went mainstream, the company led the market and now that Ethernet interconnect protocol is gaining prominence, the company is again uniquely positioned, as proven by the sequential revenue growth rates above.
The next leg of growth opportunities to drive revenues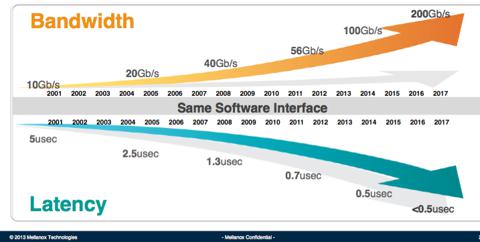 Source: Mellanox Technologies presentation
After the brief detour, the company is back on the growth path. The next leg of growth is being driven by not just the deeper penetration of its existing customer base but also adoption of next generation speed standards (100g/second) and next generation protocols like Ethernet.
Acquisitions to be a significant driver: In the last two quarters, the company has acquired IPtronics and Kotura. These 2 companies can help the company with its 100g/second offerings in the near term. Kotura's fiber based transceivers can deliver 100g/second speed with an ability to expand to 400g/second and even 1.6 terabytes per second down the road, while consuming less power than 100Gbps CFP transceivers. IPtronics can help the company in its optical based interconnects with speeds of 100g/second and beyond.
Intel is also expected to ramp its Ivy Bridge platform focused on the server market. Even though ramp may not be similar to the Romley build-outs, even a 50% rate of growth of Romley build-out may prove expectations conservative.
Expectations are conservative
Estimates of Mellanox's earnings seem on the conservative side, as is common for a company that has disappointed recently.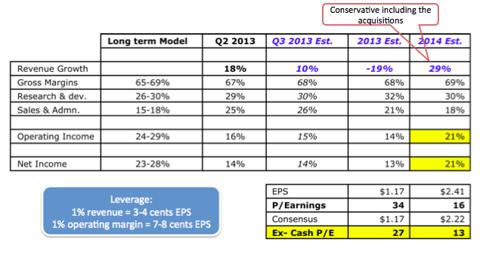 Calculated using data from SEC filings and company releases.
As the worksheet suggests, even with margins below the long-term model of the company, it can handsomely best the analyst consensus. Revenue growth rate of 30% includes full year revenues from recent acquisitions, again on the conservative side. The company has performed according to its long-term financial model.
Valuation
The valuation levels are relatively decent considering that the company is at the bottom of its business cycle. Since the revenues expand, operational leverage will bring down the valuation metrics further.
| | | | |
| --- | --- | --- | --- |
| Stock | $35.0 | | |
| Market Cap ($B) | $1.5 | Net Cash/ Share | $8.2 |
| P/ Expected 2013 Earnings | 30.0 | P/ Book | $2.5 |
| P/ Expected 2014 Earnings | 16.0 | P/ Sales | 3.5 |
| EV/ EBITDA TTM. | 13.5 | Rev growth FY 14 | 29% |
| Operating Margins | 16% | Gross Margins | 69% |
Relative to its peers, valuation might be on an expensive side but considering the relative revenue growth numbers, it is warranted.
| | | | | | | | |
| --- | --- | --- | --- | --- | --- | --- | --- |
| | Stock | Cash/ Share | P/B | P/S | P/E 2013 | P/E 2014 | Rev. growth 2014 |
| MLNX | $35 | $8.2 | 2.5 | 3.5 | 30 | 16 | 29% |
| | $11.5 | $4.9 | 1.4 | 2.2 | 15 | 14 | 1% |
| | $8 | $1.2 | 1.3 | 1.5 | 15 | 13 | -2% |
Conclusion
Like most other technology companies, the company has suffered at the hand of a technology transition, which made the analysts way too conservative. The next leg of growth is already showing its head and Street estimates may be moving higher soon.
Disclosure: I have no positions in any stocks mentioned, and no plans to initiate any positions within the next 72 hours. I wrote this article myself, and it expresses my own opinions. I am not receiving compensation for it (other than from Seeking Alpha). I have no business relationship with any company whose stock is mentioned in this article.