Commodities are reacting this morning to the Fed's attempts to manage the market's expectations in regard to future Fed policy pertaining to tapering its monthly fixed-income buying. We are seeing some of the gains from yesterday given up because we have four Fed heads speaking today and already one has said that tapering could start as early as October. October is only a month away, and if the data was bad enough that one could not begin tapering now, 30 days is not going to make any difference. We see these comments as an empty threat and would seek to buy on the dips caused by this talk.
Chart of the Day:
As it pertains to the precious metals we are far more bullish of silver than we are of gold and this morning will pay attention to see how much of the gains silver can hold onto. It appears that $22.50/ounce is going to be the level that the bulls and bears will meet to fight this one out. For readers looking at playing this we would recommend taking a look at the iShares Silver Trust (NYSEARCA:SLV) for exposure.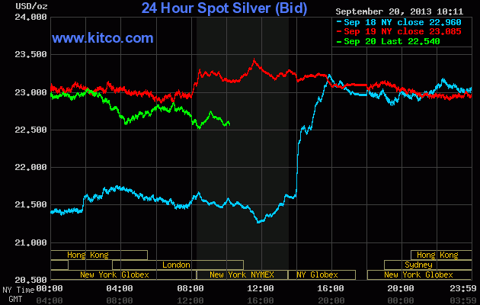 Source: Kitco
Commodity prices this morning are as follows:
Gold: $1350.40/ounce, down by $18.90/ounce
Silver: $22.58/ounce, down by $0.721/ounce
Oil: $106.08/barrel, down by $0.31/barrel
RBOB Gas: $2.7057/gallon, up by $0.0085/gallon
Natural Gas: $3.667/MMbtu, down by $0.053/MMbtu
Copper: $3.32/pound, down by $0.015/pound
Platinum: $1446.50/ounce, down by $26.50/ounce
Dry Bulk Shippers/Transportation
In light of the moves yesterday by DryShips (NASDAQ:DRYS) and Eagle Bulk Shippers (NASDAQ:EGLE), we wanted to highlight them today. Eagle shares rose over 30% with volume over six times higher than normal as the Baltic Dry Index rose again. DryShips shares followed suit rising almost 10% on the news while volume in its shares exploded higher as well.
We like to point out when we are wrong and as it pertains to the dry bulk shippers we have ultimately been wrong about this latest move. We still think that the dry bulk companies of years past were much better investments, but this trade has become a momentum trade as investors look for ways to speculate on the world economy turning and increasing demand for items such as iron ore and grains.
Yes the gains have been fantastic, but the volatility has been off the charts. For this reason we want our more conservative readers not to get caught up in the frenzy.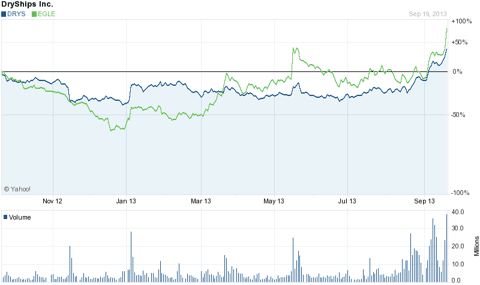 Source: Yahoo Finance
We are bullish on the world economy and transportation stocks as well, but still feel that there are far safer transportation stocks for readers to invest in. If one has risk capital available then this is not a problem, but for those who are investing retirement money or money that cannot be lost, we still think being bullish the rails, specifically Union Pacific (UNP), is the way to play the bulk shipping of commodities. If one is more bullish of the US economy than the world economy then the move makes that much more sense.
Oil And Natural Gas
With all of the attention that these mid-sized E&P names are garnering since two European companies have announced plans to buy North American assets, we are expecting some big news items to hit between now and the end of the year. Part of this will be due to M&A related news, but we also have numerous companies we follow set to announce results from new areas they are developing or will soon develop. Our thinking is that as we have been waiting in new areas (think Wattenberg and Utica shale plays) for results that have been delayed due to tie-ins not occurring because of midstream assets not being in place and such many key news items have been delayed. The backlog has grown and if companies are going to be fielding offers to sell the company they will surely want to maximize the size of any potential deal and that would require getting out all of their backlogged information.
Our attention in the past week or two has shifted away from the Utica as the midstream assets there face further delays and toward the Permian and Bakken, with the Bakken being the main focus. There is an awful lot going on in the play right now and it is the most attractive area from the perspective of a major oil company in our opinion. That is why we continue to watch the big names and little with operations in the area. Lately we have heard more and more talk regarding Triangle Petroleum (NYSEMKT:TPLM) which has seen its stock price rise in recent sessions. It has a market cap that is low compared to others and a stock price in the low single digits...two data points which always seem to attract day traders and speculators alike. This name could outperform on results alone, but add in the speculative juices of an eager market during an M&A phase and we could see some real fireworks.
Disclosure: I have no positions in any stocks mentioned, and no plans to initiate any positions within the next 72 hours. I wrote this article myself, and it expresses my own opinions. I am not receiving compensation for it (other than from Seeking Alpha). I have no business relationship with any company whose stock is mentioned in this article.