At the end of July Uralkali (OTC:URALL) announced that it would quit the Belarusian Potash Company (BPC) which operated as a de-facto cartel. As a result the entire potash sector plunged into chaos. Since the market believes that Uralkali's strategic decision to strike out on its own is the death spell for the entire fertilizer industry, shares of potash producers Mosaic (NYSE:MOS), Potash Corp. (NYSE:POT) and CMP (NYSE:CMP) fell off a cliff.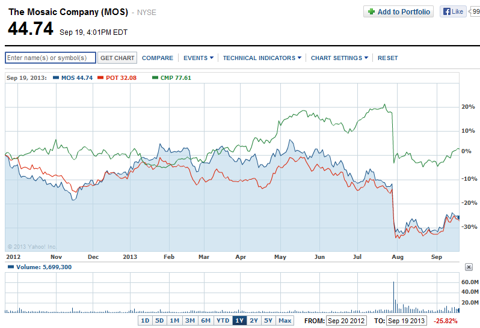 As a result of Uralkali's announcement to break up the potash cartel, Mosaic has lost a staggering 23% of its market capitalization in a matter of days. Year to date, the shares are down 22% and have recovered slightly after its post-July demolition. However, a large and ugly gap remains in Mosaic's stock chart which indicates the force with which Uralkali's break-up news swept through the potash sector.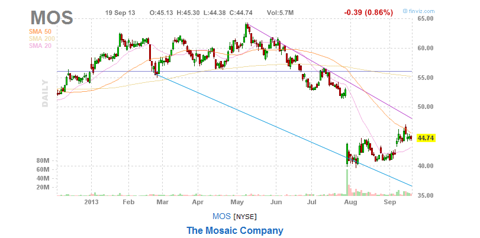 Underlying industry drivers intact
While I believe the market reacts irrationally, I also think that the recent market hysteria offers great value for Contrarians who are prepared to take a risk and swim against the stream. After all, even if Uralkali increases supply levels it is hardly going to be the end of the fertilizer industry. Industry drivers such as emerging market population growth and limited agricultural land supply are key themes that are very likely to not only persist but to increase pressure on the global food chain. Higher crop yields are going to be essential to feed the world population and lift millions out of poverty as industrialization and urbanization trends in the developing world continue to manifest themselves. I expect those fundamental business drivers to be part of a larger secular trend that favors fertilizer companies such as Mosaic and Potash Corp, two companies that got punished the hardest and, correspondingly, have the largest rebound potential.
Uralkali's news overvalued and misinterpreted
I want to point out two points that I think the market overlooks in interpreting the cartel break-up:
1. Uralkali failed to substantiate its plans to increase supply. It remains questionable if a massive supply increase and industry-wide falling commodity prices are truly in the interest of Uralkali. There is at least a slight chance that the market maniacally overreacts.
2. Highly entertaining/interesting is the news coming out of Uralkali's headquarters. In August, Uralkali's CEO was arrested by Belarusian authorities. On August 26th, 2013, the company released the following statement:
Uralkali (LSE: URKA, "the Company") confirms that, on 26 August 2013, Mr. Vladislav Baumgertner, the Chief Executive Officer and member of the Board of Directors of Uralkali, was taken into custody in Minsk, Belarus, in accordance with investigative procedures launched by the Belarusian authorities.
On August 19th, 2013, Uralkali published the following statement regarding the accuracy of its financial statements:
"Uralkali is committed to transparency and accuracy in its financial reporting. The three independent members of the Audit Committee monitor the Company's financial reporting and receive reports directly from Uralkali's independent outside auditors. The Company's financial statements consistently have been certified without reservation under international standards. We therefore conclude that the statements by the Belarusian authorities are inaccurate and part of an ongoing campaign of disinformation designed to harm Uralkali's reputation and its business."
While such occupations are entertaining they are also indicating that Uralkali will likely be preoccupied with fighting legal battles and devoting substantial resources to counter allegations brought forward by the law enforcement agencies. It remains questionable if Uralkali can follow through with its landmark, industry-changing cartel break-up strategy when its management is busy on the legal front and possibly fights for mere survival.
Valuation
In Q4 2013 Mosaic earned $1.14 per diluted share with higher operating earnings dependence on potash than on phosphates. Net sales remained fairly flat y-o-y but gross margins remained high at nearly 30%. A comparison of key financial items is provided below.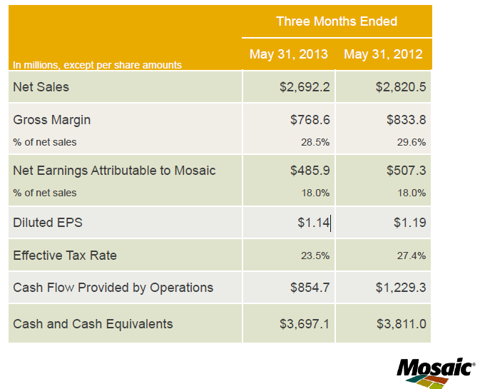 Mosaic presently trades at only 10 times trailing earnings. I estimate that Mosaic can earn around $6 per diluted share in 2015 based on a recovering average price for potash (above $400) and stable average DAP phosphate prices of just under $500 per metric unit. The intrinsic forward P/E would then only stand at 7.5 giving the shares substantial upside over the next two years. In fact, if sentiment changes and market participants start doubting the pessimistic market valuations of potash firms, a rebound in Mosaic shares can occur strongly and quickly. Meanwhile shareholders can collect a decent 2.24% dividend yield with the opportunity to benefit from share buybacks or special dividends. Given the attractive market position, favorable secular market trends and high gross margins, I consider an earnings multiple of 15 more accurate to reflect Mosaic's intrinsic value.
Bottom line
I believe potash firm valuations have hit rock bottom and still reflect depressed valuation levels. Contrarian investors who believe in the long-term viability of the fertilizer market and its underlying drivers can snatch up a variety of potash firms on the cheap. Many got punished indiscriminately in July and still need to recover from an overly pessimistic industry outlook. Mosaic remains one of the most punished companies in the field with substantial upside once the Uralkali dust settles.
Disclosure: I am long POT, MOS. I wrote this article myself, and it expresses my own opinions. I am not receiving compensation for it (other than from Seeking Alpha). I have no business relationship with any company whose stock is mentioned in this article.