Company overview:
RocketFuel (NASDAQ:FUEL) is a technology company that has developed an artificial-intelligence based automated decision-making platform. Its platform facilitate its customers to run advertising campaigns by delivering ads in real-time through digital advertising exchanges.
Platform/solution:
Its solution is simple, powerful, scalable, and extensible across geographies and industry verticals. It is designed to optimize both direct-response campaigns focused on generating specific consumer purchases or responses, as well as brand campaigns geared towards lifting brand metrics. Its platform can simultaneously runs over 1,000 campaigns for advertisers with highly diverse goals. Its Artificial Intelligence based system autonomously purchases ad spots, or impressions, one at a time, on the exchanges to create portfolios of impressions designed to optimize the goals of its advertisers. The platform can deliver ads through digital advertising channels like: display, mobile, social and video.
Industry overview:
Digital advertising industry:
Digital advertising is a rapidly evolving industry. According to MAGNA GLOBAL, the display, mobile, social and video channels for digital advertising are expected to grow from $42 billion in 2012 to $73 billion in 2016 globally.
Industry segment in which the company mainly operates:
The company's solution had developed to optimize the effectiveness of ads delivered through digital advertising exchanges, a process commonly referred as real-time bidding, or RTB.
RTB is the real-time purchase and sale of advertising inventory on an impression-by-impression basis on real-time advertising exchanges. According to IDC, RTB is expanding faster than any other segment of the digital advertising industry, with total RTB sales increasing from approximately $3 billion in 2012 to approximately $14 billion in 2016, representing a 47% CAGR.
Customer Base:
As of June 30, 2013, the company had 784 active customers, including many of the world's leading advertisers across a broad range of industry verticals. During 2012, its customers included over 65 of the Advertising Age 100 Leading National Advertisers and over 40 Fortune 100 companies. As of December 31, 2010, 2011 and 2012 and June 30, 2013, its active customers increased from 151 to 266 to 536 to 784, respectively, representing year-over-year increases of 76%, 102% and 130%, respectively. For the year ended December 31, 2012, no single customer represented more than 10% of its revenue.
Financials:
The company generates revenue by delivering digital advertisements to consumers through the display channel and other channels.
For the years ended December 31, 2010, 2011 and 2012, its revenue was $16.5 million, $44.7 million and $106.6 million, respectively, representing a compound annual growth rate, or CAGR, of 154%.
For the six months ended June 30, 2012 and 2013, its revenue was $39.6 million and $92.6 million, respectively, representing period-over-period growth of 134%.
For the years ended December 31, 2010, 2011 and 2012 and the six months ended June 30, 2012 and 2013, its net loss was $(3.2) million, $(4.3) million, $(10.3) million, $(2.5) million and $(11.9) million, respectively.
Key Points:
Key positives:
1. Healthy and constant growth in gross margins:
During last few years its gross margins had showed a constant rise in revenues as well as in gross margins (see the chart below).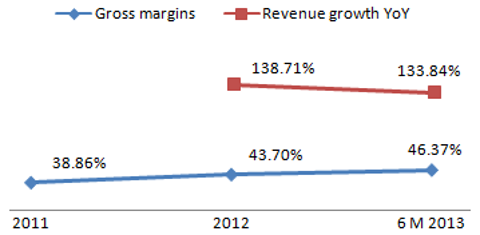 2. Healthy growth in customer base (explained above).
3. Rapidly growing and huge addressable market (explained above).
4. Healthy balance sheet.
5. Excellent revenue retention rate:
"We define our "revenue retention rate" with respect to a given twelve-month period as (1) revenue recognized during such period from customers that contributed to revenue recognized in the prior twelve-month period divided by (2) total revenue recognized in such prior twelve-month period." (Source: IPO prospectus)
Its revenue retention rate was 134% and 175% for the years ended December 31, 2011 and 2012, respectively.
Key negatives:
1. Rise in operating expenses:
The operating expenses of the company had shown a constant rise during last few years (see the chart below).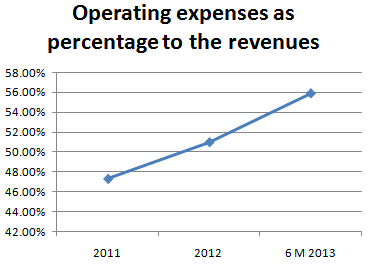 2. Highly competitive industry:
The company operates in the highly competitive and fragmented industry. It competes with large, well-established companies, some of its biggest and most prominent competitors are: Google (NASDAQ:GOOG), Facebook (NASDAQ:FB) and Yahoo (NASDAQ:YHOO).
3. Limited operational history:
The operational history of the company is very limited and the financial data available only from FY 2011.
4. High dependence on display advertising
Historically, its customers have predominantly used its solution for display advertising, and the substantial majority of its revenue is derived from advertisers, typically through their agencies, that use its solution for display advertising. If its solution failed to achieve market acceptance for mobile, social and video advertising, its future growth potential will impact negatively.
5. Normal business risks like emergence of the new competitors with the better products/services offerings, any adverse change in the Govt. regulations, any economic slowdown, etc.
Valuations:
At $28 (mid range of offer price) the company's valuations stand at $910 million. At $28, the company is available at P/S of about 5.6x (trailing twelve months).
Conclusion:
The company operates in the highly competitive and fragmented industry where it competes with some of the world's biggest companies. The success in the industry is technology driven not size driven, so even a small company with a better technology can easily compete with the much bigger companies. The company's past growth and its revenue retention rate tells a lot about the quality of its solution but on the negative side it had very limited operational history and its contracts typically have a term of less than a year, which leads to limited long-term visibility.
The company deals in the technology sector and digital advertising industry, both are creating a reasonable enthusiasm among investor community, due to their future growth potential.
Data source: IPO prospectus.
Disclaimer: Investments in stock markets carry significant risk, stock prices can rise or fall without any understandable or fundamental reasons. Enter only if one has the appetite to take risk and heart to withstand the volatile nature of the stock markets.
This article reflects the personal views of the author about the company and one must read offer prospectus and consult its financial adviser before making any decision.
Disclosure: I have no positions in any stocks mentioned, and no plans to initiate any positions within the next 72 hours. I wrote this article myself, and it expresses my own opinions. I am not receiving compensation for it (other than from Seeking Alpha). I have no business relationship with any company whose stock is mentioned in this article.