What Stifel Financial Corp (NYSE:SF) Does:
Stifel operate as a financial services and bank holding company. The company has built a diversified business serving private clients, institutional investors, and investment banking clients located across the country. its major geographic area of concentration is the Midwest and Mid-Atlantic regions, with a growing presence in the Northeast, Southeast, and Western United States.
The most important activities (according to its annual report):
(1) private client services, including securities transaction and financial planning services;
(2) institutional equity and fixed income sales, trading and research, and municipal finance;
(3) investment banking services, including mergers and acquisitions, public offerings, and private placements; and
(4) retail and commercial banking, including personal and commercial lending programs.
Stifel's Core Philosophy
Usually I don't care too much for core philosophies out of annual reports - usually I'm too cynical - but I liked Stifel's enough to quote it for you:
Our core philosophy is based upon a tradition of trust, understanding, and studied advice. We attract and retain experienced professionals by fostering a culture of entrepreneurial, long-term thinking. We provide our private, institutional and corporate clients quality, personalized service, with the theory that if we place clients' needs first, both our clients and our company will prosper.
If you have experience on how serious the company takes its philosophy let us know about your experience.
This is not a value stock
For the readers among you that follow me on Seeking Alpha and regularly read my contributions you know I have a keen interest in value stocks. Many of my articles are about companies with problems or stocks that are beaten down by actual problems.
So what am I doing talking about a stock with a P/E of 24?
It is rather unusual. But even though its harder to find undervalued stocks with high P/E's its still possible if their growth rates are high enough.
The downside of this approach is that you are paying for growth that may or may not materialize in the future. The true value investor circumvents this problem by paying only for current assets.
If you are comfortable paying for future earnings take a look at some of the historic stats of Stifel Financial Corp. and let's discuss - both pros and cons - how likely it is to pick up its historic pace.
Stifel's Income Growth Rate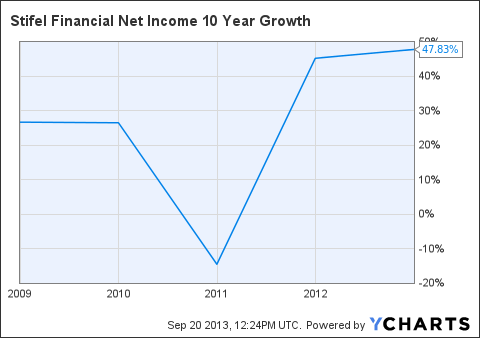 SF Net Income 10 Year Growth data by YCharts
I'm unable to get the full data from the Ycharts chart tool but on Morningstar's data the 10 year average growth rate in income is shown as a 40%+ annual growth rate.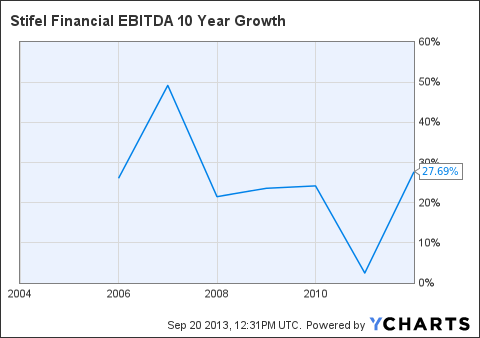 SF EBITDA 10 Year Growth data by YCharts
When examining some of their 10 year growth data more closely I did find that the 10 year average was eschewed upwards by the astounding 440% earnings growth rate in 2003.
However this figure isn't present in the 10 year revenue growth rate and revenue growth is still sitting at a 10 year average of a very healthy 24% according to the Morningstar data.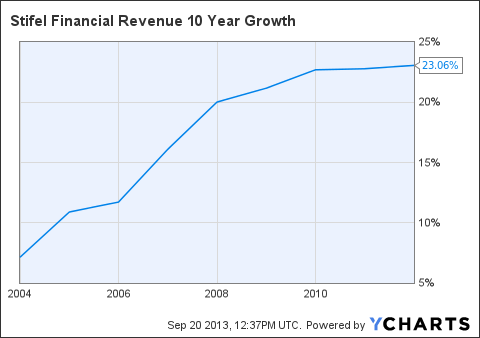 SF Revenue 10 Year Growth data by YCharts
With the graphs shown above I tried to visualize the growth picture for the firm and why a P/E in the mid twenties could still be considered as an undervalued stock.
Growth With Little Leverage
Although you could argue that most of their earnings are achieved through a form of leverage, Stifel does a lot of wealth management, it isn't in the traditional sense with the accompanying obligation and it comes with a mandate instead.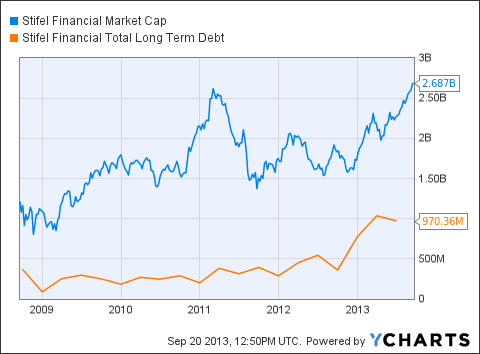 SF Market Cap data by YCharts
Achieving the growth rates Stifel did with little leverage is an accomplishment and the fact that leverage remained manageable through history makes it unlikely this level will be raised aggressively but the possibility is there.
Margin expansion
If the recent acquisitions can somehow add scale to the operations of the firm and spread out fixed costs like those associated with keeping talented bankers on a larger asset base, margins can expand.
This is an overview of acquisitions in the past five years:
2009 Acquired 56 branches from UBS.
2010 Completed its acquisition of Thomas Weisel Partners.
2011 Agreed to acquire Stone & Youngberg LLC.
2012 Acquired Miller Buckfire.
2013 Completed merger with Keefe, Bruyette & Woods (NYSE:KBW).
If you are worried the company might not be able to integrate operations. Go over the growth charts above and inspect its full acquisition record on Wikipedia. Though historic results are not always repeated at least the firm has sufficient experience.
Wealth management which is important to Stifel is a cyclical business and not in the best part of a cycle right now. Its certainly possible some margin expansion might materialize by the industry moving into a more favorable environment. Unfortunately this is not a stock specific advantage.
Conclusion
From examining Stifel's business philosophy their growth strategy and their historic track record of growing revenue and earnings at great rates - I gather they are worth the price tag and perhaps undervalued. Ten year growth rate for revenue sits at 24% and its one of the less impressive numbers they posted.
They grow by acquisitions but have the track record and the experience. In the wealth management industry acquisitions are not such a bad way to grow as it is in some industries.
With a P/E of 24 growth needs to be there. If the company stumbles, or experiences adverse regulations, the stock may take a dive. On the other hand if the climate for investment banking and wealth management improves and the acquisitions create advantages of scale margins can improve by a lot on top of the growing revenue and earnings shoot up.
Stifel at $42.73 a share is a buy.
Disclosure: I have no positions in any stocks mentioned, and no plans to initiate any positions within the next 72 hours. I wrote this article myself, and it expresses my own opinions. I am not receiving compensation for it (other than from Seeking Alpha). I have no business relationship with any company whose stock is mentioned in this article.