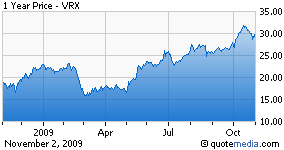 I wrote about Valeant Pharmaceuticals (NYSE:VRX) back on June 16, when the stock was trading at a little over $22. The company came to my notice because of Efudex, its treatment for actinic keratosis and basal cell carcinoma. Not only does the treatment work to remedy an almost epidemic growth in skin cancer among baby boomers -- it turns out that the treatment also improves the appearance of the skin. After undergoing surgical treatment myself for basal cell carcinoma, I can safely say that patients who have a choice will opt for the cream over surgery. The improvement in appearance is a bonus.

Since then, the stock has run up to $29, and after its earnings report this morning, it was up another 12% at $33 in pre-market trading, making a gain of 50% in four and a half months.

The company reported total revenue of $220.3 million in the third quarter of 2009, an increase of 31% over the third quarter of 2008. Product sales in the company's Specialty Pharmaceuticals segment, which includes Efudex, increased 45% to $101.6 million. And what's more, the company has raised guidance for 2009 to between $2.10 and $2.20, up from prior guidance of $1.90 to $2.10.

Disclosure: I am long VRX and happy to be so.