Short Recommendation for Vivus (NASDAQ:VVUS)
Current Price: $10.12
Target Price: $6
Horizon: 3-12 Months
Situation Analysis:
Sell side analysts have a mean price target of $13 on Vivus. This price target is based on a discounted cash flow, with projected sales of Vivus's lead drug Qsymia in the hundreds of millions by FY 2014. I differ and believe the ramp up will be slower than expected and am projecting lower revenue than the sell side, which will drive down the stock price. I also believe competition in the weight loss drug market will erode peak sales of Qsymia. The weak sales from the launch of Qsymia is also likely to mitigate the chance of a major pharmaceutical partner emerging or at least substantially delay it. I also see opportunity for Belviq to outpace Qsymia TRx (Revenue) which it has recently. I am interested in this company, because this company is trying to build a new market and because of that there is a lot of uncertainty around their prospects and therefore inefficiency
Potential Catalysts(How We Get Paid)
*Safety issues and negative side effect profile
*Inability or substantial delay in Vivus finding major pharmaceutical partner
*Intense completion from new drugs and existing competitor Arena Pharmaceuticals (NASDAQ:ARNA)
*Weak sales of Qsymia
*Dilution from recent and future financings
*Insider Sales
*Lack of reimbursement improvements
Company Background:
VIVUS is a biopharmaceutical company dedicated to commercializing and developing innovative therapies to address unmet needs in obesity, sleep apnea, diabetes and sexual health. Their drug, Qsymia (phentermine and topiramate extended-release) (formerly known as Qnexa®)was approved by the FDA for the treatment of obesity as an adjunct to a reduced-calorie diet and increased physical activity for chronic weight management in adult patients with an initial body mass index, or BMI, of 30 or greater (obese), or 27 or greater (overweight) in the presence of at least one weight-related comorbidity, such as hypertension, type 2 diabetes mellitus or high cholesterol (dyslipidemia). Qsymia incorporates low doses of active ingredients from two previously approved drugs, phentermine and topiramate. Although the exact mechanism of action is not known, Qsymia is believed to target appetite and satiety, or the feeling of being full, the two main mechanisms that impact eating behavior. Company announced the U.S. market availability of Qsymia for obesity in September 2012. On February 21, 2013, the CHMP confirmed its October 18, 2012 decision to deny the MAA for Qsiva™ (phentermine/topiramate ER) for the treatment of obesity in the European Union, or EU. Company has completed Phase 2 clinical studies for Qsymia for the treatment of sleep apnea and Qsymia for the treatment of type 2 diabetes.
VIVUS's drug, STENDRA, or avanafil, was approved by the FDA for the treatment of erectile dysfunction, or ED, in the U.S. VIVUS, through collaboration arrangements with third parties, intend to market and sell STENDRA in the U.S. and, if approved, under the trade name
SPEDRA™ in the EU and other territories outside the U.S.
Weight Loss Market Analysis:
According to data from the World Health Organization globally there are roughly 1.4 billion people classified as overweight. "By 2030, 50-60% of the populations in many countries are on target to be classified as obese," from a recent report from Bank of America. Further, the obesity drug market in U.S. France, Germany, Italy, Spain, the United Kingdom and Japan is projected to increase to $2.6 billion by 2020. There is no doubt there is a market for weight loss drugs, the question however is Qsymia the drug that will be able to take sufficient market share to justify its current $1 billion capitalization? I question the amount of market share Vivus can obtain and feel there will be a delay in how long it takes to achieve peak penetration. Sell side analysts are projecting that Qsymia can achieve around $1.2 billion in revenue by 2020, this is 46% of projected market. I am forecasting $800 million by 2020, much lower peak market share
Current FDA Approved Competition:
-ALLI (orlistat): Works by preventing digestion of 25% of fat consume. A starter pack of Alli - which includes a month's supply of pills, a dietary guidelines guide, a calorie and fat counter, and a food journal - costs about $54. In the US first quarter 2013 sales of Alli grew 7%, due in part to its restocking
-BELVIQ (Locraserin HCI): BELVIQ is the first FDA-approved weight-loss medicine that works by targeting a hunger receptor in the brain and is believed to help you control portions. The precise way BELVIQ produces feelings of satisfaction is not fully understood, but it is believed to help you lose weight by making you feel satisfied when eating less. BELVIQ is marketed by Arena Pharmaceuticals
Competitors in Pipeline (Currently Conducting Trials):
-Empatic and Contrave from Orexigen. Lead combination product candidates target obesity. Products are Contrave®, which has completed Phase III clinical trials for which a New Drug Application, or NDA, has been submitted and reviewed by the U.S. Food and Drug Administration, or FDA, and Empatic™, which has completed Phase II clinical trials.
-Zafgen: Pipeline is shown below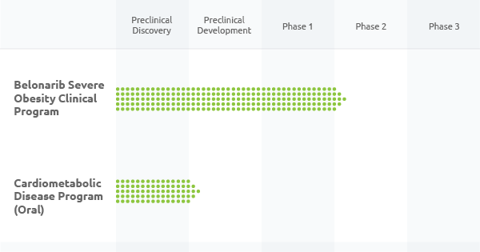 Click to enlarge
Source: Zafgen Investor Website
Is Qsymia a drug that will take $1.2 billion dollars in market share by 2020?
For further insight, look at Vivus's 10-Q risk factors:
Qsymia is a combination of two active ingredient drug products approved individually by the FDA that are commercially available and marketed by other companies, although the specific dose strengths and formulation (extended-release vs. immediate-release) would differ. As a result, Qsymia may be subject to substitution by prescribing physicians with individual drugs contained in the Qsymia formulation, which would adversely affect our business.

In the third quarter of 2013, Supernus Pharmaceuticals, Inc. announced its plan to launch Trokendi XR, an extended-release pediatric formulation of the generic drug topiramate that is indicated for pediatric epilepsy. Topiramate is not approved forobesity treatment, and phentermine is only approved for short-term treatment of obesity. However, because the price of Qsymia is significantly higher than the prices of the individual components as marketed by other companies, physicians may have a greater incentive to write prescriptions for the individual components outside of their approved indication, instead of for their combination drug, and this may limit how Vivus prices or market Qsymia.
Patent Protection is Key to maintaining market share for a biotechnology company and Vivus's protection appears to be weak given it is based on two already FDA approved drugs
How is the commercial launch proceeding for Qsymia?
VVUS reported 81,000 TRx for the 2nd quarter. This was very slow growth from the end of the first quarter with 23,000 TRx. The retail launch does not appear to be moving as quickly as the market anticipated
CFO Selling is A Red Flag:
Seth Fischer, the company's CFO, recently sold his shares near time all time company low. The CFO of a biotechnology company is usually the one most attune to the market prices and when might be an opportune to sell. The sale price per the form 4, ranged from $11.90 to $11.95 per share. I see this as a major lack of confidence in the company, and I know he still holds stock in the name, but to sell at a time the stock is burning is not a great sign of confidence from those who know company best
Decision Tree:
Downside (30%): Short Squeeze occurs goes up to $14 per share and shorts should cover
Base Case (35%): $9 price
Upside Case (35%): $6 price target
How Shorts Get Burned:
- Major big pharma marketing partnership announced(unlikely given weak prescription adoption as of now)
- Stronger TRx numbers
- Sale of company(unlikely for same reason above)
- Erectile dysfunction drug becomes meaningful revenue for company
Discounted Cash Flow Analysis:
From my discounted cash flow analysis with a 10% discount rate and no terminal value, I arrive at a $6 price target driven primarily by lower revenue projections than the street.
Street Versus Hunter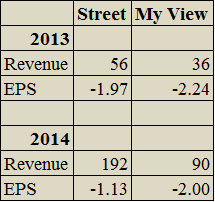 Disclosure: I have no positions in any stocks mentioned, but may initiate a short position in VVUS over the next 72 hours. I wrote this article myself, and it expresses my own opinions. I am not receiving compensation for it (other than from Seeking Alpha). I have no business relationship with any company whose stock is mentioned in this article.