It is the first time in a very long time that the Fed has not delivered its promise to the market. While the whole market was expecting the Fed to announce lower asset purchases, the Fed took its guidance back, and instead said that it has no time frame for unwinding QE.
That sends a message to the market, that the party is not over and people can continue to be reckless forever. And indeed the market has been responding in kind, sending many stocks to the stratosphere. Today many stocks are trading at bubble valuation levels not seen since 1999. In fact even analysts are behaving like analysts of 1999.
Yesterday Tesla (NASDAQ:TSLA) soared by 8%, after a bullish note from Deutsche Bank. The bank said:
Based on conversations with mgmt and monitoring information available on Tesla owners' blogs, we believe that the company is on-track to modestly outperform Q3 margin expectations, that demand has continued to grow in the US and Europe (despite substantial option pricing increases in effect as of late July), and that the production rate at Tesla's factory has continued to increase.
Back in 1999 analysts were using parameters such as site hits to come up with an explanation why so many .com companies were soaring. Today analysts are reading blogs. To be fair, there were no blogs back in 1999, so analysts didn't have the ability to read them back then.
Well I guess this means that the Tesla bulls here on S.A. are partially responsible for Tesla's ludicrous valuation! Good work guys.
Workday (NYSE:WDAY) is another out of this world valued stock that not only refuses to correct, but keeps going higher and higher every time I mention it's a bubble. In fact, I think WDAY bulls should have me on the payroll to keep badmouthing the stock, because it seems every time I mention it, it keeps going higher.
Just the thought that this stock trades at 40 times sales is enough to get anyone dizzy, but it seems that 40 times sales is no big deal these days.
The key to making money in today's market is to pick stocks that don't make money (that was a joke). In fact, the more a company loses these days the higher to stock goes. NetSuite (NYSE:N) is one of those stocks.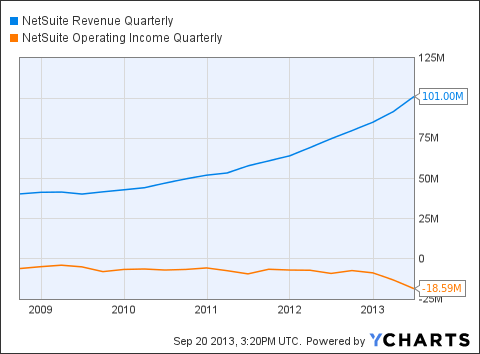 N Revenue Quarterly data by YCharts
Netsuite trades at a forward P/E of 250, at a Price/Sales of 22 and P/B of 40. But hey, all this data means nothing these days. Growth is the name of the game these days and if you want growth, you have to pay for it through the nose. No thanks I say.
Facebook (NASDAQ:FB) is stock that has become a bubble in record time. In fact it has almost doubled in market cap just over the past 2 months.
Facebook trades at a P/E of over 200 and a Price/Sales ratio of 18. Yes I understand it's a high growth stock, but I can never understand why growth has to cost so much. But then again I'm not the market. The market sets its own rules and valuations and from the looks of it, the market has put a very high premium if you want to own Facebook. Can you make money looking forward? Maybe, but if the Fed decides to pull the rug on QE, watch out below.
Bottom line
Should you sell these stocks short? The answer is yes, but only if you get confirmed technical weakness on the charts, and not before we get a clear message when the Fed will begin lowering the $85 billion it puts in the market each month.
As the saying says, never fight the Fed. And so far fighting the Fed has proven to be the wrong strategy for the above stocks. Because in today's market, no stock is expensive enough or enough of a bubble, until the Fed terminates its asset purchases.
Disclosure: I have no positions in any stocks mentioned, and no plans to initiate any positions within the next 72 hours. I wrote this article myself, and it expresses my own opinions. I am not receiving compensation for it (other than from Seeking Alpha). I have no business relationship with any company whose stock is mentioned in this article.