Derailed by the Lac Megantic train crash, and other factors, American Railcar Industries Inc. (NASDAQ:ARII) has stayed well off a 52-week high of $47.10. The rail car manufacturer hasn't performed in stride with industry peers, until September 19th when it separated, closing up 3.71%.
Comparable companies include Trinity Industries (NYSE:TRN), which closed down 0.69% for the day, and FreightCar America, Inc. (NASDAQ:RAIL) down 0.28% at close. Trinity trades less than $2 off its 52-week high and another competitor, which American Railcar tried to acquire, The Greenbrier Companies, Inc. (NYSE:GBX) is also near 52-week highs.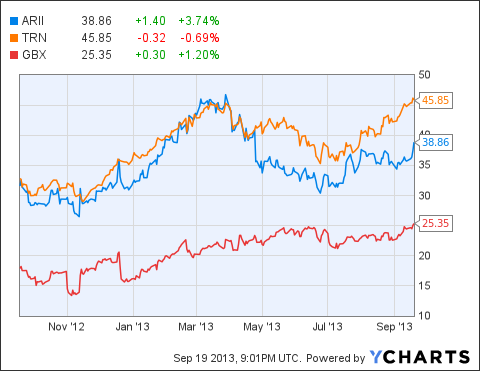 Recent News
For American Railcar, recent and past news has either been limited or negative. The Lac Megantic train crash derailed the whole industry, even though these events (a train running wild down the tracks) are rare. The incident spurred a look at industry regulations involving the DOT-111 tanker car. Bearishness on rail stocks increased as a politician pushed for a complete overhaul of regulations. But, reality may have set in when it comes to re-vamping regulations (which could lead to "scrapping" nearly every tanker rail car) in a multi-billion dollar industry.
Doubts also rose about the continued demand for tanker cars. While the growth rate for demand is nowhere near its peaks, economic factors are continuing to signal for more tanker cars. The Bakken in North Dakota, where ARII cars ride the tracks, just reported nearing 875,000 bpd of oil in July. With over 400 wells to come online, and 67% of oil shipped via rail, American Railcar may pick up speed in the near term.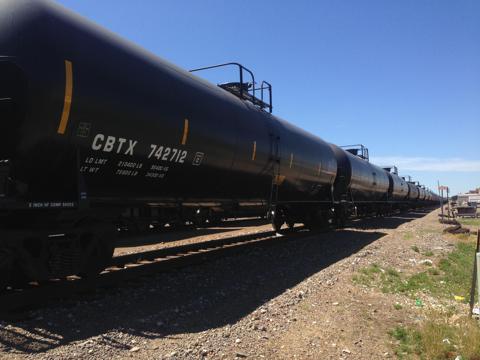 American Railcar Tankers on a BNSF Train in North Dakota
On the 16th S&P upgraded American Railcar from B+ to BB- with a stable outlook. Two days later, Standpoint Research initiated the company at a buy with a $44.00 price target. BB&T Capital downgraded the company in July removing their $43 price target.
Important Notes
Carl Icahn owns over 55% of the company, and is involved in joint ventures.
The company is moving their focus to growing their lease fleet; previously their production mix leaned heavily on the sale side.
Any changes in rail car safety standards could cause a sharp increase in their repair business.
Leasing rates are notably high, and could decrease in a slowing oil boom environment.
Backlog remains steady, but off highs.
Q2 revenue missed expectations, but EPS surprised with 72% period over period growth.
BNSF Investing In Infrastructure - Article Link
Moving Forward
American Railcar produces some of the best margins in the industry when it comes to rail car production. The backlog remains strong, and shares haven't performed in line with peers. Coverage and news on the company has been very limited until recently. Oil related growth in the U.S. remains strong, and a joint venture has the company moving forward in India.
| | | | | |
| --- | --- | --- | --- | --- |
| | ARII | GBX | TRN | RAIL |
| Yield | 2.80% | n/a | 1.30% | 1.30% |
| EPS | 3.75 | (0.91) | 3.74 | (0.19) |
| 52 W High | 47.10 | 25.49 | 46.51 | 25.14 |
| P/E | 10.37 | n/a | 12.26 | n/a |
Data from 9/19/13 close.
With strength in the overall market, and continued strength in the industry, American Railcar Industries, Inc. looks to have the most upside. Recent analyst attention should help the quiet company move closer to its 52-week high, and given recent conditions a 13% or greater return is possible from here.
Disclosure: I am long ARII. I wrote this article myself, and it expresses my own opinions. I am not receiving compensation for it (other than from Seeking Alpha). I have no business relationship with any company whose stock is mentioned in this article.