You won't find this week's profile stock in our High Dividend Stocks By Sector Tables. In fact, its dividend yield is rather low, even though it does have big recent dividend growth. However, we see two interesting scenarios for this stock:
Long term: Due to its steadily growing cash flow, there should be ample room for it to increase its dividends. It also looks undervalued on a 2013 and 2014 PEG basis.
Short term: It has high call option prices, which currently pay out over 7% for just a 4-month term, for an annualized yield of over 20%.
Rock-Tenn (RKT) is one of the leading manufacturers of corrugated and consumer packaging in the US. With its 2011 acquisition of Smurfit-Stone, it became one of the top 4 players in the rapidly consolidating US containerboard industry, which gives it pricing power.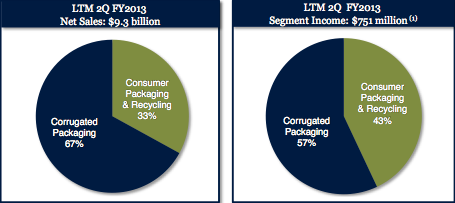 Cash Flow: RKT has steadily grown its cash flow over the past several years, and is projecting very strong cash flow growth in the coming years, as it further digests its Smurfit-Stone acquisition. Some analysts are also projecting that rising interest rates will greatly help Rock-Tenn reduce its pension deficit, and free up even more cash flow for shareholders via dividends and share repurchases.

Dividends: RKT raised its quarterly dividend by 33% in May, to $.30, from $.225. Its quarterly payout has grown from $.128 in 2008, to the present $.30.

Short Term Options Opportunities: You're probably thinking, "big deal," a 1% yield, but you can substantially improve upon RKT's dividend yield, via selling options.
This January $110 call trade, from our Covered Calls Table, currently pays over 25 times RKT's November $.30 dividend. Your break-even cost is $101.90, if you receive the $.30 dividend, or $102.10, if your shares get assigned/sold prior to the ex-dividend date. Another benefit is that, even though you get paid the $7.70 call option premium now, you won't have to pay taxes on it until 2015, if you hold the position into January 2014.

Hedging With Puts: As RKT has had a big run up over the past 52 weeks, you may want to consider selling cash secured puts below its share price, vs. selling covered calls. This January 2014 trade pays $5.80 and offers a breakeven of $99.20, which is 9.7% below RKT's 9/20/13 $109.90 intraday price.
You can see more details on this and over 30 other trades on our free Cash Secured Puts Table:

Earnings: Although it's currently near the top of its 5-year P/E range, RKT looks quite undervalued on a 2013 and 2014 PEG basis, thanks to major EPS growth projections:

After stumbling in 2012, RKT has had good quarterly EPS growth in 2013:

RKT also sports a low long-term PEG of .67:

Additional Valuations: RKT also looks undervalued on a Price/Sales basis, but is currently commanding a premium Price/Book ratio:

Financials: RKT has a much higher ROE than its industry's averages, and a similar debt load. It has an Interest Coverage ratio of 4.7.

Performance:

Disclaimer: This article was written for informational purposes only, and isn't intended as investment advice.
Disclosure: I have no positions in any stocks mentioned, but may initiate a long position in RKT over the next 72 hours. I wrote this article myself, and it expresses my own opinions. I am not receiving compensation for it (other than from Seeking Alpha). I have no business relationship with any company whose stock is mentioned in this article.