Since our last article, the S&P 500 (SPY, IVV) has risen further, propelled higher by the so-far peaceful U.S. reaction to chemical weapon usage in Syria, by Larry Summers' withdrawal as a possible Fed Chair, and most important, by the Federal Reserve's decision to not yet lighten its level of policy accommodation.
In July, we wrote that we suspected the Fed to start to reduce its asset purchases at its September meeting, though "only under the right economic conditions." There can be no doubt that the economy has continued to improve since. There are, however, two events that kept the Fed from lowering its monthly purchases: the impacts of "federal fiscal retrenchment" and, as Fed Chairman Bernanke noted, a "tightening of financial conditions observed in recent months."
According to the Fed, fiscal policy in the U.S. has been suboptimal. During times of weak growth and low inflation, the Fed would prefer the Government to act with the Keynesian response of stimulus in the form of tax cuts and increased spending. Congress and the President have instead delivered tax increases and a sequestration, both of which have softened the strength of the recovery. House Republicans are also threatening another debt ceiling fight that could limit the Treasury's ability to pay its obligations.
In the Fed's view, Congress is forcing its hand and leaves it no other choice but to pick up the slack of their fiscal tightening. A showdown in Congress over the debt limit and the Affordable Care Act is possible, but would do unnecessary harm to the recovery. This fact is no doubt known by both sides of the aisle of Congress and therefore a full-blown government shutdown isn't likely. Though we can say that we do not trust the wisdom of this Congress, it appears the Fed doesn't either. Recent softening in housing is likely the main culprit of the Fed's steady posture.
Typically, 'tightening' refers to both increases in credit spreads and increases in nominal interest rates. Since Chairman Bernanke's testimony before the House of Representatives' Committee on Financial Services back in July, the 10-year Treasury yield has increased 34 basis points, the 30-year conventional mortgage yield rose 20 basis points, all while credit spreads on corporate debt remained largely unchanged. By historical standards, this is hardly a "tightening of financial conditions."
When you expand the time frame from the last couple of months to last November, the month with the lowest mortgage rate on record, however, you do see a greater increase in interest rates. Since November 2012, the 30-year conventional mortgage rate has increased 126 basis points to 4.57%. Credit spreads, on the other hand, actually improved over 100 basis points during that period.
This increase in interest rates has thus far had a limited impact on most of the economy. Manufacturing continues to expand, robustly so over the last few months, auto sales reached a new high for this economic recovery in August, unemployment claims are at the lowest level since 2007, hours worked and weekly wages are increasing, corporate profits are the highest ever, stocks are at all-time highs, and the outlook for economic growth remains positive.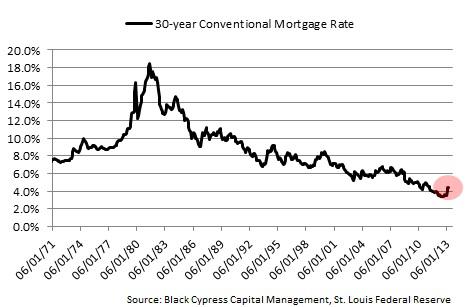 So why then did the Fed hold steady on its current level of purchases? We suspect it is due primarily to that little red section on the graph above. Since mortgage rates bottomed in November of last year, building permits and housing starts have been stuck at the same seasonally-adjusted level. Applications for refinancing and applications for purchasing homes both peaked in May of this year and have since fallen 65% and 13%, respectively. So it appears that the Fed maintained its level of monthly purchases to support the housing market.
If there were any doubt that ultra-low rates are, in the Fed's view, critical to both the ongoing housing recovery and more broadly, this economic expansion, the last four months should put that to rest. While mortgage rates today are lower than they have been for all but a few months in history, the mere 126 basis point increase in rates slowed the housing market's advance enough for the Fed to abandon the start of its widely-expected process of ending its unprecedented monetary stimulus. Is the recovery really so fragile?
Equity markets, on the other hand, have shown no such sign of pause. Our estimate of expected broad equity market returns is a 3% to 5% average annual increase over the next decade.
To view future returns more favorably is to assume record high profit margins do not normalize and the economy avoids recession for an additional ten years. Put simply, one must believe that it is different this time. We think it is not.
With that said, the economy continues to expand, whether Fed-induced or not, and combined with accommodative monetary policy, this bodes well for equities.
In its quest for returns, a strategy's capability to manage risk and preserve capital is far more important than its ability to chase the market higher at lofty levels. This is of particular importance to remember at this stage of a market cycle. Stocks are no longer inexpensive and the case can be made quite easily that as a group they are in fact overvalued. Their continued desirability today is in many respects a function of poor alternatives due to historically low interest rates.
We suspect many investors would be more than content to hold cash or bonds in lieu of stocks if short rates covered inflation and offered a reasonable real return. As the Fed would have it, capturing mid-to-high-single-digit yields isn't possible today without taking poorly compensated credit risk further out on the yield curve. As such, stocks remain the best asset class as well as investors' seemingly only decent choice.
In this environment of more moderate future returns, strategies with actual risk management practices will flourish. Choose carefully.
Disclosure: I have no positions in any stocks mentioned, and no plans to initiate any positions within the next 72 hours. I wrote this article myself, and it expresses my own opinions. I am not receiving compensation for it. I have no business relationship with any company whose stock is mentioned in this article.