Energy Recovery Inc. (NASDAQ:ERII) is a small-cap company that designs, manufactures, and sells energy recovery devices ("ERDs") that harness reusable energy from industrial fluid flows and pressure cycles. While its patent protected product line of PX isobaric pressure exchanges for the desalination market are currently the company's bread-n-butter, ERII is conducting field trials in order to gain a foothold in the gas processing market. If successful, gas processing will open up a $1 billion worldwide market opportunity. Due to the potential size of this market compared to the desalination market, successful penetration into the gas processing market would cause me to raise my current twelve-month price target from $10/share to $12.50: 85% higher than yesterday's close of $6.77.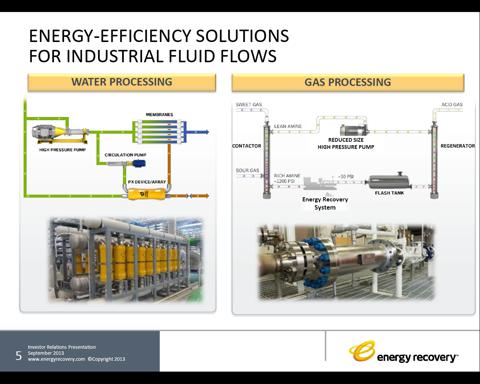 I started coverage of Energy Recovery by writing an article on the company's patent-protected line of PX isobaric pressure exchangers and the pent up worldwide demand for sea water reverse osmosis ("SWRO") plants due to three primary factors:
Population growth in the arid regions of the Middle East, North Africa, and Southern California.
Fresh water pollution in places like China and India.
The effects of global warming (drought and rising sea levels) affecting regions like Florida and Texas.
In addition, the credit crisis of the recent past made it difficult for countries and companies to fund large infrastructure projects like SWROs. That has changed. In a presentation given earlier this week at a Credit Suisse small-cap conference (available here), the company presented a slide showing that the desalination market is poised to more than double over the next three years and more than triple by 2019: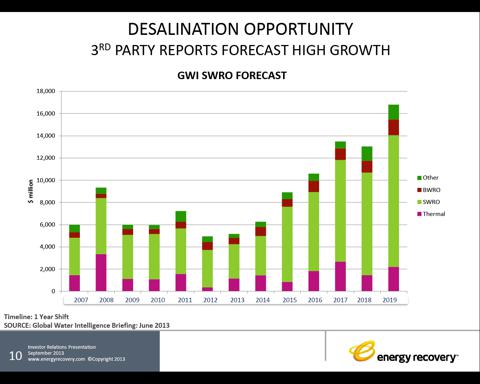 My earlier article echoed management's belief that the company was poised for a wave of revenue growth, which would lead it to be solidly profitable in 2014. Indeed, since that first article was published about a month ago, the company has announced three new large SWRO contract wins so far in September:
Saudi Arabia's Jubail Project - a new SWRO plant bringing 100,000 cubic meters of potable water to the Kingdom.
One of the largest SWRO trains in the world in Oman. The project will have 8 SWRO trains, each producing 30,000 m³/day of fresh water.
An expansion of the United Arab Emirates' Fujairah 1 desalination project, increasing water production by 136,500 m³/day, raising the plant's total production capacity to a massive 592,000m3/day.
So the desalination market is growing briskly and the company is participating as expected. Combining this market and revenue growth outlook with the company's 90% ERD market share and 62% gross margins, I predicted ERII's stock would double over the next 12 months to ~$10/share and be solidly profitable in 2014. However, my $10 price target assumed revenues from the emerging oil & gas processing market would be insignificant. This too appears to be changing.
Energy Recovery's ERDs offer the same benefits to the gas processing market that they offer to the water processing market: highly efficient devices that reduce energy consumption and therefore power bills and emissions. However, the gas processing market has been a bit tougher to crack: payback times are longer (3 years as opposed to 3 months for water processing applications) and gas processing is extremely focused on reliable operation, uptime, and product certification.
From Seeking Alpha's Q2 transcript, CEO Tom Rooney commented on the emerging gas processing market:
In the second quarter, we continue to make progress with our oil and gas field trials. These are important field trials that will position Energy Recovery extremely well within the oil and gas industry. Entering the oil and gas industry with revolutionary new energy recovery devices is and has taken longer than we originally expected but the outlook is very promising. We have solid expectations for revenue in 2014, followed by strong gross well into the future.
One barrier to entry into the oil & gas market is that there is no API standard for ERDs because it is a new market category. Energy recovery devices simply haven't been used before in the oil & gas market. So ERII is assembling a "skid" that is composed of individual components (pumps, pressure exchangers, etc.) all of which are API compliant with the eventual goal of API certification of the entire skid. Once the skid is certified, it could be dropped into applications within the industry. While the company is currently focusing on gas processing, according to the CEO, conversations with industry participants have uncovered other application ideas that are "eye popping" in potential.
The current status is that the company has invested over $7 million for this market, is conducting field trials, and is working on launching new products. In the recent presentation, a slide said the company has partnerships with "3 of the world's largest oil giants on 3 continents." While I was not able to obtain a transcript of the conference to see if the three oil companies were named, slide 9 lists Sinopec (NYSE:SHI), Saudi Aramco, Access Midstream Partners (NYSE:ACMP), and "Texas Oil" (Client: Confidential). I am not surprised at the confidentiality - energy savings via ERDs in the gas processing market would be a significant competitive advantage for early adopters.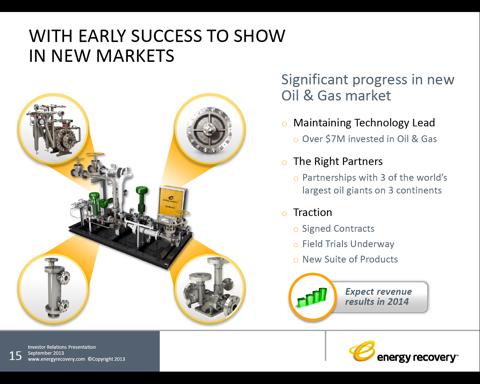 Summary And Conclusions
Energy Recovery is performing beautifully in the SWRO desalination market. Contracts are being announced for the company's patent-protected PX product line of isobaric pressure exchangers, margins are high, and the company will be cash-flow positive and solidly profitable in 2014. The company estimates the water market to be a $150 million addressable market by 2018. Due to the company's market share and gross margins in the desalination market segment, my earlier 12-month price target was $10/share. However, the oil & gas processing market presents a much larger ~$1 billion addressable market opportunity according to the company. While it is early yet, and no contract specifics have been announced, the company has "solid expectations for revenue in 2014, followed by strong gross well into the future" for this segment. Due to the market's size, and ERII's traditionally high gross margins, it is conceivable that successful penetration in the gas processing market could add another 25% to ERII's market cap in 2014. As a result, I am raising my 12-month price target to $12.50. While this estimate is admittedly based on little to no data as to the size of potential new gas processing contracts, new product launches, and margins, this is a case where getting in before contract announcements will be very profitable. It is definitely a "risk/reward" scenario. Due to the shale revolution, the large production increase in natural gas and natural gas liquids ("NGLs") in the US alone presents a huge market opportunity for ERII. A couple of contract announcements in this market segment will signal market acceptance and will surely boost the stock.
Energy Recovery will likely post a small loss for fiscal 2013. For this reason, I rate ERII a Speculative BUY. Risks include a slowdown in SWRO contract awards resulting in lower near-term revenue growth and the possibility the company could fall flat on its face in the emerging gas processing market. However, at this point, I like the company's chances. As I mentioned before, the transcript for the Credit Suisse conference was not available - at least I haven't been able to find it. So I was not able to capture any new comments from the CEO. However, considering the positive move in the stock since the conference, I am assuming Rooney's presentation was very well received by conference attendees. For those investors wanting a bit more information before taking a stake, there is an upcoming conference call and webcast that should be very informative:
Energy Recovery Inc. at Craig-Hallum Alpha Select Conference
09/26/13 at 3:10 p.m. ET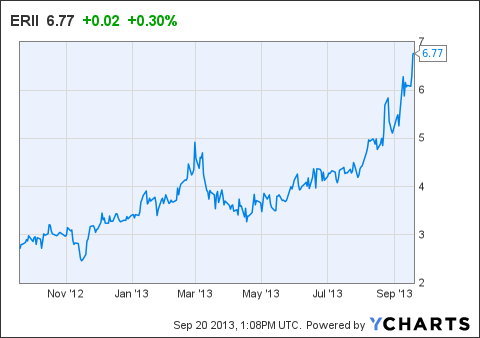 Disclosure: I am long ERII. I wrote this article myself, and it expresses my own opinions. I am not receiving compensation for it (other than from Seeking Alpha). I have no business relationship with any company whose stock is mentioned in this article.
Additional disclosure: I am an engineer, not a CFA. The information and data presented in this article was obtained from company documents and/or sources believed to be reliable, but has not been independently verified. Therefore, the author cannot guarantee its accuracy. Please do your own research and contact a qualified investment advisor. I am not responsible for investment decisions you make. Thanks for reading and good luck!