Over the last few years, the pharmaceutical industry has been defined by a significant number of big mergers and acquisitions. This has occurred as major pharma companies continue to seek mid-to-late stage pipeline candidates that hold much potential. Rather than allocating a large amount of capital and time to develop these products from scratch, these companies have sought to take advantage of their growing cash reserves.
Yet coinciding with this trend is the complementary desire to stay disciplined and focused. The divestment of non-core businesses by the pharma sector has also been a growing trend. Recently, AstraZeneca (NYSE:AZN) sold its Astra Tech business to DENTSPLY. GlaxoSmithKline (NYSE:GSK) divested certain non-core assets from its Consumer Healthcare segment. Even Abbott Labs (NYSE:ABT) found it ideal to split into two separate publicly traded companies, one which is focused on research-based pharmaceuticals.
Yet through these divestitures, some interesting investment opportunities have come about. Early this year, Pfizer (NYSE:PFE) spun off its animal health unit in a $2.2 billion initial public offering of Zoetis (NYSE:ZTS). The offering exceeded expectations by pricing the stock at $26 per share, above an expected price range of $22 to $25 per share. Now listed as a separate public entity, Zoetis exists as the world's largest independent company solely focused on animal health.
Zoetis is dedicated to the discovery, development, manufacture and commercialization of animal health medicines and vaccines for livestock and companion animals around the world. The company sits squarely between two growing trends as incomes continue to rise in developing regions of the world. Both livestock production and the rate of pet ownership continue to increase in response to rising standards of living. Consequently, animal health medicines and vaccines continue to be needed in greater volumes.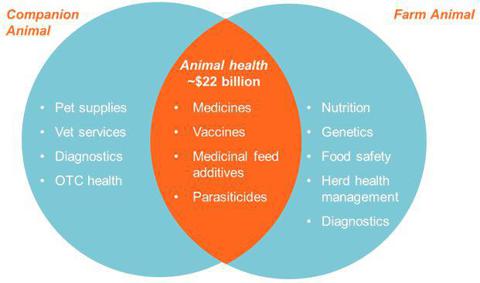 Click to enlarge
(Click to enlarge)
This rising demand for animal health medicines and vaccines stands to positively affect Zoetis. Through 2004-2011, one out of every four FDA animal health medicine approvals was awarded to Zoetis products. Likewise, one out of every five USDA animal health vaccines was awarded to Zoetis products over the same time period.
In 2012, the company generated $4.3 billion in annual revenue. Of this figure, 65% was derived from farm animal products and 35% came from companion animal products. According to Vetnosis, a research and consulting firm specializing in global animal health and veterinary medicine, the animal medicines and vaccines sector is projected to grow at a compound annual growth rate of 5.7% per year.
At $32.37, Zoetis now trades at a market capitalization of $16.18 as of September 20. The company carries a forward price-to-earnings ratio of 20.09 based on analyst earnings estimates of $1.61 for 2014. Yet at the same time, Zoetis trades with a modest PEG Ratio of 1.40 suggesting the company's price remains in line with expected growth. Nevertheless, Zoetis clearly trades with a hefty premium. The company carries a price-to-book ratio of 20.32 and a price-to-sales ratio of 3.70.
Zoetis remains healthy from a financial point of view. The company remains well capitalized and supports a safe current ratio of 2.33. Above all, the company continues to generate a significant amount of value. Over the last two years, the former division of Pfizer generated an average of $476 million in cash flow from operating activities.
As a spin-off of Pfizer, Zoetis is likely to hold a less volatile investment audience. Shareholders of Pfizer were given 0.9898 shares of Zoetis for every share of Pfizer common stock exchanged. This roughly put 405 million shares of the company's 500 million shares outstanding into the hands of an established investment base.
Additionally, from the offset it was clear that insiders endorsed the establishment of the new company. At the IPO price of $26, 13 directors and officers subscribed to an additional 42,500 shares valued at $1,105,000. Most recently, company director Michael McCallister purchased an additional 7,000 shares in an open market transaction valued at $219,461 according to the Form 4 found here. Since the creation of the public company, no insiders have sold shares in Zoetis.
Conclusion
The spin-off of Pfizer's animal health unit has opened a new pure play opportunity for investors looking to diversify into a growing sector of the global economy. Zoetis remains a profitable entity located between two long-term growth trends found in animal livestock production and pet ownership.
However, at its current price, it remains difficult to believe that Zoetis is undervalued. Despite a high-end IPO price at $26, the company now trades roughly 25% higher less than a year later. At the same time, the animal medicines and vaccines is only anticipated to grow 5.7% annually.
Altogether, Zoetis remains a leading company in a specialized field experiencing steady growth. The company clearly trades with a premium but likely retains a stable investment base having been spun off to Pfizer's shareholders. For investors looking to diversify their portfolios, Zoetis offers exposure into two long-term growth trends. The company remains a public leader in a rather unique field within the pharmaceutical industry.
Disclosure: I have no positions in any stocks mentioned, and no plans to initiate any positions within the next 72 hours. I wrote this article myself, and it expresses my own opinions. I am not receiving compensation for it (other than from Seeking Alpha). I have no business relationship with any company whose stock is mentioned in this article.