The American Chemical Society's Chemical and Engineering News (C&EN) and ICIS Chemical Business magazine published their list of top global chemical companies recently. Let's review some of the stocks from this list in this post. The rankings are based on full-year 2008 results.
According to C&EN, sales for the Top 50 companies rose by 9.6% in 2008 to $892B as the price of oil soared to about $150 per barrel. The industry had a strong first three quarters with the fourth quarter among the worst the industry has ever seen. Some of the chemical companies that disappeared last year due to mergers include ICI of UK, Lyondell Chemical, Germany's Hoechst and France-based Rhone-Poulenc.
The Global Top 50 Chemical Companies
click to enlarge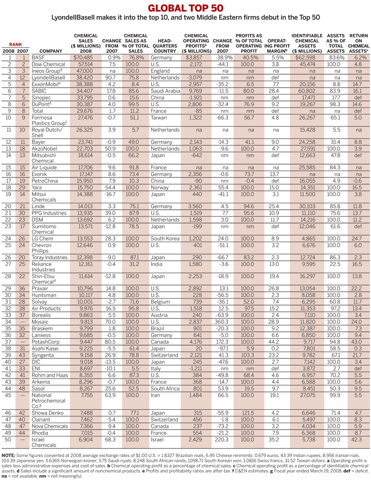 Source: Chemical and Engineering News (C&EN)
Chemical giant BASF (OTCQX:BASFY) of Germany is the world's top chemical maker on both the lists. With total sales of $70.5B, BASF topped the ranking for the sixth year in a row. Profits declined by about 40% to $3.9B. Most of the profits came from its Wintershall oil and gas exploration business instead of its chemical business. In the last quarter BASF's net income fell by 69% to $349M and it warned that sales and earnings are expected to fall for the full year. "After a steep plunge, we are now climbing gradually out of the trough. The recovery will be slow and uneven," Chairman Jurgen Hambrecht said in a statement.
"In the past three months our business has stabilized at a low level," Hambrecht said. "Positive impulses are coming from Asia, especially from China, and from parts of South America. Europe and North America remain weak." (Source: MarketWatch)
Dow Chemical (NYSE:DOW) of the U.S. ranked number two on C&EN's list and is third in ICIS's rankings. Total sales were $58B for a 7.5% increase over 2007. But profits plunged by 44.1% to $2.2B. This shows that despite raising prices twice last year, Dow's profit was hit pretty hard. In the 3rd quarter of 2009, the Midland, MI-based biggest U.S. chemical company reported a profit of $711, a jump of 66% due to asset sales and steep cost-cuts. From its March lows of $5.89, Dow's stock price has advanced by over 75%.
BASF and DOW continued their acquisition strategy in 2008 with the purchase of Swiss speciality chemical maker Ciba by BASF and Rohm and Haas by Dow Chemical. Due to these purchases, both the giants' earnings are likely to improve next year.
The Global Top 100 Chemical Companies
Click to download (pdf file): ICIS-Top-100-Global-Chemical-Companies
Source: ICIS Chemical Business
Some of the other German companies included in these lists are Bayer (OTCPK:BAYRY), Linde, Evonik and Lanxess. U.S. companies listed include ExxonMobil (NYSE:XOM), DuPont (NYSE:DD), PPG Industries (NYSE:PPG), Chevron Phillips (NYSE:CVX), Praxair (NYSE:PX), Huntsman (NYSE:HUN), Air Products (NYSE:APD) and Mosiac (NYSE:MOS).
Among the emerging market chemical companies, the top ranked were PetroChina (NYSE:PTR), Sinpoec (NYSE:SHI) of China, Reliance Industries of India, Braskem (NYSE:BAK) of Brazil and Sasol (NYSE:SSL) of South Africa.
Among the fertilizer companies listed in the rankings include Yara (OTCPK:YARIY) of Norway, PotashCorp (NYSE:POT) of Saskatchewan (Canada), Mosaic (MOS) of US and Israel Chemicals of Israel (OTCPK:ISCHY).