Bob Willis, writing at Bloomberg.com, reports that Prof. Joseph Stiglitz, Nobel Laureate and Columbia University economics professor, is skeptical that the recession has ended. He cites the need for a GDP growth rate to be sustained in the range of 3.0% to 3.5% just to provide jobs for new workers entering the workplace. Growth has to be higher than that to bring back jobs for more than 8 million that have lost them in the current recession.
A contrary view comes from Jon T. Markham at MoneyMorning.com. Jon writes about a report from ISI (International Strategy & Investment) which gives data about a very robust global economic recovery. Some examples are third quarter GDP growth of 12% for China and more than 8% for Korea, and industrial production in Taiwan up 51% (annualized rate). Other booming economic reports are coming from Japan and Australia.
The question remains whether the tail (Far East) can drag the dog (North America, Europe and western Asia) out of the swamp. Jon does provide some data of modest retails sales improvements in the U.S. and Canada, as well as a projection by the ISI that there will actually net positive job growth by January. The jobs projection is based on a linear extrapolation of the decline in the rate of job losses in recent months.
One problem with placing too much hope in the ISI projection for January, which is for a gain of 137,000 payroll jobs, is the amount of jobs that have to be created to get back to previous employment levels. Since 2000, unemployment has increased by more than 9.6 million; since 2006 the increase has been greater than 8.4 million. These are seen in the following graph :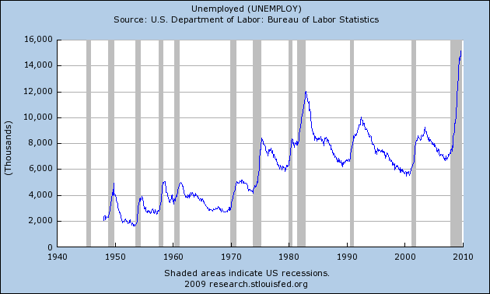 Click to enlarge
A recent survey of employers by the U.S. Department of Labor found that more than 55% of the unemployment in this recession resulted from permanent position cuts.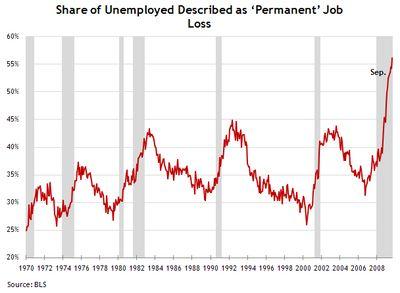 In other words, more than 4.6 million lost jobs are not coming back with recovery. To regain that employment, new jobs must be created. Just to keep up with population growth, there must be an increase of about 1% in the number employed. That is approximately 1.5 million jobs per year. This, according to Stiglitz, requires GDP growth between 3.0% and 3.5% annually. To replace the 4.6 million permanent job losses would then require GDP growth greater than 3.5%.
To put the ISI projection for January in perspective, 137,000 net jobs added in January would be at an annual rate of 1.6 million, just more than enough to meet the rate required for the population growth. A further improvement in employment is required to eat into the 4.6 million permanent job losses. Even more improvement is required to make up for the three years where job growth did not match population growth, which is another 4.5 million jobs. Nine million additional new jobs are needed!
If we get 130,000 employment growth per month starting very soon, that still leaves us in a 9 million job hole relative to 2006. If we were to get to 250,000 job growth per month, it would take six years to fill that hole. At current levels, 250,000 employment growth per month is approximately 2% growth per year. It can be seen in the following graph that the rate of growth was near an average of 2% in the 1990s, but the average for the 2000-2007 growth period was far less than 2%. It was actually much closer to an average of 1% annual employment growth, just enough to match population growth.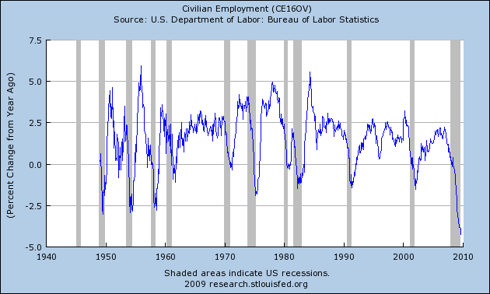 Click to enlarge
Some feel it might take longer than the six years suggested in this article to do that. See the following graph from Barry Ritholtz for one view, which I extrapolate to about seven years for the two dotted lines to meet. If the growth in this recovery mirrors that for the last one, Barry's projection is too optimistic.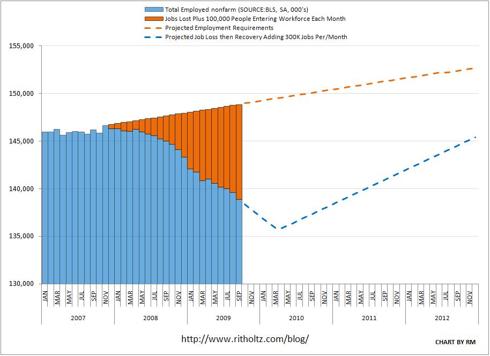 Click to enlarge
If unemployment represents recession on Main Street and GDP represents recession on Wall Street, the recession has two different lifetimes depending on which street you live. GPD growth may indicate an end to the recession (contraction) occurred on Wall Street in the middle of 2009. The ISI projection would indicate the recession will end on Main Street at year end 2009. The Ritholtz projection is that the Main Street recession will end in the middle of 2010.
Recessions are like real estate. Its all about location, location, location.