Best Stocks Now!™ come in all shapes and sizes, as well as all types of packages. And Packaging Corp. of America (NYSE:PKG) is no exception.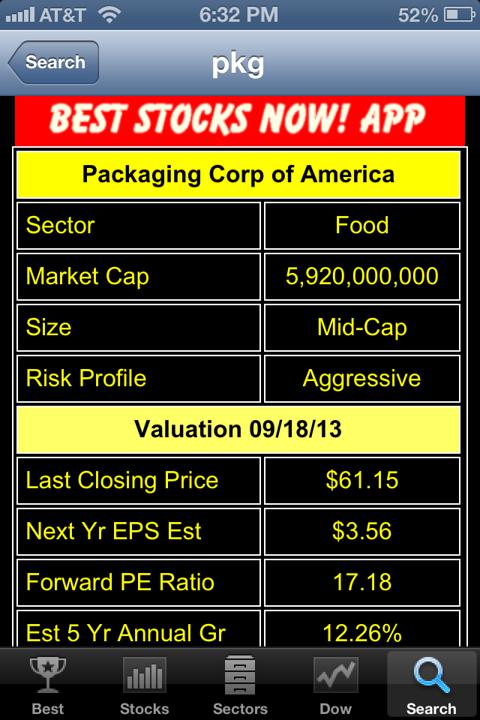 Data from Best Stocks Now App
This packaging midcap stock is one that I've featured many times before. In fact, I first brought people's attention to PKG in February of this year and when I tweeted:

And look at the charts of both of those stocks today…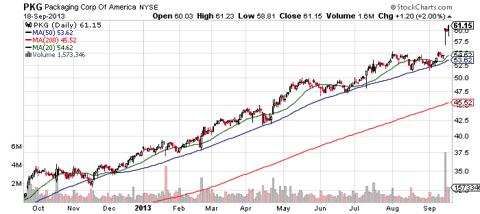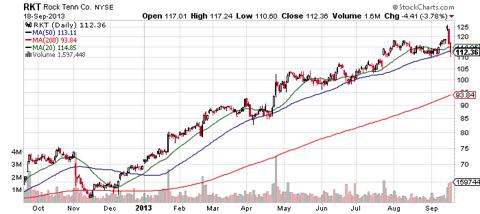 So don't buy the stock that makes the computer (Dell (NASDAQ:DELL), Apple (NASDAQ:AAPL), Hewlett-Packard (NYSE:HPQ)), buy the stocks that make the boxes that the computers come in!
Crazy?
Yes.
But true?
Absolutely!
Now compare that chart that shows PKG hitting new, all-time highs with Hewlett Packard's chart.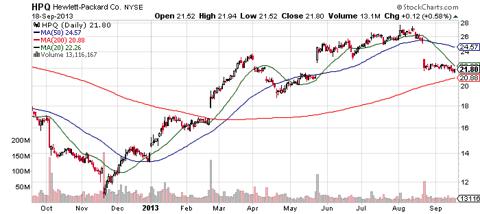 Was I right? Absolutely.
Performance
PKG has been one of the best performing stocks in the market! In fact, it gets a performance grade of A-!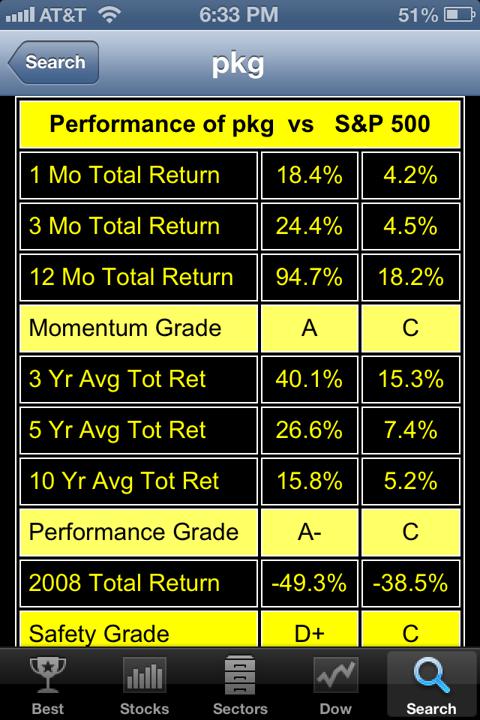 Data from Best Stocks Now App
Over the last five years PKG has delivered nearly 27% returns to investors while the market has delivered only 7%. Over the last three years, they've delivered 40% while the market has delivered 15%. And over the last 12 months PKG has been up a whopping 95% while the market is only up 18%!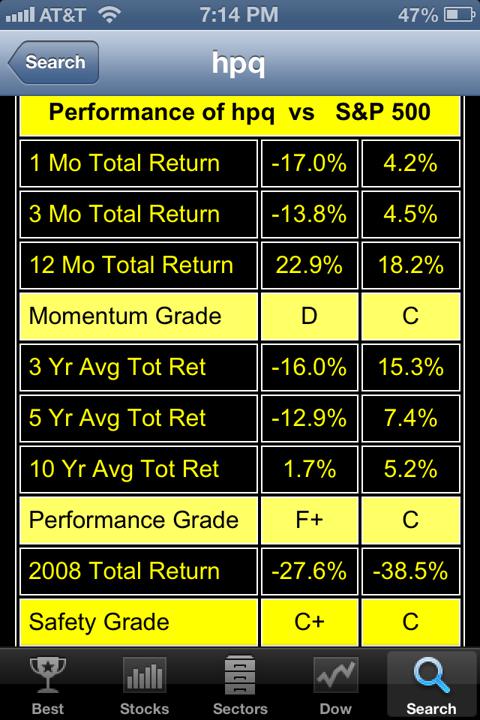 Data from Best Stocks Now App
HP during the same time is up 23%, which is fair, but it's not 87%! And if you look back over the last three and five years, the box stock has ran circles around the computer that was inside the box!
Valuation
There has to be much more value to the computer than the stinking box it came in, right?! Well, I'm an investor-I'm much more interested in the stock, not the usability of the product itself! So next let's look at the valuation of PKG to find out!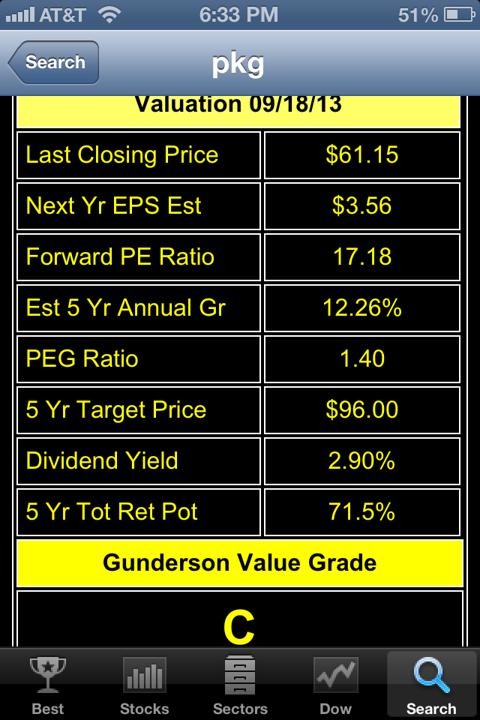 Data from Best Stocks Now App
Valuation is a crucial piece to my equation in determining the value of a stock. I'm talking about valuation models that carry out earnings, growth, and target prices over the next five years.
PKG is currently trading at about 17 times forward earnings with a 12.3% growth rate expected over the next five years. It has a PEG ratio of 1.40.
When I take today's earnings and extrapolate them out at about 12% over the next five years, I come up with a target price of $96 per share five years down the road.
PKG is currently trading at only $61.15 per share, in other words, it has significant upside potential. PKG currently just barely meets my value criteria and earns a Gunderson Value Grade of C.
Stock Chart
Last, let's remind ourselves how PKG's stock chart looks. PKG hit a new all-time high just two days ago!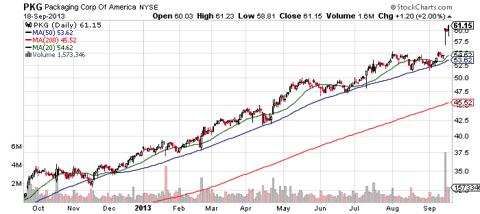 Hey, I'm an investor, I realize I can't calculate spreadsheets on my computer box like I can on my computer, but the box it came in has been a much better investment than the computer that came inside it!
Go figure-sometimes I don't try to figure, I just look at the numbers. I take the emotion out of it because logic would say the contents of this box are worth a lot more than the box itself. I mean after all, the box ends up in the garbage, while the computer is help me to run my bustling business!
So there you have it-Best Stocks Now!™ come in all shapes, sizes, and even packages. Sometimes they may not seem logical; sometimes they just don't make sense. But Best Stocks Now!™ are all over the place and that's exactly why you need the Best Stocks Now!™ App, and the Best Stocks Now!™ newsletter so I can help you find them!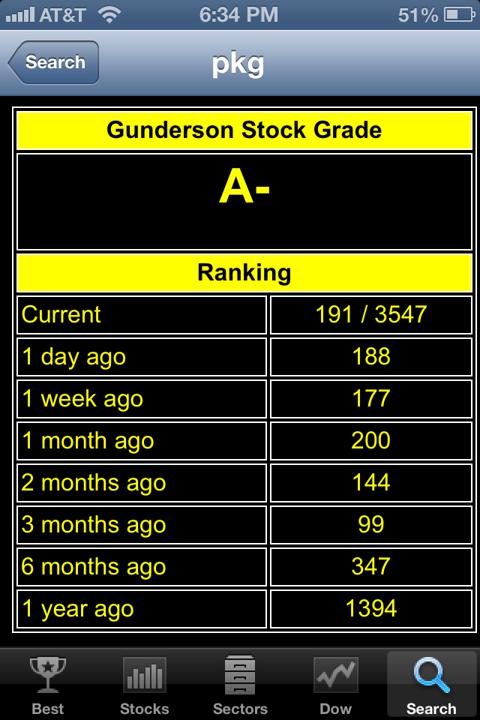 Data from Best Stocks Now App
Please follow me on Twitter @billgunderson for a change in opinion of this stock.
Disclosure: I am long PKG. I wrote this article myself, and it expresses my own opinions. I am not receiving compensation for it. I have no business relationship with any company whose stock is mentioned in this article.