(Editors' Note: This article has been corrected to reflect current outstanding shares more accurately.)
Sirius XM (NASDAQ:SIRI) has hit yet another 52-week high and is threatening to top $4 for the first time since 2006. Its fantastic run looks to be unstoppable. The company's market cap is now $24.5 billion, and its forward P/E is an incredible 33. Notwithstanding its very low share price, Sirius XM is now valued as an enormous company. Can it continue its run, and is the current price justified?
Adjusted EBITDA
Adjusted EBITDA has increased dramatically over the last few years and continues to increase. Adjusted EBITDA for the most recent quarter was $283 million, an increase of 19% over the previous year. The share price, however, has increased even more quickly. The chart below shows the ratio of enterprise value to LTM Adjusted EBITDA since the beginning of 2012. The numbers are directly from the company's public filings. We are taking the company's word that its adjustments to EBITDA are reasonable. You should always take the "Adjusted" in "Adjusted EBITDA" with a grain of salt and a skeptical glance, but we'll use the company's numbers here. The data point for "2013 Now" reflects today's share price with an assumed $300 million of Adjusted EBITDA for the September quarter, net $250 million of additional cash since June 30, and does not give pro forma effect to the acquisition of the connected vehicle unit, which will likely slightly increase the ratios below.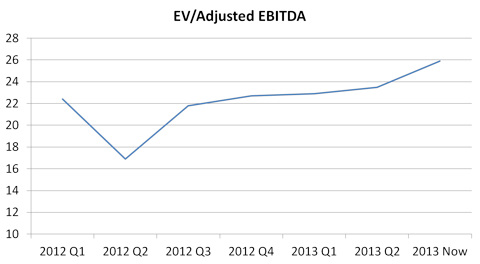 At these ratios, Sirius is more expensive now, after adjusting for growth, than at any time during the last two years or so. The shares have risen so far, and so fast, that they have greatly outpaced otherwise strong earnings growth. Looking ahead to FY 2013, and (i) using the shares outstanding as of July 24, 2013 of 6.209 billion plus 92.7 million shares from other dilutive equity instruments from the June 30 10-Q and (ii) assuming slightly greater than guidance results ($1.14 billion FY 2013 Adjusted EBITDA) and a corresponding cash increase:
FY 2013 Estimates
| | |
| --- | --- |
| Closing Price | 3.97 |
| Share Count (billions) | 6.302 |
| Market Cap (billions) | 25.02 |
| LT Debt (billions) | 3.04 |
| Cash (billions) | 1.2 |
| Enterprise Value (billions) | 26.8 |
| LTM Adjusted EBITDA (billions) | 1.2 |
| Enterprise Value/LTM Adjusted EBITDA | 22.4 |
Note that this calculation is inexact because the cash balance used to calculate the $1.2 billion of YE 2013 cash is based on the June 30, 2013 cash balance, while the shares outstanding are based on a July 24, 2013. Any cash used for the buyback during the first 24 days of July is counted twice and therefore the actual EV/LTM Adjusted EBITDA would be higher than shown above to the extent any shares were repurchased during that 24-day period. In addition, to the extent that the company has been able to repurchase shares since June 30, 2013 at less than the price shown above ($3.97), the reduction in the market cap would be more than the corresponding decrease in cash to the extent that the purchase price is lower than $3.97. These differences will not materially affect the EV/LTM Adjusted EBITDA calculation, which is overwhelmingly dependent upon the share price and LTM Adjusted EBITDA level.
How Much Growth Is Priced In?
So, after another two full quarters of growing the subscriber base and running on all cylinders, Sirius is expected to end the year at around 23x EV/Adjusted EBITDA. With quality companies trading in the low teens or single digits, Sirius is pricing in significant expected future growth.
A Back Of The Envelope Calculation
A back of the envelope calculation is to divide the increase in Adjusted EBITDA during the recent six months ended June 30, 2013, over the prior year ($99.5 million) by the revenue increase in the same period ($195.2 million), which is 50.9%, and assume that this is the Adjusted EBITDA contribution margin for marginal subscriber additions. Numbers are from the recent 10-Q.
To reach market standard multiples, the year-end 2013 expected 22.9 ratio would need to halve, which means it would need to generate twice the Adjusted EBITDA, which would require an additional $2.36 billion in annual revenues. You can estimate how many additional subscribers that would take, but I can tell you right now that it would be more than a 50% subscriber increase from the YE 2013 subscriber total. That's a lot of growth just to reach market standard multiples.
Play With Fire...
Sirius is on an incredible run. But it has come up too far, too fast. Buying at the 52-week high, with competition increasing, and significant growth priced into the shares, is playing with fire. There is a strong chance the stock continues to increase, but the moment the subscriber growth slows or stops, this stock has a lot of room to fall.
Disclosure: I have no positions in any stocks mentioned, and no plans to initiate any positions within the next 72 hours. I wrote this article myself, and it expresses my own opinions. I am not receiving compensation for it (other than from Seeking Alpha). I have no business relationship with any company whose stock is mentioned in this article.