Over the last twelve months the stock of Cummins (CMI) has continuously outperformed the S&P 500 index, which leads us to ask, what are the growth prospects going forward?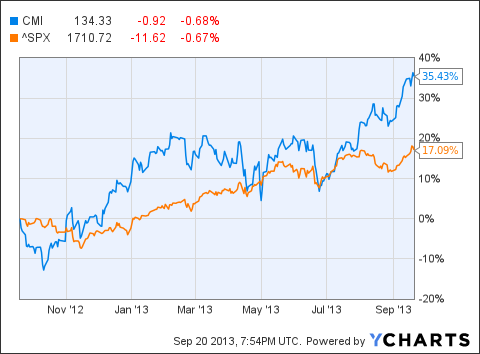 Cummins generates most of its revenue from engine production. In the future, the company is looking to ramp up engine production with the Navistar (NAV) deal. Under this deal, Cummins will provide engines for medium duty trucks and school buses for Navistar. In this article, we analyze this deal and its impact on the company. We have also analyzed Cummins with its peers based on dividend yield. Let's figure out what's in store for investors.
A premier deal
In the U.S., diesel trucks are now upgrading their cylinders to use selective catalytic reduction, or SCR, technology in a bid to reduce emissions in the environment. SCR is emissions reduction technology used in trucks to reduce the emission of nitrogen oxide, which is a major cause of pollution from diesel. Cummins's 6.7-liter engine is gaining popularity due to SCR technology. In its second quarter earnings report for 2013, the company reported that its engine segment accounted for 60% of its total revenue. Going forward, the company expects to grow this segment with its 6.7-liter engines. To gain market share, Cummins underwent a deal with Navistar on Sep. 3, 2013, to provide its engines to Navistar's medium duty trucks, which didn't employ SCR technology.
In its third quarter report of fiscal year 2013, Navistar revealed a decline in medium duty truck sales. Its market share of medium duty trucks in the U.S. and Canada declined from 36% in the third quarter of last year to 24% in the third quarter of this year due to the transition toward SCR technology. The company expects to make up for the losses by offering Cummins's 6.7-liter engines in its medium duty trucks, scheduled to start production in December 2013.
Navistar expects to capture additional market share with Cummins's market proven engine. This is substantiated by Navistar's Executive Vice President and Chief Operating Officer, Jack Allen, who stated
"Adding the Cummins 6.7 liter cylinder allows us to get medium-duty offerings into the market faster while providing customers with a market-proven engine. We expect it will open the door to new customers, while strengthening demand with existing ones. In fact, a number of customers had already approached us about adding this choice. As a result, we're convinced the ISB will put us on a positive path to recapture medium-duty truck and school bus sales and market share."
Going forward, Navistar will include Cummins's 6.7-liter engine in its school buses, whose regular production is scheduled to start in January 2014.
The deal is expected to generate significant revenue opportunities for Cummins. Over the period of nine months ranging from November 2012 to July 2013 Navistar produced 47,500 units of medium duty trucks. Assuming that Navistar delivers these trucks at the same pace, then for the whole year 2014, we estimate the company would produce 63,333 medium duty trucks. A similar calculation runs for school buses.
| | | | | |
| --- | --- | --- | --- | --- |
| Navistar's Vehicle | Number of units produced during nine months ended July 31, 2013 (fiscal year 2013) | Twelve months production's estimate | Cost per unit of Cummins 6.7-liter engine | Cummins' revenue Generation (in $ million) |
| Medium duty trucks | 47,500 | 63,333 | $8,500 | 538.33 |
| School buses | 12,800 | 17,066 | $8,500 | 145.06 |
As the production of medium duty trucks including the Cummins engine is expected to start in December 2013 and the school buses containing these engines are scheduled for production in January 2014, we are estimating revenue generation for Cummins for the whole year 2014 from this deal. We believe that Cummins will generate revenue of $683.39 million next year by providing engines to Navistar. Since the deal with Navistar will enhance its major revenue generating segment, we feel Cummins is destined to register strong revenue in the future.
With the addition of Cummins's engine, Navistar expects to increase its market share in the U.S. and Canada from 24% currently to 30% next year. Although Navistar reported a weak third quarter of fiscal year 2013, we expect this deal will bring significant revenue generation opportunities. Navistar generates maximum revenue from its trucks segment, which accounted for 67.24% of the total revenue in the third quarter. Bolstering this segment by six percentage points is expected to be a significant revenue generating opportunity for the company.
Dividend valuation
It will be interesting to compare the past five years' dividend yield of Cummins's major rivals Deere (DE) and Caterpillar Inc. (NYSE:CAT). The table below clearly shows that Cummins is the most attractive stock compared to its competitors. Deere's current dividend yield is closer to its lowest dividend yield in five years. Caterpillar presents a similar picture; its current dividend yield is not only near to the minimum dividend yield for the past five years, but also slightly above the average dividend yield. In contrast, Cummins's current dividend yield is significantly higher than its average dividend yield.
| | | | | |
| --- | --- | --- | --- | --- |
| Dividend Yield/Company | Minimum | Maximum | Average | Current |
| Deere | 1.28 | 4.39 | 2.13 | 2.44 |
| Cummins | 0.77 | 3.52 | 1.48 | 1.90 |
| Caterpillar | 1.52 | 7.31 | 2.67 | 2.75 |
Source: Ycharts.com
Cummins is not only outperforming its competitors, but it also has a long dividend history. The chart shown below presents the company's historical dividend payments. The company paid a dividend of $0.625 on September 3, 2013, which is 25% higher than last year's dividend.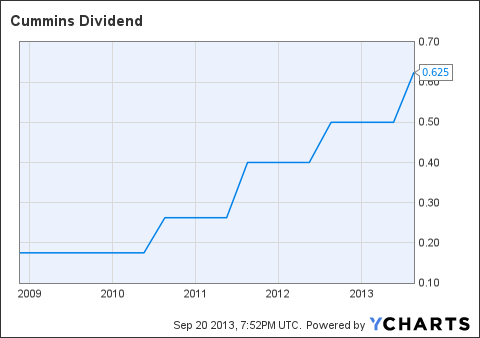 CMI Dividend data by YCharts
Conclusion:
Cummins plans to grow its engine segment with the Navistar deal. On analyzing the financial aspects of this deal, we found it to be a major growth prospect for Cummins. Besides boosting its highest revenue generating segment, the company also provides healthy dividends. The past five-year dividend yield also supports it compared to its peers. Consequently, we consider this stock as a comfortable return provider and advise investors to buy it.
Disclosure: I have no positions in any stocks mentioned, and no plans to initiate any positions within the next 72 hours. I wrote this article myself, and it expresses my own opinions. I am not receiving compensation for it (other than from Seeking Alpha). I have no business relationship with any company whose stock is mentioned in this article.
Additional disclosure: Fusion Research is a team of equity analysts. This article was written by Shweta Dubey, one of our research analysts. We did not receive compensation for this article (other than from Seeking Alpha), and we have no business relationship with any company whose stock is mentioned in this article.