The recent Hedgeye report concerning the Kinder Morgan group of entities (NYSE:KMI), (NYSE:KMP), (NYSE:KMR) and (NYSE:EPB) presented the following opinion:
We believe that Kinder Morgan's high-level business strategy is to starve its pipelines and related infrastructure of routine maintenance spending in order to maximize Distributable Cash Flow ("DCF"), Incentive Distribution Right ("IDR") payments to the General Partner ("GP"), and acquisition accretion. Then, after years of under-spending, Kinder Morgan will replace an asset, while simultaneously increasing the asset's nameplate capacity, a technicality that allows the Company to classify the entire budget of a replacement project as "expansion CapEx." (Source)
Since 1997, when Rich Kinder and Bill Morgan created Kinder Morgan, there has been a "tsunami" of midstream assets migrating into the Master Limited Partnership ("MLP") structure and all MLP management teams are highly motivated to grow their distributions. Is Kinder Morgan really starving its assets of maintenance and could this perceived "asset starvation / under maintenance" be an epidemic across the entire U.S. pipeline system?
How old are all the pipelines in the U.S.?
If there are hundreds of thousands of miles of pipelines in the U.S. that have systematically been under maintained over the last 16 years has there been a drastic increase in spills, leaks, explosions and property damage?
How does the total volume of spills compare to the total volume of liquids transported in the U.S. and is spill volume getting better or worse?
Is Kinder Morgan's management team motivated to properly maintain their assets?
How does Kinder Morgan's incident record compare to the industry?
Pipelines have to report incidents to the U.S. Department of Transportation so there is a wealth of historical data that can be used to assess whether or not companies have been properly maintaining their pipeline assets. The industry wide and Kinder Morgan specific incident data actually support the opinion that Kinder Morgan has been doing an effective and appropriate job of maintaining its very large pipeline asset base.
1. U.S. Pipeline System Age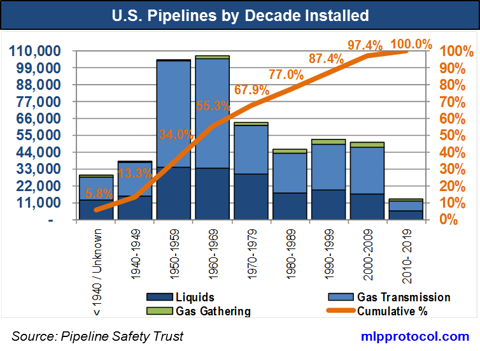 (Source)
The chart depicts the types of pipelines by mileage and by decade of when they were put into service. The data includes both onshore and offshore pipelines but does not include local gas distribution systems that are typically owned by utilities and does not include all of the gas gathering systems in the U.S. because the majority of onshore systems remain unregulated. The total amount of pipeline mileage covered in the chart is 503,743 miles (enough mileage to make it to the Moon and ~77% of the way back to Earth). Kinder Morgan's assets represent approximately 16% of the total mileage shown so they are large enough to impact the industry wide incident data.
The orange line in the chart is showing the cumulative amount of mileage installed by the end of each decade. So, for example, 55.3% of the pipelines covered in the chart (278,386 miles) were installed prior to 1969 (when we first landed on the Moon), meaning that 55% of the pipelines in the chart will be 44 years old, or older, this year and getting older every day. If large parts of the system are not being properly maintained, then large parts of the system must be constantly springing leaks, but does the industry wide incident data support this hypothesis?
2. U.S. Pipeline System Incidents and Property Damage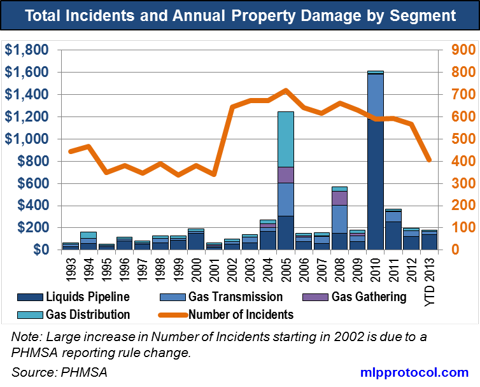 (Source)
The U.S. Department of Transportation Pipeline & Hazardous Materials Safety Administration ("PHMSA") is "the federal safety authority for ensuring the safe, reliable, and environmentally sound operations of our nation's pipeline transportation system" and is the source for the data used to create the above charts. Some observations from the charts and underlying data:
Liquids pipelines are the biggest problem when they rupture and leak and represent ~55% of the reportable incidents and 52% of the property damage over the time frame shown.
Combined totals for Gas Transmission and Gas Gathering pipelines are ~20% of the reportable incidents and ~32% of the property damage (keep in mind that includes mainly the regulated offshore gathering systems). This makes intuitive sense, since natural gas is in a gaseous state in the pipeline if there is a leak, like a hard to detect pinhole leak, and the natural gas does not get ignited, it will tend to dissipate into the atmosphere. This attribute is also why mercaptan is added to natural gas to make that recognizable rotten egg smell (your nose is part of the natural gas leak detection system).
Gas Distribution assets are those typically owned by utility companies and are generally located in residential areas. By simply being near more people those systems are also more exposed to accidents. As an example, the following is summarized directly from an incident report:
On August 7, 2012 at approximately 18:20, a 2009 Nissan Sentra was traveling east on HWY 20 in Summertown, TN. The vehicle ran off of the left side of the road, traveled 500 feet and struck a Gas Regulator Station. The Gas Regulator Station was a complete loss and the driver perished in the crash.
Large increase in the number of reported incidents from 2001 to 2002 was driven by a change in PHMSA's lowering of the reporting threshold for hazardous liquid spills. PHMSA lowered the reporting criterion for amount spilled from 50 barrels, or 2,100 gallons, down to 5 gallons. This 99.8% reduction in the reporting threshold lead to a 253% increase in the number of reportable incidents for 2002 (459 incidents for 2002 up from 130 for 2001) and has kept the total number of reports higher since that change.
Extreme weather and natural disasters like tornados and hurricanes have a significant detrimental impact on the results. The following years were impacted: 2004 Hurricane Ivan, 2005 Hurricane Katrina, 2008 Hurricane Ike, 2011 Hurricane Irene and 2012 Hurricane Sandy.
Approximately 94% of the property damage for Gas Distribution incidents in 2005 (the largest Aqua colored bar in the "Total Incidents and Annual Property Damage by Segment" chart) was caused by flooding in New Orleans after Hurricane Katrina. The $466.5 million associated with this incident represents lost gas and operator property damage, but does not include damage to public and private property caused by the flooding.
Large increase in property damage for 2010 was influenced by two very large incidents that year:
Enbridge Energy Partners (NYSE:EEP) liquids pipeline rupture and spill (Kalamazoo River Spill)
Pacific Gas & Electric (NYSE:PCG) natural gas transmission line rupture and explosion (San Bruno Explosion)
Kalamazoo River Spill - Liquids Pipeline
The Enbridge Energy Partners leak occurred in July 2010 near Marshall, Michigan when one of their pipelines ruptured and flowed into a tributary of the Kalamazoo River causing one of the largest and costliest on-land oil spills in U.S. history. Human error contributed to the size of the spill. Alarms sounded in Enbridge's Edmonton headquarters at the time of the rupture (which indicates effective monitoring of their system); however, pipeline operators mistakenly thought the alarms were being caused by a "bubble" in the pipeline. The operators shut the line down but then incorrectly increased pressure for periods of hours to try to clear what they thought was a possible blockage (the line was carrying Canadian dilbit crude), thus spilling more oil in the process. Approximately 18 hours after the initial rupture a Michigan utilities employee reported oil spilling and Enbridge received confirmation of the spill directly from an outside source. (Source)
San Bruno Explosion - Gas Transmission Pipeline
The San Bruno pipeline explosion occurred in September 2010, in San Bruno, California, a suburb of San Francisco. The incident happened when a 30-inch diameter steel natural gas pipeline owned and maintained by the utility, Pacific Gas & Electric, ruptured and the natural gas ignited creating a large and tragic explosion. The piece of the pipeline that ruptured was installed in 1956. (Source)
3. U.S. Liquids Pipeline Spills
The PHMSA data also includes incidents that occur at any liquids terminal facilities. Refined products pipelines and terminal operations represent about 22% of Kinder Morgan's aggregate cash flow forecast for 2013, as per Company presentation dated May 23, 2013. (Source)
Here are the overall trends across the entire industry: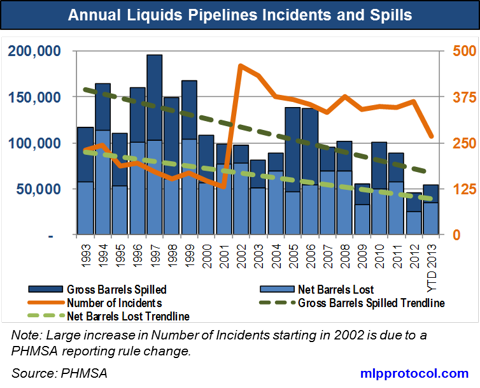 (Source)
The total Gross Barrels Spilled is ~2.4 million barrels over the ~20 year period shown, for comparison, the total estimate for the Deepwater Horizon oil spill is 4.9 million Gross Barrels Spilled over 87 days. (Source) When taking into account recovery efforts undertaken after a spill, the total Net Barrels Lost reduces to ~1.4 million barrels over the period shown in the chart.
Gross and Net volumes spilled are actually showing downwards trends over time, even in the face of ever increasing average age of the pipeline system. This trend is actually somewhat reassuring. Additionally, when viewed in the context of the total amount of liquids transported by pipeline each year, the total amount spilled each year has been a very low percentage.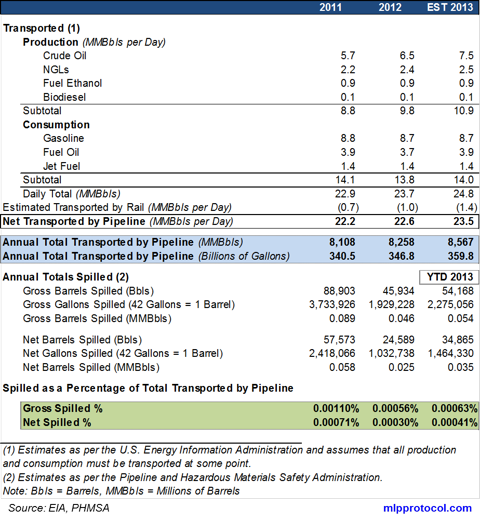 Sources: (EIA.gov Forecast), (Today In Energy), and (Primis).
4. Kinder Morgan Management Incentives
Kinder Morgan's management team is held accountable for effectively maintaining their asset base via their executive compensation plan, as described in Kinder Morgan Energy Partners' 2012 10-K:
A third objective which could potentially decrease or increase the budgeted pool of bonus dollars for 2012 was a goal to achieve our environmental, health, and safety performance objectives, by (1) beating industry average incident rates; (2) improving incident rates compared to our previous three year averages; and (3) experiencing no significant incidents in our operations or expansions. (Source, page 91)
The executive team's compensation is tied to safety performance objectives, which makes it seem much more plausible that the pipeline maintenance capex differences scrutinized in the Hedgeye report are more about changes in approach and allocations (i.e. some items being expenses instead of capex) instead of a nefarious attempt to under maintain their assets. However, if Kinder Morgan's pipeline assets have not been properly maintained over the last 16 years then that would manifest itself in a comparatively higher number of incidents across their system.
5. Kinder Morgan's Incidents & Releases
As per Kinder Morgan's September 2013 company presentation, Kinder Morgan has actually been performing better than the industry averages: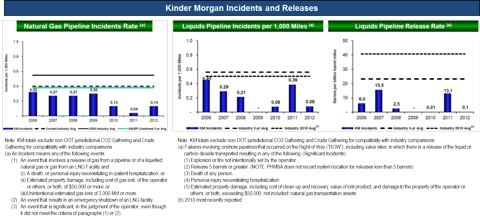 (Source)
Conclusion
The risk of a pipeline leak is a risk distributed across every inch and every weld of every single mile of pipeline. The trends in the 20 years of PHMSA pipeline incident data do not support the hypothesis that large parts of the system are being "under maintained." Yes, there have been leaks, accidents, ruptures and explosions and human error in response to system alarms has increased the severity of some incidents, perfection is impossible. Additionally, many of the larger negative outcomes have been a direct result of natural disasters, which may be why they include the word "disaster" in that phrase.
Instead of showing poor performance compared to the industry, which you would expect if they were purposely starving their assets of maintenance, Kinder Morgan has shown safety performance that is better than the industry averages. The overall safety track record is the critical way to determine whether or not specific asset portfolios are being properly maintained. In contrast to Hedgeye's report, the industry wide and Kinder Morgan specific incident data show that Kinder Morgan does an appropriate job of maintaining its pipeline asset base.
Disclosure: I am long KMI, KMR. I wrote this article myself, and it expresses my own opinions. I am not receiving compensation for it (other than from Seeking Alpha). I have no business relationship with any company whose stock is mentioned in this article.
Additional disclosure: I am also long KMI warrants and short KMI put options.