The demand for fossil fuels like petroleum and natural gas is increasing, which makes the oil and gas players important. We have taken an interest in Chesapeake Energy (CHK), which is one such independent oil and gas player headquartered in Oklahoma City, Oklahoma. Its stock price has grown more than 60% this year on the strength of its core assets and scale of operations. It will be interesting to find out whether there is further upside potential for this stock from the current level.
Riding on LNG demand
Global liquefied natural gas, or LNG, demand is expected to grow strongly through 2020 and increase at a slightly reduced pace thereafter. However, according to an estimate by Ernst & Young, the global LNG demand by 2030 could almost double the 2012 estimate of about 250 million metric tons. Additionally, LNG is also expected to become a predominant transportation fuel as well as a feedstock for the petrochemical industry in the future. If these projections materialize in the future, it will benefit Chesapeake, which is the number two natural gas producing company in the U.S.
The U.S. has experienced a hotter than normal summer season this year. Cooling degree days, or CDD, is a measure of how much warmer the weather is compared to the room temperature, and a high CDD figure indicates hotter weather. For the previous week ended September 14, CDD for the U.S. totaled 63, much higher than the normal cooling season figure of 41. A hotter summer season implies more electricity usage for air conditioning, and natural gas is a major fuel used in electricity generation. This will consequently increase natural gas prices. This bodes well for Chesapeake since its stock price has historically trended with natural gas prices.
If we look at Chesapeake's asset base, it has undertaken initiatives to streamline its operations and focus only on those projects that can produce high returns. The company has aggressively sold its assets over the last two years to reduce the debt on its balance sheet. Chesapeake recently sold assets worth $1 billion in the Northern Eagle Ford and Haynesville shales. This year it has already sold $3.7 billion worth of non-core assets in order to reduce its debt and concentrate on profitable projects. Chesapeake's total long-term debt has reduced from $14.33 billion in June 2012 to $13.06 billion in June 2013. The company is focused on a more efficient capital allocation process in order to ensure that its capital budget doesn't depend too much on asset sales in the future.
Another company that we believe will benefit from the growing LNG demand is Chevron Corporation (CVX). The company expects to deliver 25% production growth from current levels by 2017. Chevron's two LNG projects, Gorgon and Wheatstone, are on track and should commence production by early 2015. Chevron's management has said that 98% of its oil and gas output target by 2017 is in the design/construction phase or is already in production. Chevron also looks fundamentally strong when we consider that its earnings margin was $23.88 per barrel in the first half of 2013. It leads its competitors by a considerable margin, and it is almost $6.50 per barrel ahead of its nearest competitor.
Marathon Oil (MRO) is also using an approach similar to Chesapeake in an effort to streamline its operations and concentrate on profitable projects. In the second quarter of 2013, Marathon Oil sold 10% of its stake in an asset at Angola for $1.5 billion. For the period 2011 to the end of second quarter of 2013, its total completed or agreed divestitures grew to $2.9 billion as a result of this sale. These sales have resulted in a high-quality asset portfolio. The company has a share repurchase program of $1.8 billion and has divided the first $1 billion in two stages of $500 million each. The proceeds from the Angola deal, which is expected to close in the fourth quarter of 2013, will help Marathon Oil accelerate the first stage of its share buyback program and move onto the second stage. Marathon Oil also increased its dividend by almost 12% in the second quarter, from $0.17 per quarter to $0.19 per quarter.
Dividend Yield
Chevron and Marathon Oil also look compelling on the dividend yield front. We have compared Chesapeake with Chevron and Marathon Oil, using dividend yield as a metric.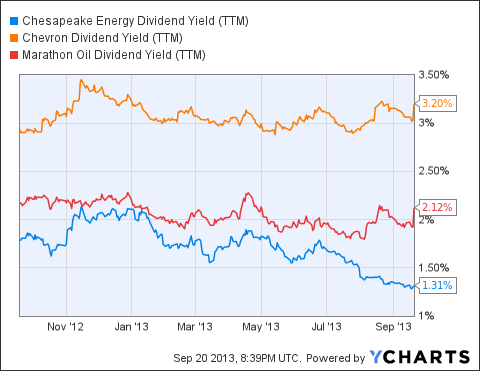 CHK Dividend Yield (TTM) data by YCharts
At a dividend yield of 3.06%, Chevron looks compelling when you consider that 10-year T-Bills are currently offering 2.85%. Marathon Oil, which has a dividend yield of 2.11%, is also a good play from the dividend perspective alone, and when the capital gains from the stock are factored in, it becomes an attractive option. However, at a dividend yield of 1.29%, Chesapeake is not that attractive from the dividend point of view.
Bearish Bets
One cause of concern for Chesapeake that we would like to address is speculators' increasingly bearish bets regarding the stock. In the two weeks ended September 13, 2013, traders have bought almost two Chesapeake puts for every call on the International Securities Exchange (ISE), Chicago Board Options Exchange ((NASDAQ:CBOE)) and NASDAQ OMX PHLX (PHLX). The 10-day put/call volume ratio for the corresponding 10 days of trading is 1.79, which is higher than 90% of all other readings over the past year. When more puts are being bought at an accelerated clip compared to calls, it is an indication of an expected decline in prices.
Additionally, the short interest data on Chesapeake also indicates the same trend. Short interest is the quantity of stock that investors have sold short but not yet covered their positions. An increase in short interest rates can also be indicative of bearish expectations from investors. NASDAQ releases short interest data twice every month. Short interest on Chesapeake increased to 82,230,317 on Aug. 31, 2013, an increase of 13.26% over the past two reporting periods. This is another indicator of a healthy appetite for bearish bets on the stock.
Conclusion
Chesapeake is currently trading near the $27-mark, which is very close to its 52-week high. The consensus price target from analysts is $24.75, and at the current level, it is overpriced by almost 10%. The recent put/call ratio and the short interest data prompt a bearish outlook on the stock and far outweighs Chesapeake's fundamentals. As we pointed out, we find a couple of oil and gas players more attractive as investment options compared to Chesapeake. Investors are advised to hold this stock and consider buying it only on dips when it becomes more attractively priced.
Disclosure: I have no positions in any stocks mentioned, and no plans to initiate any positions within the next 72 hours. I wrote this article myself, and it expresses my own opinions. I am not receiving compensation for it (other than from Seeking Alpha). I have no business relationship with any company whose stock is mentioned in this article.
Additional disclosure: Fusion Research is a team of equity analysts. This article was written by Madhu Dube, one of our research analysts. We did not receive compensation for this article (other than from Seeking Alpha), and we have no business relationship with any company whose stock is mentioned in this article.