Since I began writing for Seeking Alpha about retirement and retirement portfolios, I have always defined myself as a dividend seeking investor, with a little spice.
The "spice" that has been referred to are mainly those higher yielding stocks that add punch to a portfolio's overall yield. While I absolutely support this approach, along with a solid core portfolio of dividend winner stocks, a prudent investor should never hold on to those high flying dividend "opportunity" stocks for too long. Especially when an investor is retired or ready to retire.
Throughout the last few years of puny interest rates on fixed income investments, investors have flocked to many of the ultra high dividend stocks for income. Holding them too long can absolutely wreck your overall portfolio.
The Team Alpha Retirement Portfolio Has Had Plenty Of Dividend Opportunity Stocks
From the very beginning of our portfolio journey, the Team Alpha Portfolio has held high yielding dividend stocks for various periods of time. Currently, the portfolio consists of Ford (NYSE:F), Chevron (NYSE:CVX), Apple (NASDAQ:AAPL), McDonald's (NYSE:MCD), Exxon Mobil (NYSE:XOM), Johnson & Johnson (NYSE:JNJ), AT&T (NYSE:T), General Electric (NYSE:GE), BlackRock Kelso Capital (NASDAQ:BKCC), Procter & Gamble (NYSE:PG), CSX Corp. (NYSE:CSX), Realty Income (NYSE:O), Coca-Cola (NYSE:KO), Cisco (NASDAQ:CSCO), Newmont Mining (NYSE:NEM), Wells Fargo (NYSE:WFC) and Intel (NASDAQ:INTC).
As you can see, the only dividend opportunity stock that we now hold is BKCC. It is a business development company, which usually does well during better economic periods. While we have remained flat as far as the share price, we have enjoyed over a 10% yield.
Our allocation is a bit too high, but I feel sticking with a recognized BDC, although not the top performer of the group, is still prudent. Any deterioration in the economy from current levels, or dividend cuts by BKCC along with share price deterioration, and we will dump the stock without looking back.
That being said, our portfolio also has held 3 particularly well known high-yield dividend opportunity stocks that we were fortunate enough to move in and out of before any serious damage was done to our portfolio.
The stocks were American Capital (NASDAQ:AGNC), Annaly Capital (NYSE:NLY) and Linn Co (LNCO), and we no longer own them and do not have to worry what might be around the corner to hurt the value of these stocks.
If you own them, I would sell them, if you do NOT own them, forget their yields, and head for greener pastures.
The Basic Issues With AGNC, NLY, And LNCO
My attempt at keeping my opinions simple, direct and without confusion will probably cause some annoyed investors. So be it. The amazing part of Seeking Alpha is our community of readers who comment and also add useful insight to virtually every article written here. It is what makes us the best investment site on the internet.
Here are my basic problems with the stocks:
AGNC and NLY are mREITs and I defy anyone to tell me what the Fed will do next. Yesterday we had a non-taper event, which surprised almost everyone who has followed the Fed over the last 5 years. The overhang of what comes next is an unknown entity, and while these stocks rallied yesterday, they gave it all back today.
NLY has cut its dividend, so has AGNC. LNCO has changed it to monthly payments. The ensuing sell off in the share price of each stock does not come close to making a positive return over the last 2 years that the portfolio has been launched.
LNCO has had accounting issues, SEC issues and a slew of class action lawsuits to recover any monies lost by investors during all of the turmoil surrounding the company. As detailed with amazing accuracy in this must read article, by perhaps the brightest contributor on any website, James A. Kostohryz, any investor must think long and hard as to why it is worth owning shares of LNCO, with all of the headwinds this, and its parent company, Linn Energy (LINE) has faced, is facing, and will be facing. It simply is not worth the headaches and confusion.
If You Had Invested And Held These Stocks Continuously, You would Be Losing Plenty Of Money
All it takes is a rather quick look at the chart that shows reality: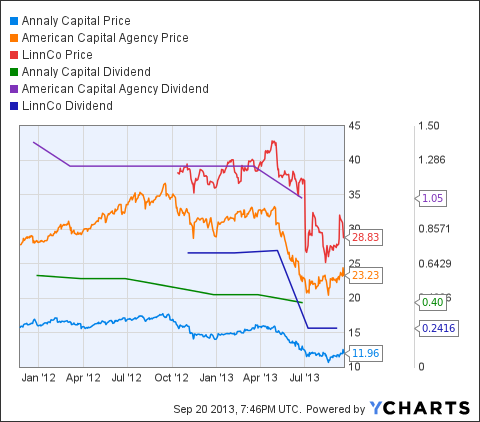 In January of 2012 (a year after we launched Team Alpha) NLY stood at about $17.00/share and has paid $1.85/share in dividends (plus the announced new dividend of $.35/share) for a total LOSS of nearly 20% in total return, and falling.
In January of 2012, AGNC stood at about $30.00/share and has paid roughly $5.00/share in dividends for a LOSS of about 12% in total return and falling.
In November of 2012, LNCO sold for about $40.00/share as a new issue, and has paid roughly $1.25/share in dividends, for a LOSS of nearly 25% in total return, and the future is uncertain at best.
Each of these stocks offered our portfolio a high yield when the yield and the dividend could be relied upon, along with a stable share price. I feel that is NOT the case any longer for these stocks.
Of course QE could go on forever, and LNCO could win every lawsuit, and all three of these stocks could come out smelling like a rose, but as a retired investor seeking reliability, I am no longer willing to take these risks.
Are you?
Disclosure: I am long AAPL, BKCC, CSCO, CSX, CVX, F, GE, INTC, JNJ, KO, MCD, NEM, O, T, WFC, XOM. I wrote this article myself, and it expresses my own opinions. I am not receiving compensation for it (other than from Seeking Alpha). I have no business relationship with any company whose stock is mentioned in this article.