By Sumit Roy
Commodities had a mixed week, as copper, wheat and palladium rallied, while silver, oil and soybeans declined. Stocks, as measured by the S&P 500, rose by 1.5%, taking their year-to-date gain up to 20.1%.
Macroeconomic Highlights
The biggest event of the week was the Fed's policy meeting and decision on Wednesday. The central bank surprised markets by announcing it would maintain its quantitative easing program as is, with $85 billion worth of bond purchases per month. Most economists had expected the Fed to taper QE by $10 billion to $15 billion per month.
Chairman Bernanke and the Fed said that tapering was a possibility later this year, but that action would be dependent on the data. St. Louis Fed President James Bullard told reporters at Bloomberg today that the bond-buying programs could be trimmed as soon as the October meeting, but that he wanted to see evidence of an increase in inflation before taking action. Indeed, Bureau of Labor Statistics data for August showed that the Consumer Price Index in the U.S. only grew by 1.5% year over year in the month, while core prices -- excluding food and energy -- grew by 1.8%. Both figures were below the Fed's 2% inflation target.
In other economic data, the National Association of Realtors said that existing home sales in the U.S. climbed 1.7% in August to an annualized rate of 5.48 million units -- the highest level in six and a half years. Looking ahead, traders are beginning to focus on the debt ceiling battle in the U.S. If Congress doesn't raise the $16.7 trillion debt ceiling by mid-October, the federal government will be forced to default on its obligations.
Commodity Wrap
| | | |
| --- | --- | --- |
| Commodity | Weekly Return | YTD Return |
| Copper | 3.74% | -8.77% |
| Wheat | 2.87% | -16.97% |
| Palladium | 2.41% | 2.04% |
| Gold | 0.48% | -20.45% |
| Natural Gas | 0.27% | 10.15% |
| Corn | 0.22% | -35.39% |
| Platinum | -1.23% | -6.77% |
| Silver | -1.98% | -28.24% |
| WTI | -2.45% | 14.96% |
| Brent | -3.32% | -1.86% |
| Soybeans | -11.69% | -7.33% |
Gold spiked almost $75 from trough-to-peak on Wednesday on the back of the Fed's QE surprise. But by Friday, prices pulled back, leaving the yellow metal with a fractional gain for the week. In our view, gold's failure to capitalize on the Fed's dovish move is a bearish signal. Look for prices to retest the $1,300 level next week, with a breakdown exposing a path to the current cycle low near $1,180.
Gold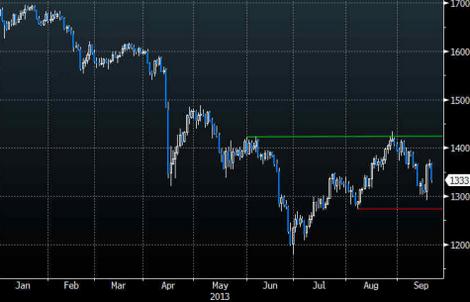 Silver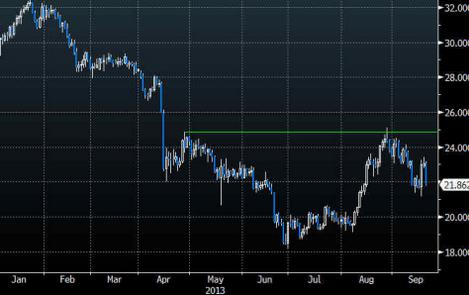 Platinum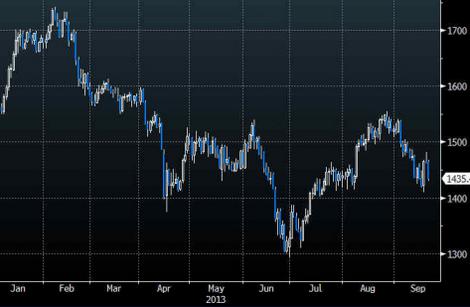 Palladium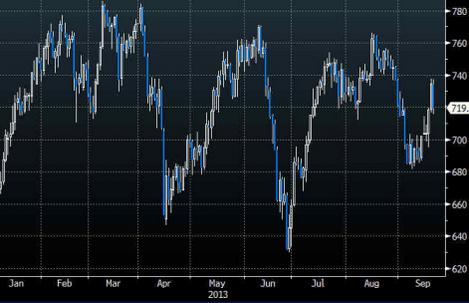 News that Libya might be restarting some of its shuttered production weighed on oil this week. The lack of Syria-related headlines also removed whatever geopolitical premium was left in prices (see "CEO Of Breitling Says Oil Could Hit $150 Or Higher If Syria Conflict Spreads Into Broader Middle East"). Brent could pull back another $2 or $3 to support above $105, an attractive price to initiate long positions for a trade.
Brent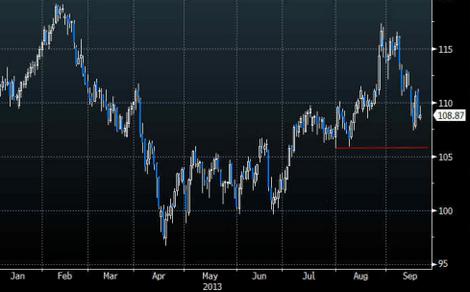 WTI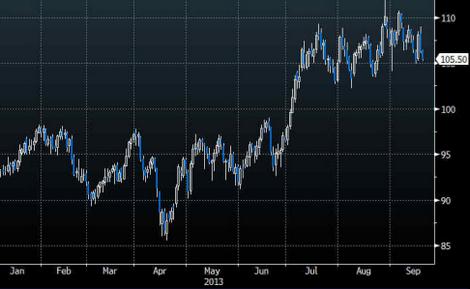 The grain complex was mixed. Corn hovered above multiyear lows and soybeans plunged as yield concerns were alleviated. We remain strongly bearish on the sector.
Corn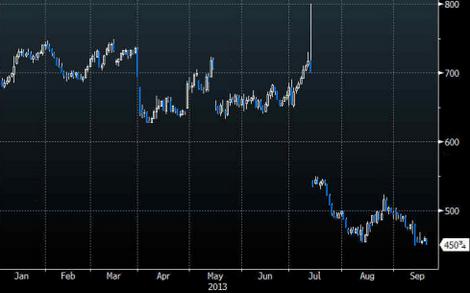 Soybeans

Wheat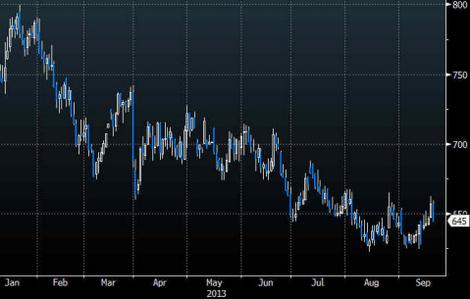 Copper jumped to the top end of its trading range thanks to strong global economic data.
Copper

Natural gas only eked out a fractional gain despite a bullish inventory report on Thursday. We would look for a pullback before initiating any long positions (see "Natural Gas Price Briefly Hits 2-Month High After Bullish Inventory Report, But Stay On Sidelines").
Natural Gas