Surprised?
Oh BlackBerry (NASDAQ:BBRY), you are not making it easy to be a fruit loving investor! Today BlackBerry announced the following:
Plans to cut 4500 jobs.
A $950 to $995 million operating loss for the quarter ending August 31.
A restructuring charge of $72 million.
Expected revenue of $1.6 billion, below the analyst estimate of $3.06 billion.
Adjusted net loss of $250 to $265 million for the quarter.
If BlackBerry wants first place in the media's popularity contest, they have obtained it. The company has been the target for incessant speculation with regards to the future of the business, specifically if the company will be sold off.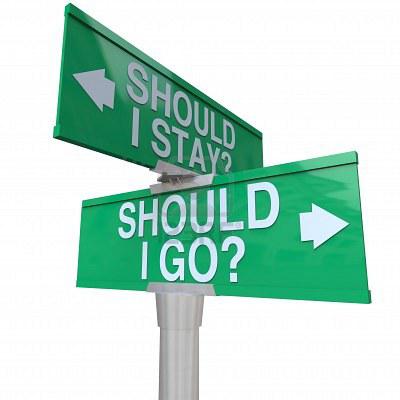 My first article was written with the premise of uncovering some of the speculation to reveal a cleaner slate for investors, as this follow up article will discuss a different concept at BlackBerry.
Too Much Loss:
The recent losses are no surprise to BlackBerry. This past June the company posted an $84 million loss on revenue of $3.07 billion, below analyst estimates. In June, the CEO of BlackBerry Mr. Heins stated:
"We're only five months in." He added that not all BlackBerry 10 models were available in all markets during the quarter. A version with a physical keyboard, the Q10, went on sale in the United States this month.
The forecast from Mr. Heins may have been unfounded as the newer models including the Z10 and Q10 have failed to catch on. Moreover, the new Z30 may be too late to the game. The latter article stated that the company will cut its line from six to four phones as well.
Why Compare To Hewlett Packard?
Although the idea has not been discussed on the internet, it is my opinion that if we look at Hewlett-Packard's (NYSE:HPQ) past problems, it can put BlackBerry's situation in some more perspective. A revealing discussion can surface by comparing one technology company's past sorrows to BlackBerry, as it can yield insight into the mechanics of the company. Although Hewlett-Packard is a larger and more diverse company than BlackBerry that faced problems the latter did not, a comparative discussion of the two can offer valuable knowledge when contemplating BlackBerry's future in light of the unknown. Learning from the past is fundamental to a successful future.
"Those who cannot remember the past are condemned to repeat it." - George Santayana
Layoffs and Refocusing: This Is Not HP
BlackBerry plans to cut 40% of their workforce and refocus their energies, as stated below by Mr. Heins:
"Going forward, we plan to refocus our offering on our end-to-end solution of hardware, software and services for enterprises and the productive, professional end user. This puts us squarely on target with the customers that helped build BlackBerry into the leading brand today for enterprise security, manageability and reliability."
BlackBerry's situation is similar to Hewlett-Packard's history, when they were faltering and announced plans to cut 36,000 jobs and take a $1 billion write down on their WebOS devices. But keep in mind that at the time HP had 56% of their market capitalization in debt, or $21.8 billion. Moreover, BlackBerry is not having CEO trouble nor has made any huge purchases (Autonomy $10.3 billion) that require debt financing. On the other hand, BlackBerry purchased QNX back in 2010 for $200 million in cash and the purchase has proven to be a valuable asset.
HP's CEO at the time, Leo Apotheker, thought he could "extract value from WebOS" out of the $1.2 billion they spent on Palm. That was before they abandoned it, and ended up selling the unit to LG, after the $1 billion write down.
Why Bring Up HP: Comparison Adds Perspective
Some investors can quickly relate companies to each other since a lot of the same characteristics can come into play. Although one technology company with layoffs and writedowns can be very different from another. Comparing BlackBerry to HP can offer insight as BlackBerry's future is unknown, much like HP in the past. Below I will outline my reasons for coming to the following conclusion:
It is my opinion that BlackBerry is preparing themselves for a slow and efficient wind down to sell their company for maximum value.
BlackBerry has no debt and has $2.82 billion in cash. They are not pressed for time and can explore a longer term run down, preventing a fire sale of their assets.
The company has made no recent acquisitions that they have to resell and possibly take a loss on (HP and Palm). BlackBerry has also made no recent acquisitions that they have to finance through debt, such as HP's purchase of Autonomy -- later a $8.8 billion writedown for HP.
The company is narrowing and realigning their energies to a more streamlined and concentrated business model. Through large layoffs and focusing on the prosumer and enterprise market, the company can cut losses two ways.
Losses cut going forward by laying off a large portion of their employees.
Losses also cut moving forward by narrowing their business model hopefully to avoid large write downs in the future that can hurt the cash supply, thus causing the company to make rash decisions. A leaner product line may offer profitably.
Putting This All Together: Endgame
There is no doubt that BlackBerry is having issues with its device business, not unlike HP's various problems in the past with their business -- such as when HP wanted to sell their PC business. I expect BlackBerry to be in a very different boat than HP was in for many reasons. When HP was having trouble and was debating selling their PC business, they had 56% of their market cap in debt, BlackBerry has 62% in cash and no debt. Hence, there is no pressure to make rash decisions.
BlackBerry is a much leaner machine than HP was when they were faltering. The berry is taking the opposite route of HP -- instead of purchasing assets, some through debt that were later sold at a loss or written down, BlackBerry is moving for a more streamlined business by cutting back. BlackBerry is shedding unnecessary weight instead of piling on more problems, such as HP did just a few years back. Keep in mind that while HP is still around today, it fell from the mid $50s to around $12 per share before recovering to where it trades today. Moreover the company is still reporting shaky results, a future BlackBerry would do well to avoid.
Through layoffs and a more streamlined business model, BlackBerry can cut costs and may be able to sustain their business or profit through future device sales, although this is debatable. Moreover, creating a leaner business all around adds value to the company by taking care of what a prospective buyer would have to do, cut out the dampening sections that they would not want.
Wash The Fruit Before You Buy
BlackBerry is polishing themselves for a sale -- a light-weight and efficient sale that would ultimately yield the highest price. In my previous article, I stated the following regarding the value of the company's patents plus cash:
Estimates on value of BlackBerry's patent portfolio if sold off vary with a conservative estimate at $2.5 billion dollars. This works out to be $4.85 per share. Add this $4.85 per share to the $5.48 per share the company has in cash and you get $10.33, which is around the share price now.
The above outlines a floor for the PPS of the company, and the recent share price action today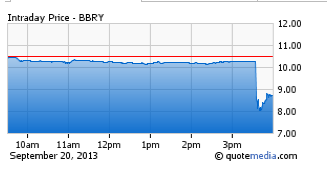 (down 17% and another 3% after hours) following the company's news and last month's announcement of exploring a sale is overblown. The company is not selling their assets in a firesale! Whether the company wants to sell itself fast is up to them and their shareholders. For the reasons outlined above, there is no reason to rush and make announcements or decisions like HP did that ultimately hurt their business. Let us not forget the people making those decisions -- HP had three CEOs in eight years while BlackBerry is free of any leadership issues.
At the present, BlackBerry is cutting off the unnecessary and lowering costs through layoffs and a more streamlined business model. This creates a more appealing buy from a larger player, less baggage is very attractive to a buyer seeking a valuable patent portfolio, enterprise business and everything else BlackBerry has in-between.
Let's Keep In Mind:
The company may not sell itself: If BlackBerry continues selling lackluster products, they may incur further losses and write-downs that could cause more imminent problems later on if the company has less cash in the future. Although a turnaround is possible with BlackBerry's devices and a positive future is a not ruled out, a sale is more likely in my opinion.
Any sale price will involve the wind down of any business units that may come at a cost - such as $800 million for the handset division.
The above point is true, although sustainability has to be kept in mind. If BlackBerry slims their product line down, and can obtain real profitability for their device unit, they may be able to cover any costs of a write down of their handset unit. Although at such a time, it would be much later on in the future when BlackBerry would either be sold or profitable.
Conclusion: Cash and Time
Am I long or short BlackBerry? I am strictly neutral and am a firm believer in learning through informative comparison to the past. Although when debating the company's drive to $0, sale or future prosperity, investors have to keep in mind the main two items that HP did not have during their problems: cash and time.
BlackBerry is carefully sculpting a leaner, more efficient business. They have plenty of time and money to explore all the factors of a sale in depth in order to unlock the best shareholder value for their shareholders. Moreover, BlackBerry does not have to sell their business if they can turn things around. Such an idea is argued very intelligently by Michael Blair in his article citing annual device sales of 16-24 million on net income of $300 to $1.4 billion. Many factors have to be taken into account such as the obvious factor that it's hard to just "maintain" a company in the mobile device market -- as you are either innovating to the moon like Apple (NASDAQ:AAPL) and Google (NASDAQ:GOOG), getting purchased such as Nokia (NYSE:NOK) by Microsoft (NASDAQ:MSFT) or being taken private like Dell (NASDAQ:DELL).
If purchased by a larger competitor, BlackBerry's devices would likely be phased out in preference of the buyer's devices. Moreover, the buyer could employ BlackBerry's technology to advance their own products. This is why it is hard for me to see BlackBerry in sustainability mode in the technology market, other than to write down any underperforming business segments in the process of moving forward. That is why I either see BlackBerry as being sold for more than today's trading action indicated or successful with their product lines in the future. Sustainability is difficult in the ultra competitive technology market, especially mobile device sales. The company is aware of this as they cited "more intense competition" in their hardware business. BlackBerry is still open for business though, as the company's popular BBM application will be available on iPhone and Android devices on Sept. 22 and Sept. 21 respectively.
Of course BlackBerry does not have to sell their business, it is just a strategic option. As my last article was meant to clear the air on other issues, this discussion attempted to uncover the current standing of the company in the face of intense speculation through a trip down memory lane with HP.
BlackBerry had very negative trading today following their announcement, only adding to the idea that an imminent sale that would be damaging to shareholders. But keep in mind that BlackBerry is not in the same turbulent boat that HP was in during their problem time: they have options to sell as a leaner company or continue doing business, they have ample cash with no debt and they have plenty of time to explore all of the possibilities - as long as they avoid any more expensive write downs in the process.
Disclosure: I have no positions in any stocks mentioned, and no plans to initiate any positions within the next 72 hours. I wrote this article myself, and it expresses my own opinions. I am not receiving compensation for it (other than from Seeking Alpha). I have no business relationship with any company whose stock is mentioned in this article.
Additional disclosure: Always do your own research and contact a financial professional before executing any trades. This is all in my own opinion, and meant to be informational.