Matson, Inc. (NYSE:MATX), as the primary shipper of good from the mainland U.S. to the State of Hawaii, has a huge monopoly and an all but guaranteed revenue stream. Most of their expenses are pretty standard: labor costs, equipment expenses, or shipping expenses. However, one type of expense they don't incur very often is fines by the State of Hawaii and the federal government.
On September 9, 2013, while transferring molasses to an Oakland, California-bound Matson container ship from Honolulu Harbor, a faulty transfer pipe leaked 223,000 gallons into Honolulu Harbor, killing the sea life. The problem with the molasses is that it disperses to the deep points in the water. That means that as opposed to an oil spill where the oil can be siphoned from the top, molasses goes downwards and affects all sea life on its way down.
Sea life is very important to Hawaii for reasons such as cultural, ecological, environmental, and economically. Therefore, because of this incident, the State (of Hawaii) Department of Land and Natural Resources, State (of Hawaii) Department of Health, as well as the U.S. Fish & Wildlife Service are conducting their own investigations into this incident. A violation of the State's Clean Water Act has been identified and the current fines from the State runs at $25,000 per day for this violation, which the investigations and restoration could take several months to complete. That will add up. Matson has accepted responsibility for the incident as stated that they would pay for the cleanup, however it is still too early to determine how much a cleanup would cost.
What does make matters worse is that the State (of Hawaii) Department of Transportation identified a leak in the same pipe in July 2012. Matson has denied that a leak in the pipe existed, leading to a he-said/he-said between the State and Matson. Also, Matson, as well as the State, did not have a response plan for a molasses leak because it's an unregulated product.
Impact on Stock Price
There are two things that has and will continue to affect Matson's share price: (1) the bad publicity of this incident, and (2) the price tag associated with paying the fines and the cleanup.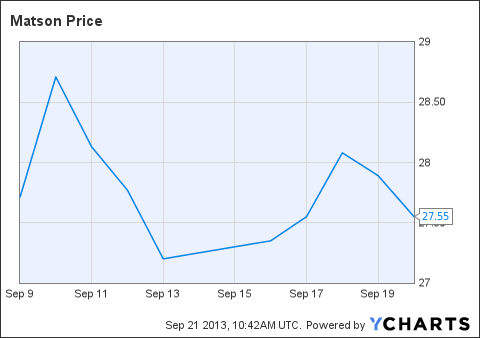 This chart shows the share price from September 7th till the 21st. On September 10th, when news of the incident started saturating the local news media as well as starting to make its way to Yahoo! Finance news, you see the price bottom out on the 13th. The share price has been slowly rebounding, but I'm discounting that as being due to the taper announcement which threw the entire market out of whack.
The fact is that this incident is bad publicity. Because Matson is almost a monopoly shipper in Hawaii, more of a spotlight has been shined on the incident. Clearly we see in the above chart what the publicity has caused: a selloff.
Second, the price tag will be pretty hefty and will come back to weigh in on the company's earnings. $25,000 per day for violating the Clean Water Act plus whatever fines will be imposed from the federal side will add up. Because the length of time to finish the investigations and begin and finish the cleanup haven't been figured out yet, the fine payments may not be made in time for the Q4 earnings to be reported. If the payments are made in time for Q4 earnings, we could see an drop in profits. If the price tag hasn't been figured out by the reporting, then we'll most likely see it in Q1 of 2014. Either way, whenever these issues have been resolved, that's the quarter we'll see a drop in revenue, causing an earnings miss.
Conclusion
I think Matson is ripe for a price drop in the near future because of this incident. It really is a black eye for them, and if you want to either go long or short Matson at some point, pay attention to any publicity this incident gets, especially when the cleanup is going on, because that can tell you when you'll see some revised earnings estimates. Depending on this timeline of events, an idea would be to short this stock.
Disclosure: I have no positions in any stocks mentioned, and no plans to initiate any positions within the next 72 hours. I wrote this article myself, and it expresses my own opinions. I am not receiving compensation for it (other than from Seeking Alpha). I have no business relationship with any company whose stock is mentioned in this article.