The short answer to this question is: no way.
A Slow, Ugly, 2013 for BlackBerry
I hate to come off as obtuse, but in all fairness, I've been predicting the unceremonious end-times of BlackBerry (NASDAQ:BBRY) since my article "Dead Company Walking: 5 Reasons Blackberry 10 Marks the End". A short position when I originally called for one in the beginning of this year would have yielded over 30% at this point. Would I cover here? Probably. Does that mean I think BlackBerry is a buy going forward? Absolutely not.
So, admittedly, my past is one of an aggressively bearish stance on the company - but in no way do I root for companies to do poorly and for longs of any stock to lose money. I just try and lay out my argument for the sake of perspective when I'm writing about stocks that I'm not personally invested in.
In an article written on February 4th of this year, I laid out what I thought was going to be the big challenge for BlackBerry:
The mobile phone market is no longer an emerging market. It is a market simply dominated by both Apple and Android. In conjunction with that, almost all smartphone accessories and 3rd party products are made for either the iPhone or certain Android phones. BlackBerry is not only going to have to compete with these two, it's going to have to reintroduce itself as a whole into the already firmly established mobile phone market. That means the potential customers that BlackBerry is going to be going after are probably already loyal to either Apple or Android.
Up until Friday, BlackBerry stock had really been somewhat of a roller coaster ride, yielding significantly different results for investors depending on when they staked their position in the company.
Over the last three months, inclusive of Friday's trading, BlackBerry has been crushed 37%. Over the last twelve months, however, the stock has still yielded gains of 35.3% for investors. The last three years have been characterized by lots of volatility around the stock - as it commonly would dash 5% in one direction or another on the smallest bits of news.
(BBRY - 1 Year - click to enlarge)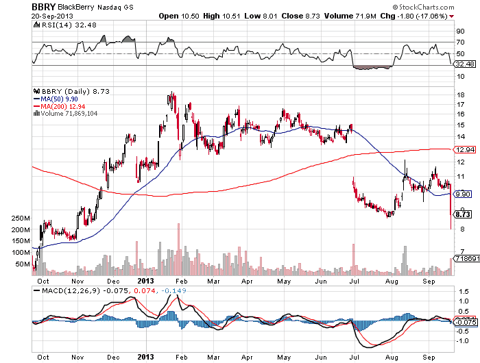 BlackBerry Delivers the Obligatory Bad News
I couldn't say there wasn't a large constituency that didn't see this bad news coming. On Friday, a lot of those musings and longs worries translated into a rather rough start to the weekend for plenty of BlackBerry bulls:
(BBRY - 6 Months - click to enlarge)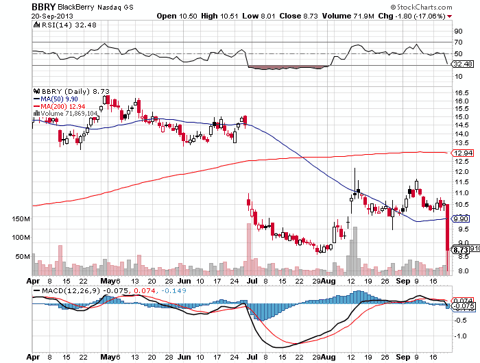 It wasn't soon after I wrote a pair of articles on BlackBerry, doubting the future of the company, that BBRY stock took a 17% haircut this previous Friday.
As the market halted with "news pending" at 3PM on a Friday, I was hard pressed to rack my brain and figure out the last time a company delivered good news at the end of the day on a Friday. Nevertheless, for people like respected contributor Michael Blair, who has significantly more stake in the BBRY game than I do, I was hopeful.
Engadget reported on Friday's news from BlackBerry:
Things haven't been going well at BlackBerry for awhile, what with lackluster adoption of BB10 and the hardware running it, and rumors that massive layoffs are coming before the end of the year. Today, the company confirmed the latter rumor, announcing that it will lay off around 4,500 employees as a part of a plan to reduce its operating expenditures by half over the next year. The plan's necessitated by an expected Q2 2014 net operating loss of almost one billion (955-995 million) dollars, driven primarily by the lackluster sale of its BB10 phones -- the company will take a pre-tax charge of $930-960 million which can be attributed mostly to the failure of the Z10 to sell. BlackBerry expects revenue for Q2 to be $1.6 billion, which is roughly half of the $3.1 billion it pulled in last quarter.

Needless to say, the financial outlook for the company isn't good, and some changes are in order. In the near term, the Z10 will be priced " to make it available to a broader, entry-level audience," leaving the Z30 as BlackBerry's all-touch flagship. To try to turn things around in the long term, the company's going to refocus on its enterprise offerings and will reduce its device portfolio from six devices to four, with two high end and two entry level phones. And, don't get it twisted, the days of BlackBerry courting mainstream consumers is all but over -- its future phones will be aimed at the "enterprise and prosumers."
The job cuts, I expected - the massive losses, not so much. Expecting BlackBerry to draw from the international downsizing playbook, it made sense for them to bring their workforce well under 10,000. The cut of 4500 employees is slightly bigger than I expected, but no doubt necessary.
The revenue number was flooring, as sales numbers of BBRY products didn't seem to run commensurate with the major losses that the company was expecting.
When trading reopened in BlackBerry, it was instantly down 20%. It then corrected a small amount, closing down 17%, but giving those gains back in after-hours trading as tired longs tried to remove the risk from their portfolios and cut losses.
Could BlackBerry Be Sprint/Nextel 2.0?
"Going forward, we plan to refocus our offering on our end-to-end solution of hardware, software and services for enterprises and the productive, professional end user. This puts us squarely on target with the customers that helped build BlackBerry into the leading brand today for enterprise security, manageability and reliability." - Thorsten Heins
I have to say that as far as strategy goes, I think tailoring the company towards enterprise and security is generally a good idea. The idea of BlackBerry simply becoming a company that markets their products to law enforcement, government, and people who require substantial security is a great idea.
Contributor Michael Blair and I traded short quips during conversation about the potential of the company to have this niche going forward. The important thing is that it really is a niche in the super-saturated mobile phone market. At one point, Sprint/Nextel looked as if they were going to focus on this crowd - right when the two-way feature was developed and Sprint/Nextel was making phones that you could run over with an 18-wheeler. They strayed from this idea, and it was ultimately semi-abandoned from a marketing standpoint.
Just as companies like Panasonic (who makes the Toughbook) have to make the laptops that are used in the military and law enforcement field, BlackBerry could tailor themselves as the company that's going to provide the security, toughness and innovation necessary for specialized needs like those of government employees.
The focus on BlackBerry during its heyday was strictly for business - could a return to roots be in order? It's a long shot, but it remains one of a shrinking list of options for the struggling company.
BlackBerry Longs are Running Out of Ammo
Longs are going to be hard pressed to argue a lot of the points that they've been basing their arguments on at this point. Many arguments, like those of a buyout at $14/share, are off the table. In addition, some longs have simply just turned their back on the company.
Longs are frustrated by the seemingly interesting disconnect between the amount of products sold versus the revenue the company is expecting. Michael Blair takes the time to mull through how the company recognized its revenue for Q2, and seems to raise some very cogent points in his last article on BlackBerry, claiming that longs are owed an explanation and clarification on how the company's revenue is being recognized:
Maybe BlackBerry management were just applying their revenue recognition policy and it produced an odd result. Alternatively, BlackBerry management may have wanted to report higher BB10 sales in Q1 than were taken up by end users because the Street's expectations were very high and management did not want to disappoint. I don't know.

What I do know is that 5.9 million devices sold to end users in Q2 is not a disaster. I also know that if BB10 devices are gaining traction and almost quadrupling sales in Q2 over Q1, the product is selling well. Maybe not as well as many who compare BlackBerry to Samsung or Apple would like, but pretty well for a new platform in a competitive market period.

A factual analysis of what happened here is above my current pay grade, but some explanation is necessary. A lot of people lost money today, and a lot of confusion exists about whether BlackBerry is dying or thriving. We deserve better.
The Z30 argument has been, in my opinion, nailed to wall completely. I'd argue the Z30 has zero hope of saving the company based on two rather common sense factors: phablets aren't a niche (which BlackBerry definitely needs), and BlackBerry simply just can't execute a product launch well (see the entire launch of BBRY10). I stated in a previous article:
The Z30 is simply not going to save the company. Incompetently launching a product for a niche that doesn't exist, that people are likely to not ever even going to want is about as much of a long-shot for "saving the company" as throwing BBRY's entire cash position on the yo-eleven for one last roll of the dice.

If BBRY wants to continue down a responsible road for their shareholders, they'd avoid taking on a massive project like this, and continue to focus on other "strategic alternatives" and responsible ways to try and deliver some percentage of shareholders investment back to them.
I'd love to hear what, exactly, the bull argument becomes coming out of this news. It's likely that BBRY will appeal to some looking to buy on speculation - or looking to catch a short-term price correction bounce. But, from a fundamental standpoint, the well is starting to run dry for bulls here.
There's Just Too Much Risk Here
Yes, large amounts of risk can sometimes lead to major rewards for those willing to risk it. But, it's getting hard pressed to find a scenario here where placing a bet at $8.50/share is going to yield significant results. BlackBerry absolutely cannot be looked at as a long-term investment at this point in the company's history.
While there may be a short-term correction in the coming week, BlackBerry's own plan to restructure isn't supposed to even gain major traction until 2015. So, we've got a whole year of mulling around and waiting to see now only if the company can execute - and if it does, what direction Thorsten is going to take them.
The long argument will morph into the fact that many people think they are slimming down to prepare themselves for a buyout. However, I'm still finding a buyout as an unlikely scenario.
A coming sale of the company is sounding like it's going to be akin to scrapping a car for parts, instead of selling a running product. This is likely to significantly decrease the value of the company as a whole.
I'll entertain those who think the company, as a whole, is worth more than $8.50/share - but the company absolutely cannot be sold "as is" to be a functioning company, in this investor's opinion. The reason is simple: BlackBerry isn't a functioning company and hasn't really been for many, many years. For more on a buyout, it's going to be important to note exactly how BlackBerry, as a company, comes out of this restructuring - and what they can do to position themselves to potential buyers as a company with value, as opposed to a company that's simply on the road to nowhere.
This is all reaffirming a lesson that I spoke about previously. Buyout or no buyout, private or public, partnership or not - it's extremely tough right now to look at BlackBerry as a long-term investment; or, for that matter, anything less than simply a speculation play for potential longs. This is also starting to become a bit more prevalent when one looks at the options for BBRY - the implied volatility, even for options that expire in just three short weeks, is growing.
It's likely that the shorts piled on after the halt on Friday, and that they'll continue to compress the price into next week. There is a serious short position in the company, as it was last reported that over 30% of the float was held short.
Admittedly, a short squeeze would no doubt move the stock right now and can be considered a risk for people positioning themselves bearish on the company. The question is - what type of an event is going to make something like that happen?
BlackBerry, as it has for the past year, remains a serious risk of major loss as an investment. QTR recommends staying on the sidelines and watching this one play out, as staking a long position in BBRY at this point - even on the heels of a 20% price discount - remains far too risky for seemingly very little reward. As always, best of luck to all investors.
Disclosure: I have no positions in any stocks mentioned, and no plans to initiate any positions within the next 72 hours. I wrote this article myself, and it expresses my own opinions. I am not receiving compensation for it (other than from Seeking Alpha). I have no business relationship with any company whose stock is mentioned in this article.