Severely depressed by first-quarter EPS report, Iron Mountain (NYSE:IRM), a long established security repository company for sensitive, vital operating data and historical records, is seen by market-makers' [MMs] hedging activities as likely to achieve stock price recovery of +22% or more in the next few months.
Here's how to use the market-makers insights
Get their current price range forecasts for 2,120 stocks and ETFs.
Reject all those that don't have 5 years of daily forecast history, leaving some 884.
Using current Range Indexes, find those in the 5 years each with at least 25 RIs similar to today's.
Now we're down to 815 names.
Put them to the test of previously reaching forecast range-top sell targets in 3 months.
Only consider the 61 that could produce gains in 7 out of every 8 prior forecasts.
Check their average of worst-case price draw-downs in all of those experiences.
Compare their upside sell-target forecasts to the drawdowns, look for R~R ratios better than 2:1
Now we've got 7 pretty good candidates, if prior experiences mean that MMs are skilled at forecasting prices for these names.
From a Reward-to-Risk tradeoff, and size of upside potential forecast, IRM is #1.
From an average prior Annual Rate of Return, odds, and payoffs, REGN scores strongly.
Here's the comparative table. Any of the best 7 beat the average stock's outlook on nearly every count.

But Iron Mountain looks like a hands-down best buy prospect if wealth-building is your goal. Its forecast is for a gain of +22 ½%, going back up to $35+, still below May's high of $39+.
How come the price is now attractive?
Even so, why should its situation convince the market-makers to bet that its near-term upside should be twice what has happened in prior times when its Range Index was around 16 (6 times as much upside as down, with 16% of the forecast range below the current price)?
First issue to be resolved: Are they likely to be qualified judges of the stock's outlook, or is it an issue not frequently coming to their attention? Let's look at the stockholder makeup and its activity. Volume market-makers typically are involved with actively-traded institutional favorite stocks.
Seven-eighths of IRM's shares are held by 387 institutional investors, and the other 1/8th by insiders and large (5%+) holders. So 99% of its float is accounted for in this way. Its trading volume, currently running around 2 ½ million shares a day, is about 1 ½ % of the float, less than it might be for an easy to trade item. But it also makes it more probable that any sizable transactions (the kind that move prices) are likely to need the facilitation assistance of market-makers.
Next, what has been the recent price trend for the stock, and what is happening to earning estimates by knowledgeable street analysts? Here is a two-year history of weekly market-maker estimates of coming price ranges: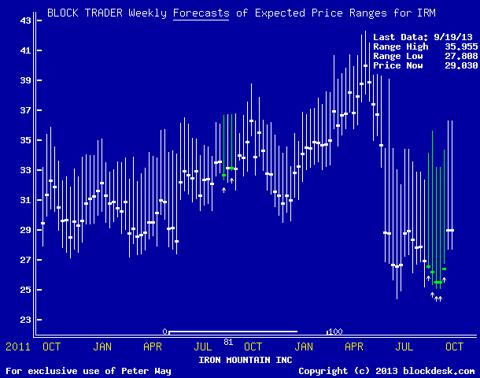 (used with permission)
Now the impact of a bad first-quarter earnings report ($.10 vs $.32) can be seen clearly. Analyst estimates of a 30+% recovery in EPS this quarter will help offset the earlier year-over-year report, and may bring the year 2013 up to being behind 2012 by only -8%. Common outlooks for the year 2014 EPS are a return to +14% growth over 2013, and a five-year growth rate averaging +15%.
An essential part of the stock's story likely missed by superficial media reporting is the company's proposed conversion to REIT status, and the first quarter's $54 million free cash flow (on 2+ million shares), compared to $25 million of the prior-year's first quarter. With the stock priced at 12 times cash flow, if it were all regurgitated under a REIT, that would be an 8% yield. Pretty tasty in an income-starved investor surrounding.
So, maybe those MMs have more than just marketing enthusiasm behind their bets. They usually do. Prior profitable forecasts on IRM 88% of the time, remember? Even just a 20% gain in 3 months is a 107% annual rate.
Additional Disclosure: The author has an investment interest in the website blockdesk.com which, while not yet open to the public, is in conversion from being a delivery medium of information to institutional investors to a new life of providing similar help to do-it-yourself investors. Both brief and extended-time subscriptions for single or multiple issue inquiries should be at quite reasonable and manageable costs for individuals. Announcement of its opening is hoped for in the 4th quarter of this year.
Disclosure: I have no positions in any stocks mentioned, and no plans to initiate any positions within the next 72 hours. I wrote this article myself, and it expresses my own opinions. I am not receiving compensation for it (other than from Seeking Alpha). I have no business relationship with any company whose stock is mentioned in this article.