We launched a new series of articles this week with the premise of building a dividend portfolio from scratch by leveraging the collective knowledge and opinions of the Seeking Alpha community. In parts 1 and 2, we highlighted the investment plan and strategy for the portfolio and parts 3-11 will highlight each sector in the S&P 500, including high-rated stocks within each sector to consider for the portfolio. Readers can either vote on the stocks we suggested for the portfolio or "write in" their own stocks to vote on. Majority will rule!
Below is a schedule of the entire series. Please make sure to "follow" us so that you will be notified when each new article is published.
Part 1: Introduction
Part 3: Consumer Staples
Part 4: Utilities
Part 5: Healthcare
Part 6: Consumer Discretionary
Part 7: Financials
Part 8: Technology
Part 9: Industrials
Part 10: Materials
Part 11: Energy
Part 12: Unveiling the Portfolio
CONSUMER STAPLES
Like most "defensive" sectors, the Consumer Staples sector has significantly outperformed the S&P 500 over the past 5 years, with a total return of 71.5% (vs. a 56.7% total return for the S&P 500).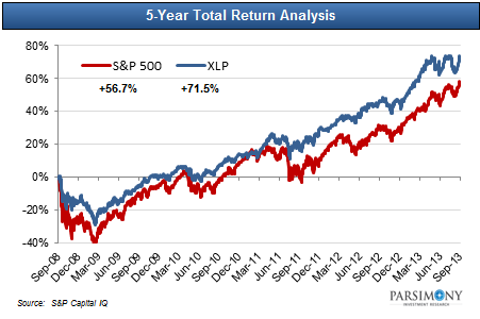 More importantly, the sector was also much less volatile than the broader market. We often look at maximum drawdown (peak-to-trough decline) to help us quantify the downside risk of an investment. While the S&P 500 declined over 55% during the 2008 recession, the maximum drawdown for the Consumer Staples sector was a much more modest 32%. Also, the sector has the 2nd lowest beta (0.60) of all the sectors in the S&P 500.
Higher total returns with less downside risk...what's not to like about the sector.
Given the characteristics above, the Consumer Staples sector is a great breeding ground for high-quality dividend stocks and it is a sector that we suggest an "overweight" allocation in (15%-20% of total portfolio).
We have already picked one stock from the sector, Coca-Cola (NYSE:KO), as our "Portfolio Captain" (see Part 2) and below are five more Consumer Staple blue-chips to consider. Please vote in the comment section below for your 3 or 4 favorites. Feel free to "write-in" your own votes...remember that this is a democracy!
General Mills (NYSE:GIS)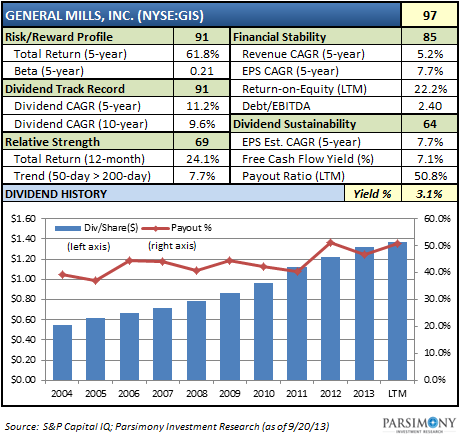 General Mills has very high ratings for Risk/Reward Profile (91), Dividend Track Record (91) and Financial Stability (85). GIS has delivered shareholders an 62% total return over the past five years, and it has increased its dividend at a compound annual rate of 11% over that period. In addition, the stock has the lowest beta (0.21) of the group, with a very nice dividend yield north of 3.0%.
Kimberly-Clark (NYSE:KMB)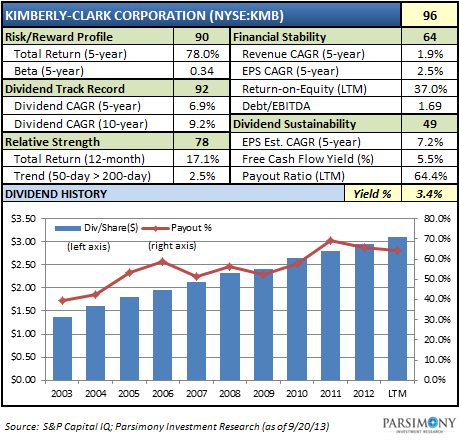 Kimberly-Clark has a nice current dividend yield (3.4%) and a very respectable 5- and 10-year dividend growth rate of 6.9% and 9.2%, respectively. The stock has also performed well over the past 12 months, with a total return around 17%.
Altria Group (NYSE:MO)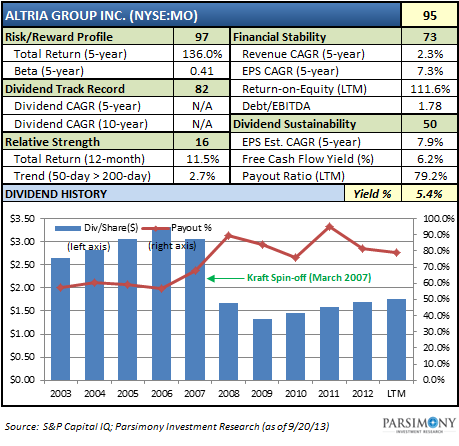 The long-term dividend chart above doesn't do Altria justice as the company did a major spin-off (Kraft) in 2007 (which distorted the payout history). That said, MO has been a tremendous dividend growth stock and it probably has one of the longest dividend track records of any stock in existence. Altria is a cash flow machine and it has delivered shareholders a total return of 136% over the past 5 years. It also has the highest dividend yield (5.4%) of any stock in the sector!
Wal-Mart Stores (NYSE:WMT)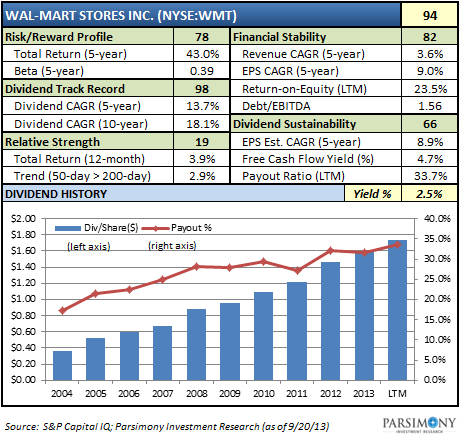 Wal-Mart is also one of the best dividend growth stocks of all-time (in our opinion) despite only delivering shareholders a 43% total return over the past five years. The company has increased its dividend at a compound annual rate of 13.7% and 18.1% over the last 5 and 10 years, respectively. Also, the company still has a very modest payout ratio of 34%, so it has plenty of room to continue to increase its dividend in the future.
Clorox Company (NYSE:CLX)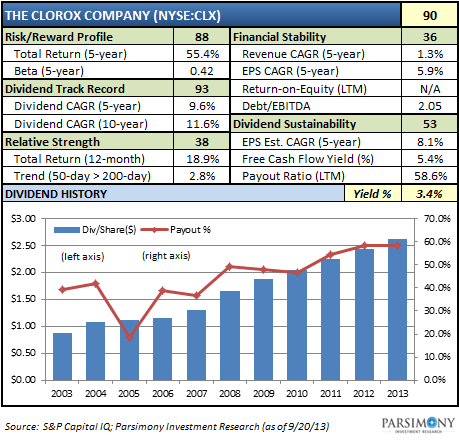 The Clorox Company has delivered shareholders a total return of 55% over the past 5 years driven by a compound annual dividend growth rate of 9.6%. Clorox has increased its dividend to shareholders every year since 1977. In addition, the stock has had a very modest maximum drawdown over the past 5 years of 28.4%, which has allowed investors to sleep very well at night.
Summary
Any DIY Dividend Portfolio should include several stocks from the Consumer Staples sector. Stocks in this sector tend to be stable dividend payors with low relative betas, which will help dampen overall portfolio volatility.
FEEDBACK REQUEST: Please vote for your favorite Consumer Staple stocks in the comments section below. If you don't like any of the suggestions above, please feel free to "write-in" a vote of your own. Remember...majority rules!
In Part 3b of this series, we will highlight our specific "Buy Zones" for each of these stocks which will help us determine whether or not to pull the trigger on any of the stocks that we choose to put on our watch list. Please make sure to "follow" us so that you can participate in the entire process.
Disclosure: I am long WMT, MO. I wrote this article myself, and it expresses my own opinions. I am not receiving compensation for it (other than from Seeking Alpha). I have no business relationship with any company whose stock is mentioned in this article.