Introduction
In this article I'm going to do a financial analysis on J.C. Penney (NYSE:JCP) and explain why I believe investors should sell their stake before they get their stakes diluted.
The recent media reports that the company is trying to raise cash just makes me more confident that investors will not be treated kindly very soon, possibly as soon as this week (maybe even before this article will be published).
Thesis
First let's do a quick financial analysis of the company using the most recent 10-Q: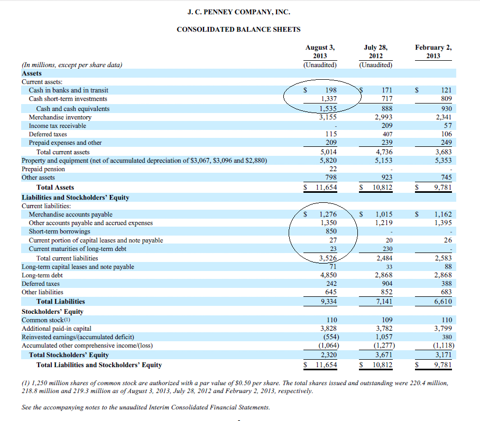 First thing that you can see is that the company has more than two times current liabilities as it has cash on hand to operate. This is not the "current ratio" because I'm not taking into account inventories. The reason I'm not doing that is because JCP has not been exactly the poster child for being able to sell. It is very unclear how much of a mark down in the balance sheet value it would take to clear that inventory out. Furthermore, no retailer can operate without inventory so I don't think that is "real" liquidity.
Another thing that is noticeable, it has 4 times as much debt as equity. If you look at the competition the difference is remarkable:
Kohl's Corp. (NYSE:KSS) - 1.3 to 1
Abercrombie & Fitch Co. (NYSE:ANF) - 0.68 to 1
Macy's, Inc. (NYSE:M) - 2.5 to 1
Only Macy's comes close and M has had revenue and operating profit growth for the last three fiscal years, unlike JCP which has had a revenue collapse of historic proportions.
Is it any surprising that partners are starting to get nervous?
Liquidity Analysis
The company burned $10M in operating cash in 2012 but that number was very misleading due to a number of factors. First it had delayed some payments in the last quarter of 2012, and second it did a large inventory liquidation. My organic operating cash burn number for 2012 was $750M ($150M from the delay of payments and $575M from inventory liquidation). So far this year it burned a staggering $1.4B in operating cash flow (that is before capex!), which shows that my organic operating cash flow number was closer to the actual cash burn than the misleading -$10M for the entire year of 2012.
It is true that Q4 is historically a quarter that JCP has build up some cash, even last year with all its problems it still had an inflow of about $500M in Q4 due to the holiday season, but Q3 historically is a bad quarter. Last year it reported a -$48M operating cash flow, the year before -$305M. I'd say that after further slide in sales this year the company will be lucky if the cash is flat in Q3, more than likely it will lose another $100-$200M as it builds up inventory for the holiday season.
As I said, the company did produce $500M in operating cash in Q4 last year, but this year its sales are down another 10-15%, and what's even worse, margins are also down as the company tries to discount products and bring back promotions. I'd say the company will be lucky to produce $400M in cash from operations that quarter. This will take the total operating cash flow for 2013 to -$1.15B (-$1.4B so far, -$150M for Q3 and +$400M for Q4). This is all before capex, for capex it guided $300M for the rest of 2013 and another $300M for 2014.
If you assume that sales have bottomed (a big assumption), then it will burn that $1.45B in 2014 ($1.15B organic operating cash flow number + capex guidance). This means it is likely the company will run out of cash by mid year next year (it's the toughest part of the year for the company). Currently it has $1.5B in cash, with my +$250M operating cash flow figure (-$150M for Q3 and +$400M for Q4) and -$300M guided capex, it will finish the year with about $1.45B, exactly my estimated cash burn number for that year with most of the burn happening in the first half.
Is it any surprise that it is trying to raise more cash? The truth of the matter is that the company can't just keep taking on debt. The interest payments pressure operating cash flows and partners are already nervous. JCP is already the most leveraged retailer out there with the exception of Sears (NASDAQ:SHLD), but SHLD didn't face a huge quick revenue collapse like JCP.
Former CEO Alan Questrom has already said the company needs to raise equity sooner rather than later. I completely agree, it is the only thing that can save the company from a vendor and partner induced meltdown. The fact that vultures like Goldman Sachs are circling around the company just makes me think that the company will either raise equity or it will do a debt offering with warrants that will dilute stock holders.
Don't take comfort in big name investors taking a stake in the company recently; both Bill Ackman and Steve Roth (members of the board with access to inside info) have liquidated their entire stakes. This year the 13-D pump and dump move has become more popular after Daniel Loeb successfully pulled it off in HLF. They disclose a stake in a stock with high short interest and liquidate a few weeks or months after and leave investors holding the risk.
Conclusion
I strongly believe investors in JCP will have their stakes diluted as their liquidity numbers simply don't add up. Either it will raise equity or the company will become a zombie almost cash-less, full of debt, being subject to the will of vendors/partners and at risk of bankruptcy at any time. I rate the stock a strong sell.
Disclosure: I have no positions in any stocks mentioned, but may initiate a short position in JCP over the next 72 hours. I wrote this article myself, and it expresses my own opinions. I am not receiving compensation for it (other than from Seeking Alpha). I have no business relationship with any company whose stock is mentioned in this article.
Additional disclosure: I am not a registered investment advisor and do not provide specific investment advice. The information contained herein is for informational purposes only and I can't guarantee the accuracy of all the information presented in this article. Nothing in this article should be taken as a solicitation to purchase or sell securities. Investing and trading includes risks, including loss of principal.