This article is about Primo Water Corporation (NASDAQ:PRMW). Primo Water has a market capitalization of $65 million. It supplies water dispensers and bottled water in 3-5 gallon containers to fit these dispensers using the "razor/razor-blade" business model, with the dispensers being the "razor" and the bottled water being the "razor-blade." The product appeals primarily to residential consumers who want the health benefits of consuming bottled water as opposed to tap water, but who want the savings and reduced environmental impact that Primo Water's system provides over smaller, individual-sized, disposable water bottles.
Primo Water shares have collapsed by more than 75% since the company's 2010 IPO. Since the IPO, the company has been plagued with:
Disappointing sales figures.
A class-action lawsuit accusing management and the board of directors of misleading investors in order to inflate the share price.
Disappointment in its sparkling beverage division, which it decided to sell, leading to a $70 million write-down
However, the company appears to be poised for a turnaround.
While net sales have been more or less flat, the company's gross margins have been rising. For instance, while sales in the second quarter declined from $24.6 million to $23.8 million, gross profits increased from $5 million to $5.9 million. Given that the company's shares trade at just 0.7 times trailing revenues, if this trend continues, the company can potentially generate large profits relative to its market capitalization, which will drive the share-price higher. Furthermore, longer-term trends in Americans' consumption of bottled water bode well for Primo Water.
The class action lawsuit was dismissed in August. While this may be disappointing to shareholders who were involved in the stock around the time of the IPO, it is a huge positive going forward, as the company doesn't face the possibility of losing a lawsuit. It also no longer has to divert financial and intellectual resources towards this lawsuit.
While the decision to sell its sparkling beverage division means that the company can no longer offer formidable competition to SodaStream (NASDAQ:SODA), it entails that the company can focus its resources on its bottled water sales.
Ultimately, aside from the fact that the company is poorly capitalized, with virtually no cash and $19 million in debt, it is positioned to benefit from the secular uptrend in bottled water consumption in the United States given the following.
It has a "razor/razor-blade" business model, which creates a regular customer base.
It has a competitive advantage given that it has filtration and recycling facilities in stores such as Wal-Mart (NYSE:WMT) and Walgreen's (WAG). While it will not oust its competitors with similar strategies, they are positioned to co-exist as an oligopoly. The significance of this will become clear below when I describe the company's product.
With these points in mind, I think that Primo Water shares should be purchased by investors who do not mind owning a micro-cap stock. Given that the company needs capital, I expect that it will issue stock in the not-too-distant future. Given the recent run-up in the company's shares (they have nearly tripled since March), this should lead to some profit-taking, which I believe will lead to a buying opportunity.
Primo Water's Product
Primo Water sells water dispensers and water in 3 gallon or 5 gallon bottles. The system is not unlike the proverbial "water-cooler" that companies have in their offices; however, the company's emphasis is on residential sales.

The water dispensers are available for purchase at the company's website, or at retail locations that have filtration and recycling systems set up, which I will discuss presently. They cost around $100-$200, although the company typically discounts all of its models in order to entice customers to purchase them.
This is the "razor" part of the "razor/razor-blade" business model, and so the company is less concerned about making money on these than about actually getting people to buy them. The company's margins on the dispensers are relatively low, although they are rising: in the first half of 2013, gross margins for water dispensers were 5.6%, vs. 0.8% for the first six months of 2012.
The company's other product is the water bottle set to fit the dispenser. It is the "razor-blade." However, the logistics are a little different than those for a disposable razor-blade. The company sets up agreements with retailers such as pharmacies, grocery stores, or large, "big-box" retailers, whereby these retailers set up filtration and recycling centers in their stores. A customer will buy a 3 gallon or a 5 gallon bottle of water, which is dispensed using the previously described dispenser. S/he will pay a deposit on the bottle in the same way that s/he pays a deposit on bottle or cans of soda or beer. S/he then returns the bottle to the store. The store then cleans the recycled bottle, and fills it with water that it filters on site. Each bottle can be used 40 times. As the "razor-blade" the water/water bottle has much higher gross margins than the dispenser at 33.2%.
From this product description, we can see the two advantages that Primo Water has that make it an enticing business model. First, consumers who purchase the dispenser will be highly likely to purchase water from Primo Water. The high cost of the dispenser may deter consumers from making the initial shift from tap water or water bottles, but once they do they will have an incentive to purchase the multi-gallon bottles from Primo Water. Second, when a retailer decides to sell Primo Water's products, it makes a far greater commitment than shelf-space. The retailer has to agree to install a filtration system. This makes it far less likely to discontinue carrying Primo Water's products, and far less likely that it will commit to a competitor's product.
The Secular Uptrend in Bottled Water Consumption
There is a secular uptrend in bottled water consumption in the United States. According to the Beverage Marketing Corporation, bottled water consumption increased from 18.2 gallons per capita in 2001, to 29.2 gallons per capita in 2011.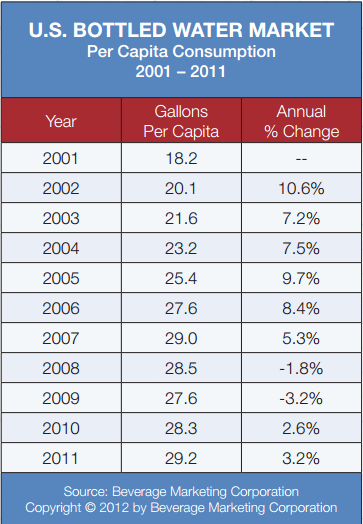 (*This chart comes from the International Bottled Water Association's presentation of bottled water statistics.)
Annualized, this is a 4.8% growth rate per capita. Some reasons for this uptrend include:
Americans, in an effort to become healthier, have been drinking more water.
Americans are becoming more skeptical of the quality of their drinking water and are willing to pay for filtered bottled water.
Investors who want to get exclusive exposure to this bull market will not find many options. Larger conglomerates tend to own bottled water brands.
While these companies will benefit from the secular uptrend in bottled water consumption in the United States, their revenues from bottled water sales will be miniscule in the contest of their overall product portfolios.
Primo Water's product is certainly not identical to bottled water, but it appeals to a certain sub-class of bottled water consumers who drink bottled water to avoid the potential health risks of drinking tap water (as opposed to those consumers who are simply outside of their homes and want water). For these consumers, the Primo Water water/water bottle offers much more value to the consumer than individual 20 ounce or 1 liter water bottles, costing just $0.25 - $0.50 per gallon. By comparison consumers can pay $2 or more for individual bottles of water. Even if they buy bottled water in bulk it is far more expensive (e.g. Wal-Mart sells 24 8 ounce bottles (1.5 gallons) for $16.44). Furthermore, given that the water bottles are reused, Primo Water's product also appeals to environmentally conscious consumers.
Risks to Primo Water Longs
A: Economic Sensitivity
If there is an economic slowdown, consumers will likely cut back on bottled water consumption. This transpired in 2008 and 2009 as the above chart shows us. While some may switch to Primo Water's less expensive product, many may just revert back to tap water. I should note that while Primo Water's system is ultimately less expensive than bottled water, it is not a traditional "trade-down." While Primo Water's dispenser/water-bottle product is cheaper than more conventional bottled waters, it requires a hefty initial investment, which consumers will want to avoid during an economic slowdown.
B: Competition
Primo Water faces two kinds of competition. First, it faces competition from other companies that provide dispensers and accompanying water bottles. As I suggest above, given the nature of the product, consumers cannot switch easily from one to the other the way they can switch from Aquafina to Evian. But this advantage functions as a double-edged sword insofar as consumers may choose other dispensers, and those that do will almost certainly not purchase a Primo Water dispenser. Thus it is critical for the company to get market share at the point at which consumers purchase the dispensers. The company attracts customers by offering discounts on dispensers and selling them with low mark-ups. It also operates as a de-facto monopoly within the confines of particular retailers, which, given the commitments they must make in order to carry Primo Water products, will not be able to offer consumers an array of choices of dispensers with the accompanying filtration and recycling services.
The second form of competition comes from in-home filtration systems, such as Brita filters. Brita filters, when purchased in bulk can cost around $6 each. They filter 40 gallons each, which means that each gallon of water costs about $0.15. The Brita filtration system is also cheaper than the dispenser at around $30. However a Brita filter cannot compete with the commercial filtration system that Primo Water product suppliers can house. Thus Brita filters and other such products will certainly detract from Primo Water's sales, but they will by no means seriously threaten the company's viability. There are also more complex filtration options such as filters that are attached to individual water sources and to a residence's incoming water supply. These systems are costly, and so they will appeal to a different consumer base. But they will ultimately eat into Primo Water's sales.
Conclusion
Primo Water has been a difficult investment to hold since the IPO, as the following chart illustrates.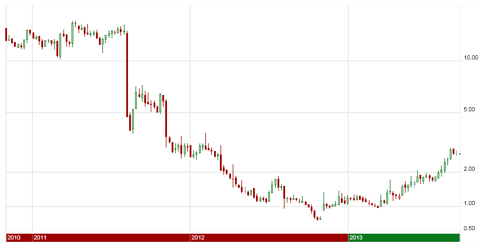 However, the share price seems to have turned around. This reflects several positive developments, including the dismissal of the aforementioned class action lawsuit, and the company's decision to focus just on water, dropping its sparkling water business.
Now the company is positioned to benefit from the ongoing secular uptrend in bottled water consumption. The fact that it operates as an oligopoly, and in some places a de-facto monopoly gives it an economic moat that is extremely wide for a company that is valued at just $65 million. It is also seeing rising gross margins which will likely bring the company to the point of profitability in the near future. Given that it has trailing annual revenues of $93 million, it will not take that big of a profit margin for earnings and cash-flow to swell in the face of the company's $65 million valuation. As the company improves its operations to make this happen, its revenues should rise with the ongoing uptrend in bottled water consumption. Just a slight rise, particularly from its bottled water sales, can substantially lift profits given the high margin nature of that business.
Ultimately at the current valuation, there is a lot to like about Primo Water, and I think the shares should be purchased on a pullback, especially if it is in response to a secondary offering.
Disclosure: I have no positions in any stocks mentioned, but may initiate a long position in PRMW over the next 72 hours. I wrote this article myself, and it expresses my own opinions. I am not receiving compensation for it (other than from Seeking Alpha). I have no business relationship with any company whose stock is mentioned in this article.