I've written many times about the importance of following a Closed End fund's (CEF) Net Asset Value (NAV) and how much more important it is really than following a fund's market price. You obviously have to keep your eye on both since a fund's market price will give you your market yield as well as whether the fund trades at a premium or discount market price but all too often, investors in CEFs seem to either ignore, minimize or not even know about a fund's NAV, and instead base their investment decisions solely on the market price and market yield.
This can be a costly mistake since as most investors know, the NAV of a CEF is its true worth, i.e. its liquidation value. Unlike the book value of a stock which will not be so reliable if the company ever had to actually liquidate, an equity based CEF's NAV is about what you would get if a fund sponsor ever announced a liquidation. It might take a week or two depending on the size and holdings of the fund, but rest assured, in the case of equity CEFs in which their holdings are mostly in stock, your financial interest is really represented by the NAV and NOT the market price. Something to think about when you buy and sell CEFs at discounts and premiums.
This was summed up in an article I wrote on August 3rd, 2012 titled Why The NAV Matters in which I said...
The bottom line is that you really only own a fund's NAV if something goes wrong unless you can sell the fund to an unwitting buyer at a premium. For many CEF investors who don't follow NAVs, this can be forgiving if the fund trades at only a slight -5% discount to 5% premium, since as far as I'm concerned, this is essentially trading at par value. It's only when funds start trading at -10% to -15% discounts or 10% to 15% or more premiums, that the valuation comparisons can start to become more meaningful.
The article also discusses the most important reasons why an investor should follow the NAV of a fund. Though I list a liquidation as a possible outcome for a CEF based on its NAV and performance, it is also one of the least likely events to happen. Nonetheless, they do happen and wouldn't you rather own a fund at a wide discount when that happens rather than a premium?
The Life And Death Of A CEF
On Wednesday, September 18th after the close, Allianz Global Investors announced the approval of a Plan of Liquidation and Termination for their AGIC International & Premium Strategy fund (NYSE:NAI), a small $108 million, international stock option-income CEF that really hadn't performed very well since its inception in late April of 2005. Since inception, NAI has paid out a total of $20.57 of distributions, the last being on September 12th, 2013. Doing some quick calculations based on NAI's inception NAV of $23.88 and inception market price of $25, NAI's total return NAV performance over the life of the fund was 31.2% and NAI's total return market price performance was 24.7% (distributions added back though not on a reinvested basis). Compare that to the total return of NAI's closest benchmark, the iShares MSCI EAFE fund (NYSEARCA:EFA), a popular broad based international ETF representing developed markets in Europe, Asia and the Far East, hence EAFE, which returned 47.8% over the same period.
However, this doesn't mean you could not have done better with NAI and even outperformed EFA if you had kept track of NAI's NAV and market price and bought the fund when it traded at a discount and sold at a premium. This is because NAI had oscillated from a premium to a discount and back again several times since inception and for those who think CEF's valuations don't change that much over time, NAI is an example of many that do. Though difficult to time, even if you had gotten close to those high and low valuation points during NAI's existence, you would have easily outperformed EFA and certainly done much better than if you held NAI through it all. This would have only been possible if you followed the fund's NAV and its relation to its market price. Here is NAI's Premium/Discount chart going back to inception.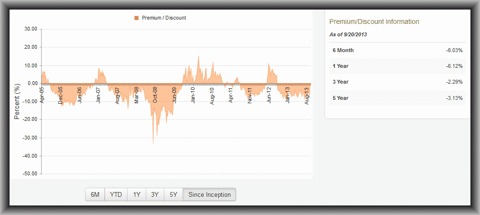 On the last spike up to around a 12% or so premium valuation in June, 2012 is when I first wrote about NAI, which you can read here, High Cost Of High Distributions, and I first warned investors that NAI would probably have to cut its distribution again or face continued NAV erosion. At the time I wrote the article, NAI's NAV yield was 16.3%, which was much higher than the 12% NAV yield that I have identified as a red flag zone for equity CEFs that would probably need to cut their distribution or face continued poor NAV performance. As a result of Allianz maintaining NAI's ultra high NAV yield, income investors were enamored with its 14.5% market yield and bid the fund up to a premium valuation once again. Big mistake.
That was the last period of time that NAI traded at a premium market price and 3-months later on September 7th, 2012, Allianz declared a major distribution cut for NAI of 31% from $0.40/share per quarter to $0.275/share. Ironically, in my article on August 3rd, 2012, Why The NAV Matters, I reiterated my warning about NAI's excessively high NAV yield and poor NAV performance just a month before Allianz actually declared the distribution cut. It was easy to see in a table I included towards the end of the article that NAI's total return NAV performance of only 1.5% YTD wasn't even close to covering its 15.9% NAV yield (shown in red in the table) and that Allianz was going to have to do something about the fund's unsustainably high NAV yield.
Of course, investors weren't aware of this and seemed only interested in NAI's ultra high market yield which was now at 15%. As evidence of how many investors don't follow the NAV performance of CEFs, NAI's market price had surged 16.3% by early August of 2012 even though NAI's NAV was only up fractionally. However, if you followed NAI's NAV then you probably would have been aware of this discrepancy and could have sold NAI during this last premium market price surge.
You then could have been in the position to buy back the fund after it cut its distribution when it fell to a wide discount of up to -11% by November. Although you probably could not have imagined that within a year, Allianz would announce the liquidation of the fund and NAI's market price would move right back up to its NAV, this is a good example of why it is always safer to buy CEFs at a discount than a premium.
NAI's Final Curtain Call
Allianz Global Investors didn't really give a reason for liquidating NAI in its press release and perhaps we'll learn more later. I'm guessing between the fund's poor overall performance and small size, it just wasn't a big revenue generator and Allianz decided it wasn't worth the trouble. Investors will receive the proceeds of the liquidation on or about October 16th, 2013 when the fund will cease to exist.
However, for investors in NAI last week, this turned out to be a pleasant surprise as the fund's market price went immediately from a -9% discount as of the close on Wednesday, September 18th to essentially par valuation at the close on Thursday, September 19th for a quick 8% gain in 24-hours. Here is NAI's 1-year total return graph which shows the spike up at the far right.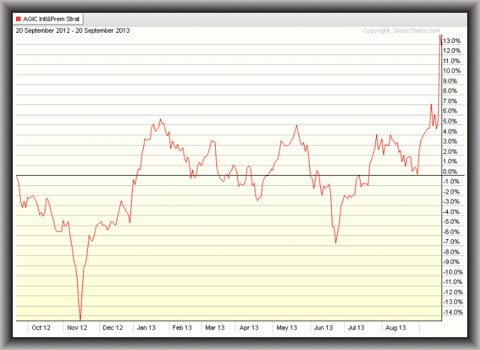 Lessons To Be Learned
It makes you wonder why investors sell funds at wide discounts and buy funds at hefty premiums knowing a liquidation, maturity or merger could be announced at any time. NAI was not a fund I owned because of its poor historic NAV performance but there is still a lesson to be learned here. Looking at the graph above, there was a 28% total return to be had in NAI over the past year if you were able to buy at the widest discount level last November and held on through the liquidation announcement. Most investors in NAI over the years were probably not so fortunate as the fund's total market price performance since inception was only 24.7%, but as is often the case with CEFs, its all about timing, even in an underperforming fund.
This is one of the great features of CEFs that other investments such as stocks or ETFs can't compete with. Timing is obviously critical in any investment, however it can be much clearer with CEFs when they become under or overvalued based on their historic discount and premium price levels. In my research, I first find the best performing CEFs at the NAV level taking into account all distributions and then I keep an eye on their historic discounts and premiums because eventually, good things will happen to funds that are performing well at the NAV level but are historically undervalued.
Even if your timing is off, and certainly CEF market prices can be prone to extreme dislocations based on the whims and emotions of investors, stick with your thesis. What's the worst that can happen if you look back on history? Back in 2008 when the financial crisis threatened the very existence of financial institutions, many equity CEFs dropped to -25% or even worse discounts. And what if a CEF fund sponsor during the worst bear market in 75 years was forced into a sale or bankruptcy and was forced to liquidate its funds? That's right, holders of their stock based CEFs would have immediately seen windfall gains of up to 25% or more as the market prices moved up to reflect their liquidation value NAVs.
Though one should never rely on a liquidation as the basis for their CEF investing, there are other ways that fund sponsors can unlock assets in an undervalued CEF. Just one year ago, Eaton Vance (NYSE:EV) announced a 10% stock buyback program for all of their option-income funds and then followed that up in November with a change in their fund's frequency of pay from quarterly to monthly. For those who have followed my articles, I had been a big Eaton Vance equity CEF proponent well before both of these announcements were made and all of their funds have significantly reduced their discounts and outperformed ever since.
I find it ironic that it would be Allianz/PIMCO that would announce a liquidation for one of their funds when they also manage the highest premium priced CEF of all, the PIMCO Global StocksPlus & Income fund (NYSE:PGP), which trades at an incredible 57.8% market price premium. NAI might fly under the radar screen and few investors will notice when it is gone but I wonder if investors would finally get the message concerning CEF discounts and premiums if Allianz/PIMCO instead announced the liquidation of PGP and investors faced the possible loss of over 50% of their investment in their beloved fund.
Disclosure: I am long EFA. I wrote this article myself, and it expresses my own opinions. I am not receiving compensation for it (other than from Seeking Alpha). I have no business relationship with any company whose stock is mentioned in this article.