Alexander & Baldwin (NYSE:ALEX), through its real estate subsidiary A&B Properties, Inc., develops and sells real estate and operates a commercial portfolio of retail, office and industrial space totaling 47 properties located in Hawaii and in eight states in the mainland U.S. A&B Properties, Inc. also owns over 87,000 acres of land primarily in the counties of Maui and Kauai.
Recently, Alexander & Baldwin made a shocking acquisition that caught a lot of attention local to Hawaii residents- the purchase of the Grace Pacific Corporation.
Grace Pacific Corporation
The company was originally founded in 1931 as Grace Brothers- providing specialized equipment and materials to the construction industry in Hawaii. The company's business expanded from the 1960s and 1970s due to an increase in construction demand and a boom in tourism after Hawaii became a state in 1959. In 1973 the business incorporated paving operations by purchasing the paving operations and hot mix asphalt plants in Halawa on Oahu and on Molokai from the Nanakuli Paving and Rock Company.
In 1984, Grace Brothers acquired Pacific Concrete & Rock, a quarry and ready-mix operator on Oahu, thus creating the Grace Pacific Corporation. The company's expansion allowed for it to incorporate a hot mix asphalt manufacturing and to become a producer of crushed basalt, limestone, and sand aggregate. From then on, the Grace Pacific Corporation was on a roll of its own- acquiring the Hawaiian Bitumuls Paving & Precast, a paving company; Niu Construction, a paving contractor in Kauai County; and SUN Industries, a provider of roadway safety products and services. This led to the Grace Pacific Corporation being a big name in Hawaii because they would be the company who would have government and private contracts to repave or repair roads and highways. Hawaii roads and highways are in such bad shape because of a combination of the materials used, the amount of cars on the roads, and labor unions, that road repairs are constant and never-ending. This makes for hefty profits for the Grace Pacific Corporation- with $545M in billings in 2012.
The Acquisition
The joint announcement from Alexander & Baldwin and the Grace Pacific Corporation of the acquisition came on June 6th. Alexander & Baldwin announced the purchase price was $235M which would be in a combination of cash and stocks. As part of the acquisition, $42M in debt would be transferred to Alexander & Baldwin's books. The transaction is expected to be completed sometime during the fourth quarter of this year.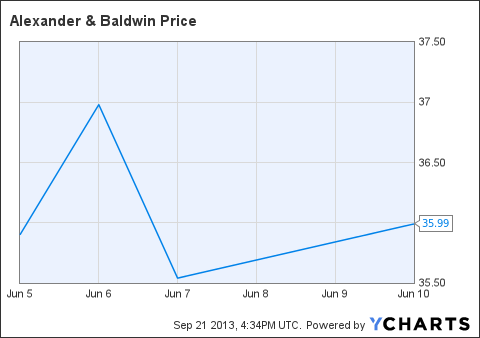 This chart shows the market's movement around the date of the announcement. As you see, during the trading day of June 6 a selloff was already taking place as the announcement was being made. The next trading day, however, saw the share price begin moving upwards.
Huge Upside
I read The New Buffettology by Mary Buffett and David Clark and one of the points in the book about what to look for with companies who go through acquisitions is that when two companies with durable competitive advantages join together, excess cash will spin off.
Looking at both Alexander & Baldwin and Grace Pacific Corporation, both have a durable competitive advantage. Alexander & Baldwin's development and sales of properties adds a good revenue stream as the cherry on top of the sundae of revenues generated from the commercial portfolio. And Grace Pacific Corporation's market position as the primary road repair service provider given the condition of Hawaii's roadways guarantees revenues.
While acquiring debt is never a fun thing for any business, just by looking at face value, Grace Pacific Corporation's revenue stream and monopolistic position in the market makes the acquisition a good investment on the part of Alexander & Baldwin that will increase revenue and will increase shareholder value in the long-term.
Conclusion
While I believe that in the long-term this acquisition will be a key to unlocking shareholder value, I don't think that anyone looking to buy Alexander & Baldwin on the news will gain any large capital appreciation until at least the first quarter after the acquisition takes place where earnings reports take into account both the Alexander & Baldwin operations plus the Grace Pacific Corporation operations.
Disclosure: I have no positions in any stocks mentioned, and no plans to initiate any positions within the next 72 hours. I wrote this article myself, and it expresses my own opinions. I am not receiving compensation for it (other than from Seeking Alpha). I have no business relationship with any company whose stock is mentioned in this article.