Utility stocks, such as electric utilities, gas utilities, multi-utilities and independent energy producers, are known as stalwarts with several ownership benefits including steady but slow growth, low beta and stable income.
With utilities granted monopoly powers by government regulation as well as operating businesses with products and services that are a necessary form of human consumption, they are a safe and reliable investment over time. When diversifying in this sector, investors often reach for the option of owning their own particular utility or purchasing utility funds and/or utility stocks they have found through research or recommendations.
For diversification purposes, a portfolio's asset allocation dedicated to utility stocks can be easily purchased through the ownership of funds. These funds include mutual funds, ETFs and closed-end funds. Each has pros and cons and there are several options in today's universe.
Utility Mutual Funds
Utility mutual funds are the old-school, original way to diversify holdings through a trusted broker. There are several advisors who manage funds that are designed well and serve a much-needed purpose in today's market.
Pros and Cons
The major benefit of owning a utility mutual fund is the no-cost option to invest additional sums of money at the investor's own time table. With no trading fees, depending on the broker and fund of course, the investor is able to automatically invest monthly, quarterly or yearly into the fund without paying trading fees. Clearly this would bode well for a saver who is years from retirement; however, it does not offer the income-investor any real benefit.
Another benefit of mutual funds is the fact that there is no spread between what the fund is worth and what the investor is able to trade it for on the stock exchange. Unless there is a load, or initial investment fee (which are trending off the investment stratosphere with U.S.-based index investments), the cost of owning the fund is limited to the management fee expense. With ETFs, the premium or discount to fund value could cost the investor a small sum; however, this is eliminated with ETFs that have a high level of liquidity. Closed-end funds, however, may trade at a large premium or discount.
The major drawback of mutual funds in general can only be liquidated with notice (generally before 1:00 p.m. E.S.T. on the trading day a sale is required), such that the investment may take longer to sell than planned. Also, if the market is trending down quickly, which is rare however possible, the stocks may suffer additional losses by the end of trading, leading to a lower redemption price. If the sale is requested at 2:00 p.m. EST on a big down-day, the closing price of the next trading day is recorded, which could be another day of mass selling in a panicked market.
Utility Exchange-Traded Funds (ETFs)
The first ETFs began trading in the marketplace in December 1998 when State Street Global Advisors created their "sector spiders," which included the Utilities Select Sector SPDR (NYSEARCA:XLU). ETFs have really taken over the index fund marketplace since, with several options and billions under management. While mutual funds are historically great options for sector diversification purposes, depending on investor needs, a utility ETF could be the best fund option.
Pros and Cons
Utility ETFs, as with most other ETFs, track an index and are not actively-managed. The investor is given a low-cost option to own a diversified basket of utility stocks. With enough liquidity, the price of the funds will not trend many basis points from their net asset value [NAV], so you will get what you pay for as you would with a mutual fund.
The downside of ETFs is that they are now allowed to use leverage, so investors must be wary of the two funds that do this and avoid them at all cost. They are both from ProShares and will be mentioned below. These options are for advanced investors only and are poor selections due to lack of liquidity, high expense ratios, unnecessary portfolio risk, small fund size and lack of competitive yields.
Utility Closed-End Funds (CEFs)
Utility closed-end funds are investments similar to mutual funds, except for the fact that they only sell a fixed number of shares. They are then traded on an exchange at whatever price the investor will pay for it. Without arbitrage or the ability to create new shares for increased investor demand, the cost of these funds will trade at either a premium or discount to NAV.
Pros and Cons
As mentioned, the premium or cost to NAV of closed-end fund purchases may or may not positively affect the investor. The premium/discount window evolves over time, such that a fund that trades at a 5% premium could also trade at a 10% discount in the future. The investor has no choice but to sell at market price when the time comes to exit the position. If a fund falls 20% in price, the capital loss can be exaggerated with a negative premium/discount evolution. Of course, the opposite is true, meaning the investor could actually make extended returns for a CEF that gains investor interest over time.
The funds also may use leverage to increase both yield and total return. This can be a great option, however, must be noted for an increase in risk to the portfolio versus non-leveraged funds such as open-ended mutual funds and ETFs.
Utility Fund Screener
When screening for funds, there are several important factors to take into consideration. For example, fund management fees should have a cost associated with the style of fund as well as its peers. A U.S. utility fund that is indexed should be as close to zero as possible, whereas a global stock fund would be closer to 0.5% as global stocks require trading on alternate exchanges, which would increase the cost of management. Also, managed funds or funds with leverage will also cost more to run, hence peer evaluation is important.
Other important selections include liquidity, as measured in average daily volume, as well as yield, risk, leverage and a premium or discount, if applicable. With all of these considerations, I rank each fund with a proprietary using all variables listed for a score of 1-10, 10 being the best option for the category. The risk rating, also 1-10, gives 1 a risk associated with investing in a U.S. utility index. Keep in mind this 1 risk is higher than a bond or cash risk and is only measured against itself. So global utilities, which offer a higher risk than U.S. utilities, will offer a higher risk ranking. Risk ratings have nothing to do with ranks in this proposal, such that a leveraged fund may be the best leveraged fund possible, earning a 10 score; however, the risk would be greater than passively investing in a U.S. index.
Also, funds that include or focus on non-traditional utilities, such as transportation and telecom, are not included in this study.
Mutual Funds
With mutual funds, there are too many options and variables to create a general investor screen. Investors should only invest here under the following circumstances and guidelines:
1. The investor seeks to build savings through no transaction-fee (NTF) funds on a monthly, quarterly, bi-annual or annual basis. Investors who auto-invest a particular amount of income, perhaps as a direct-deposit from paychecks, can build the fund for as little as $50-100 per transaction with no fee.
2. The investor operates through a broker or discount-broker that does not charge a load, transaction fee or management fee for holding the fund in the investor account. The funds alternate per brokerage, i.e. the Fidelity Select Utilities Portfolio (MUTF:FSUTX) mutual fund will cost $76 to purchase through Schwab, whereas Fidelity would not charge a fee.
3. The investor notes the fund as valuable, likely an index-managed fund with a low management fee versus peers. Also, a fund that Morningstar rates at least three stars, does not use leverage and holds over $100 million of assets in the fund are all ideal.
ETFs
Welcome to where the utility magic happens. With ETFs, the portfolio takes advantage of easy-to-purchase and liquidate, low-cost funds that offer diversification and excellent yields. For U.S. utilities, the highest ranked fund on my screener is the earlier-mentioned Utilities Select SPDR Index, which has $5.4 billion under management, a high level of liquidity and the highest yield among its index peers. See the chart below and note how the market also ranks XLU above its peers, which are the Vanguard Utilities ETF (NYSEARCA:VPU) and the iShares Utilities ETF (NYSEARCA:IDU). This is apparent via assets under management. Although XLU takes the cake here, all three funds are low-risk utility index funds that an investor could sleep well at night owning.

As noted in the chart above, only three funds with less than $100 million under management were included. The Wisdom Tree Global ex-US Utilities ETF (NYSEARCA:DBU) is only one of three pure-play utility ETFs that focuses on non-U.S. utility stocks. This was included to showcase the ex-U.S. utility option. With low assets under management, lack of liquidity and the failure to achieve at least 10% more income than the U.S. peer fund XLU, this fund is less than satisfactory and not recommended for purchase.
The two other ex-U.S. utility funds, both with less assets under management than DBU and not mentioned in the above screener, are the SPDR S&P International Utilities Sector ETF (NYSEARCA:IPU) with $28 million and the iShares MSCI ACWI ex-US Utilities ETF (NYSEARCA:AXUT) with $6 million. I applaud State Street (SPDRs) and BlackRock (iShares) for also entering this space; however, a lack of marketing and investor interest has left the ex-U.S. utility ETF space practically non-investable.
To gain global utility exposure, the iShares S&P Global Utilities (NYSEARCA:JXI) does is an option however it does include U.S. exposure. In a sense, this defeats the purpose of a global fund as XLU and VPU both offer a lower cost of ownership and a greater level of liquidity for U.S. utility exposure. JXI does have $243 under management, great leadership under BlackRock and halfway-decent liquidity with the average daily volume just over 47k shares. If this fund was ex-U.S., with over $1 billion in assets and a float of over 500k shares per day, I would rank the fund a 10 instead of 6. Management fees here are low at .48%; however, I cannot in good faith recommend owning U.S. utility stocks inside such a fund when XLU fees are .18% and highly liquid.
Also included in this screener are two leveraged ETFs, which seek to increase daily sector index performance on either up or down market days. These shares are exciting to read about and easier than purchasing option; however lack of investor interest, heightened-risk and incredibly low liquidity equate to treating these funds as you would a lion. With distance, these funds could eat the investor alive.
Note the return of the ProShares UltraShort Utilities ETF (NYSEARCA:SDP) versus the XLU over the past five years. The fund works well in a short-term bear market; however, it can be deadly if left unchecked over time.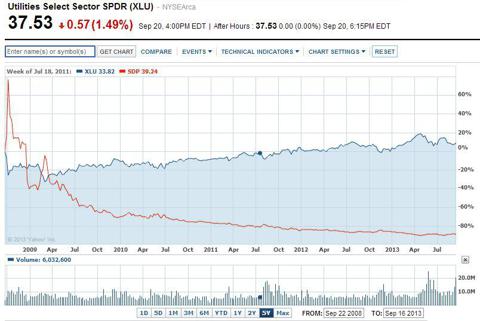 Closed-End Funds

(CEFs)
When graduating from the ETF course of investing, researching CEFs is a natural progression. These funds often trade at a discount to NAV, have excellent leadership and are leveraged for the long-term (as opposed to the ProShares daily leveraged returns). In the utility CEF world, there are a few great choices with performance and yield that are very appealing to the income investor.
A great starting point for research is the Closed-End Fund Center at cefa.com. There are ten closed-end utility sector funds screened here, with premium/discount, assets under management, top holdings and historical NAV versus premium/discount available under each closed-end fund profile.
Of the ten funds, none are utility pure-plays like the ETFs mentioned earlier. All utility closed-end funds, at the time of this writing, are mixed funds with a portion dedicated to utilities. Other assets allocations, depending on the fund, are in infrastructure, telecommunications and energy. Some are global, most use leverage and all except one trade at a discount to NAV.
Since there are no utility pure-plays, these funds defeat the purpose of utility allocation unless the investor is comfortable owning a foray of other sectors inside their utility allocation. For investors who are in search of a leveraged, utility-based fund, they are surely able to find a deal in this market. When funds trade at a discount to NAV, the benefits include a higher yield to NAV yield as well as a higher margin of safety.
Fund manager Cohen & Steers is a trusted, well-respected management company that specializes in both domestic and global real estate. Of their closed-end funds, the Cohen & Steers Infrastructure Fund (NYSE:UTF), is very popular with income-oriented investors. The fund holds nearly 36% in utilities, invests globally, is leveraged and conveniently distributes monthly dividends. UTF trades at a discount at a price of -12.83% of NAV. Over the last two years, the fund has outperformed the XLU in terms of both capital appreciation and income-generation.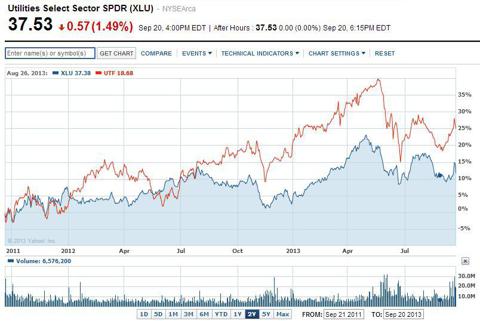 As UTF is leveraged, the fund is volatile than the benchmark XLU. The fund distributes quarterly dividends that have been stable since 2009 (UTF switched from monthly to quarterly dividends Q1 2009). The quarterly distributions are noted in the chart below.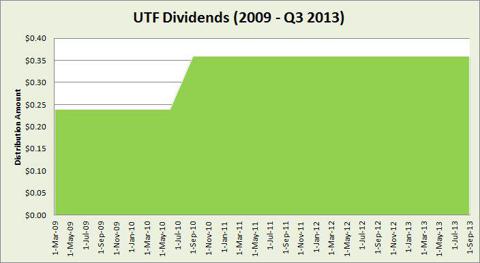 In this regard, the patient income investor who can withstand business cycle shocks is able to pick up a solid, dividend player that will distribute more income than the ordinary utility index ETF, such as XLU. At a 7.41% yield on current price, UTF is quite the appealing option to leverage up an income portfolio with utilities.

Conclusion
For U.S. investors, there are three easy and acceptable methods of adding utilities to an income-oriented portfolio. Mutual funds, which are the old-school method, are great for those seeking to build a portfolio without incurring charges on each increase in the position. For others, the safest and best way to invest in utilities is to purchase Utilities Select SPDR ETF that yields 3.9% and offers both safety and stability.
For investors seeking to leverage up their portfolio with a closed-end fund, one great option is the Cohen & Steers Infrastructure Fund. With a 7.41% yield, a solid history of stable and increasing quarterly dividends, a reputable management team, a solid level of liquidity and a discounted price of -12.83% to NAV, UTF may just add the right amount of spice to juice up the income investor's portfolio.
Disclosure: I have no positions in any stocks mentioned, and no plans to initiate any positions within the next 72 hours. I wrote this article myself, and it expresses my own opinions. I am not receiving compensation for it (other than from Seeking Alpha). I have no business relationship with any company whose stock is mentioned in this article.