We believe M/I Homes (NYSE:MHO) is an undervalued stock that is poised for 80% growth in the next 12 months. The company is undergoing a geographical shift in operating markets towards regions with stronger economic potential. We like the valuations of the company that show a strong opportunity to take advantage of the company's near future growth potential. Based on our DCF model, we rate M/I Homes as a BUY, with a price target of $36 that reflects the potential appreciation of the company as it acquires new land and enters new markets.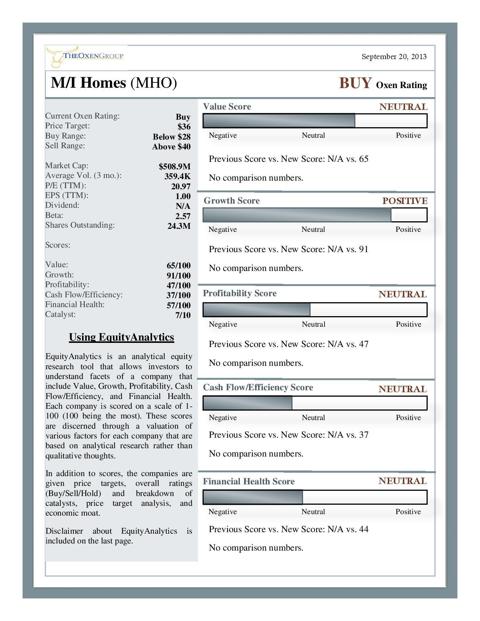 Catalysts
The key to the success of MHO in our opinion is the shift from developing homes in the Midwest to the Southern states. Texas in particular is pivotal as the company entered the Houston market in 2010 and San Antonio in 2011. Recently, the company is developing communities in Austin and planning to start operations in the Dallas/Forth Worth area. As the recent economic crisis showed us, economic indicators in Southern regions outperformed national averages in terms of unemployment and foreclosure rates. Looking forward, expanding in Southern regions is not only financially sound, but could also leave MHO less exposed to overall market driven risks.
The homebuilding segment is broken down into 3 regions: Midwest, Southern and Mid-Atlantic. The Midwest consists of operations in Columbus, Cincinnati, Indianapolis and Chicago. The recent unemployment rates for the latter states are 6.3%, 7.1%, 7.5%, and 9% respectively. The national unemployment rate as of August 2013 is 7.7%. With the exception of Chicago, all cities fare better than the national average. Turning to the Southern segment consisting of Tampa, Orlando, Houston, San Antonio and Austin, we see recent unemployment figures of 7.3%, 6.9%, 6.5%, 6.5% and 5.6% respectively. Looking at the cities of Texas alone, we see considerably lower than average unemployment rates. Lower unemployment numbers mean better job prospects for local population and serves as catalyst for local population growth.
We like the hindsight of the company. In 2009, 53% of homes delivered were in the Midwest region. We see this number drop in the last years as only 38% of homes were delivered in the Midwest according to the recent quarter. In fact, the company currently owns more land in the Southern regions at 41%, than the Mid-Atlantic (24%) and Midwest (35%). The backlog of the company gives us an idea about future revenue. Here we see a year over year 43% increase in the number of homes in backlog as well as a 53% jump in value. If we break down the composition of backlog by segments, we see the Southern region outperformed all other areas in terms of number of homes added. The Southern area backlog increased by 81%, whereas Midwest by 17% and Mid-Atlantic by 44%.
As mentioned, M/I Homes is planning expansion into Dallas/Fort Worth area as well as in Concord, North Carolina where the plan is to build 250 new homes. Year to date, MHO spent 136 million in land expansion and plans to invest between 300-350 million by year end. In order to finance this growth, the company issued $86 million in senior notes and also received a 200 million unsecured revolving credit facility and, as we will discuss later, all while maintaining adequate debt levels.
In addition to homebuilding, MHO functions as a mortgage lender as well. Financial services accounts for only 3% of total revenue, but it generates 22% of total income before sg&a expenses. Year over year, financial services revenue grew by 47% and currently retains 77% of homebuilding customers seeking mortgage financing. To put the percentages into perspective, operating income generated by Midwest, Southern and Mid-Atlantic homebuilding segments were $4.3, 3.8 and 6.1 million, respectively for the latest quarter. Financial services segment generated $4.1 million, more than the Midwest or Southern segments. Although the revenue generated is small, due to better margins, the financial services segment will continue to grow with the number of homes sold.
Valuation
Moving on to valuations, we see the company has a fair 20.3 pe ratio as we look for value around 18. A future pe of 10 tells us earnings are expected to grow and a peg ratio of 1.36 means the future growth is not factored in the current stock price. The price to sales ratio is very low at 0.56 which means the shares of the company are undervalued. The ev/sales ratio is always important when analyzing small cap companies. MHO has a low .96 ratio, which tells us the company is valued cheap relative to its revenue. The company is not only poised for growth, but might prove attractive to larger companies in its sector looking to diversify their operating segments. In this respect, MHO would be an ideal acquisition candidate.
As future growth is financed through debt, we need to analyze the debt levels of the company. The current ratio is high at 10.93 but that is due to recent land acquisitions. The quick ratio that excludes land from assets is 2.81, which means the company is maintaining optimal balance of current assets to current liabilities. Long term debt accounts for 77% of total debt. Nevertheless, the interest coverage ratio of 3.11 means the company does not run any risk of solvency.
Turning to our 5 year DCF model, for our price target of $36 we factored in a residual growth rate of 5% and a tax rate of 25%. For the current year we factor in a 200% increase in operating income as income for the first six months alone doubled year over year. We expect revenue to increase by 35% in 2014 followed by 24% in 2015. The last years we factor in between 9%-10% for each year. We assume an average of $44 million for working capital. We expect capital expenditures to double for 2013 and 2014 and increase by 50% for 2015. For the last 2 years, the cap ex will increase by 16% and 42% respectively.
Lastly, we would like to look at some potential drawbacks for this company. The greatest potential drawback to the growth of the company is any downturn in the housing market. Assuming a negative outlook on the market, tight lending standards and the recent rise in interest rates would impede the company outlook. There are still a considerable number of foreclosed homes on the market that could lower demand for new homes. However we believe MHO is at lower risk of a change in housing prices or demand for new homes due to its geographical footprint.
Conclusion
M/I Homes is, in our opinion, a high growth stock with solid upcoming catalysts that could propel the stock to our $36 price target. We like the revenue generated by the homebuilding segments and we see great potential in the mortgage service branch as well. As the company solidifies its geographical footprint in Texas, it will be able to build economies of scale and further improve on generating revenue. We believe MHO is currently undervalued and receives a BUY rating with potential for 80% gains in the next 12 months.
Disclosure: I have no positions in any stocks mentioned, and no plans to initiate any positions within the next 72 hours.
Business relationship disclosure: I have no business relationship with any company whose stock is mentioned in this article. The Oxen Group is a team of analysts. This article was written by David Ristau, one of our writers. We did not receive compensation for this article (other than from Seeking Alpha), and we have no business relationship with any company whose stock is mentioned in this article.