Last week Rubicon Associates wrote an article that brought us an overview of the data sector REITs, while also offering "reasons for liking" Digital Realty (NYSE:DLR)". Rubicon concluded that "there are better ways to invest in the space" and the author provided details of Digital's market underperformance; however, there were few clues offered as to why Digital Realty a "table pounding" blue-chip REIT on sale.
As the record shows, I have written numerous articles on Digital Realty, and the common thread in all of these articles was my consistent view of the data sector REIT as sound. Although anxiety in the shares is reflected in the price that fell from $74.00 in April 2013 to $55.13 today, the consistency in fundamentals has never changed.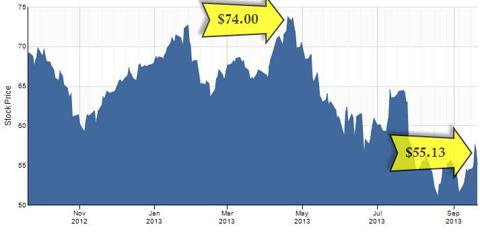 Click to enlargeIn a recent article titled, Invest In REITs With A Margin Of Safety To Reduce Risk And Enhance Returns, I did not specifically feature Digital Realty; however, I did mention Digital's "margin of safety" and reasons for classifying the REIT as a "blue chip" on sale:
Digital Realty has a current share price of $54.51 and a P/FFO multiple of 11.4x. The San Francisco-based REIT is trading at a deep discount (around 30%) suggesting that it is trading at distressed levels. Ironically, Digital's fundamentals remain sound and the demand for cloud-based data storage space remains very stable (as evidenced by an increased demand for outsourcing that should climb by 18% in 2017). Also relevant, Digital recently hired veteran analyst John Stewart (who comes from Green Street Advisors) and I believe that hire will bring added transparency to Digital's struggling management team.
A few weeks ago I decided that I was ready to put some "skin in the game" and I initiated a position in Digital (see my newsletter HERE). I wanted to wait until the second quarter results blew over and there was more clarity as it relates to the angst in the share price. I have been researching Digital for over two years and although the earnings power for the company remained strong, I knew that the "wild card" was management who often seemed to provoke an overreaction (especially after earnings calls).
The latest earnings call was no different. Digital's management team again upset the market by an untimely accounting change announcement; Once again, a market reaction driven by drama, and not by fundamentals. Here's a snapshot of Digital Realty with no anxiety attached - in other words, I did not include the price line in this FAST Graphs: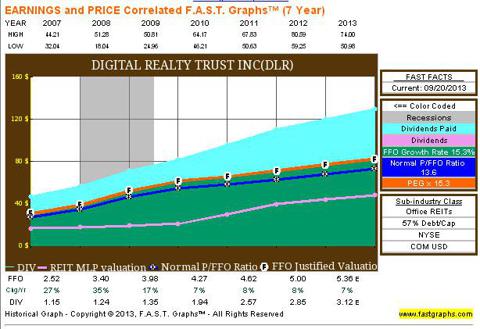 Click to enlarge
Ben Graham said that "you are neither right nor wrong because the crowd disagrees with you. You are right because the data and reasoning are right". After all, Graham argued that the present price is based on a mix of unpredictable factors, many of which pertain more to emotion and mass psychology than anything else. It was only after Graham looked at the businesses behind the securities as a prospective buyer would of the whole business that he would then begin to look at the current price to determine what course of action would be the most advantageous. Now, let's add the price line: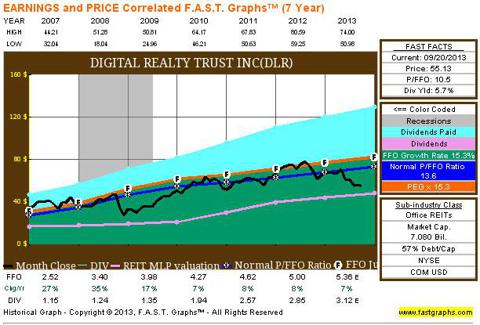 Click to enlarge
Now, I zoomed into FAST Graphs (using a 4-year history) and I added a darker pink line that illustrates a P/FFO ceiling of 15x. Clearly Digital is trading way below its normalized P/FFO (blue line) of 13.2x and as plain as day, you can see that Digital's P/FFO of 10.2x is a "table pounding" BUY.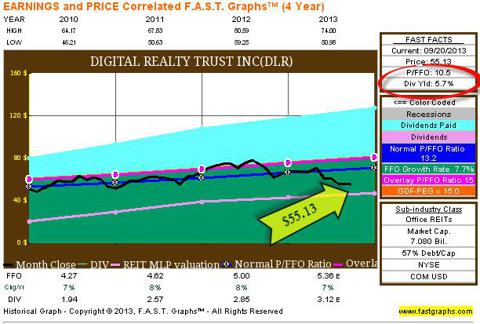 Click to enlarge
What's Missing Then?
As I have explained previously, Digital's management team has unintentionally caused a market reaction that has undoubtedly provoked investors. Although I have enjoyed the conversations with the company's CEO, Mike Foust, the market has given Digital's investor relations department a poor grade, reflected in the share price - or the "real time" report card (see my interview on The Street with Mike Foust HERE).
I was pleased to see a few weeks ago that Digital hired John Stewart to be the position of Senior Vice President of Investor Relations. According to a press release, Stewart will be responsible for directing the company's investor relations program and will report to A. William Stein, CFO and Chief Investment Officer. His started on September 9th. As the press release reads:
Mr. Stewart has over 15 years of financial services industry experience. Prior to joining Digital Realty, he led the industrial and technology REIT sector coverage at Green Street Advisors, a leading independent real estate research firm. Previously, Mr. Stewart was the lead REIT analyst at Credit Suisse. He has followed the REIT sector since 2000, formerly as a member of top-ranked teams at Citigroup Investment Research and Merrill Lynch, and he has covered Digital Realty since its initial public offering in 2004. Mr. Stewart began his career as a credit analyst with the Corporate Finance group at Bank of America (NYSE:BAC).
Mike Foust, Digital's CEO, added:
John is an industry veteran with a deep knowledge of the shareholder landscape and extensive experience in the investment community, which will add great value to our investor relations program. We are very pleased to welcome John to our team and look forward to working with him to enhance our investor communications and outreach efforts.
Following a period of transition, Pamela Garibaldi will assume the role of Vice President, Global Marketing. She will be responsible for leading Digital Realty's marketing activities in North America, Europe and Asia Pacific.
Seeking Alpha in Digital Realty
Last week I caught up with Digital's new Vice President of Investor Relations. I was pleased to see the speed in which John Stewart responded to my request for an interview and I was equally impressed with his answers to my questions:
Thomas: What is your background and what's the reason you are now involved in Investor Relations?
Stewart: I've been an equity analyst following the REIT industry for the past 13 years, and I actually covered Digital Realty for many of those years, going back to the IPO in 2004. The reason I'm now involved in Investor Relations is because the opportunity to join Digital presented itself, and I jumped at the chance. I've always enjoyed a good rapport with the senior management team, again going back the IPO, and I personally happen to think the data center sector is one of the more dynamic commercial real estate property types. I'm joining Digital at an exciting time, and I'm optimistic that I can help drive value for shareholders.
Thomas: In the September 16th issue of Barron's they reported a 3.2% increase in DLR shorting from Aug 15th to Aug 30th, to +25 million shares of the total 128 million total share float. In your opinion, was there any substance?
Stewart: Well, Digital's 2Q13 results were candidly not well received by the market, and to the extent investors were disappointed by those results, there may have been some justification for the uptick in the short interest. I clearly disagree with the short thesis, however - particularly at the current stock price - or I would not be joining the company.
Thomas: How will Digital grow externally?
Stewart: Digital has traditionally generated external growth through a combination of acquisitions and development, and has had the ability to turn the dial one way or the other, depending on where management saw the best risk-adjusted returns at any given time. Over the near-term, external growth will probably be tilted more towards modest new development starts and lease-up of recently-completed projects, rather than a large-scale acquisition program.
Thomas: How will Digital compete with the bigger companies like Google (NASDAQ:GOOG) and Amazon (NASDAQ:AMZN)?
Stewart: Digital doesn't really compete with Google and Amazon; they're in an entirely different business. For instance, Amazon's Web Service business rents space on its servers to small and medium-sized businesses. It's important to note that Digital does not own servers. We own real estate - bricks and sticks - and provide a secure environment with redundant power and high connectivity where customers can house their own servers.
Thomas: I consider Digital a "blue chip" REIT. Can you give me a few reasons to back up my argument?
Stewart: I tend to agree! Sure - Digital has an investment grade balance sheet, with a broad menu of available capital options. Digital was the first data center REIT, and enjoyed a significant first-mover advantage. We are still the industry leader, in my opinion. Corporate governance is shareholder-friendly. Our dividend is well covered, and represents an attractive yield for investors. Finally, we have significant scale, which creates numerous efficiencies.
Thomas: In your opinion, what is the biggest threat to the data sector today?
Stewart: The data center sector is just like any other business - it's not immune to the laws of supply and demand. Competition and new supply probably pose the greatest threat to the economics of this business.
Thomas: John, congratulations on your new position and for taking your time to discuss Digital Realty with me and my fellow Seeking Alpha readers.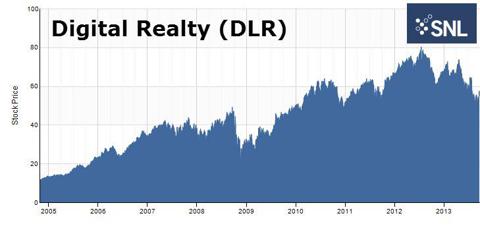 Click to enlarge
Newsletter: For more information, check out my REIT newsletter here.
Disclaimer: This article is intended to provide information to interested parties. As I have no knowledge of individual investor circumstances, goals, and/or portfolio concentration or diversification, readers are expected to complete their own due diligence before purchasing any stocks mentioned or recommended.
Disclosure: I am long DLR, O, VTR, HCP, GPT, ARCP, CSG, STAG, UMH, HTA, HCP. I wrote this article myself, and it expresses my own opinions. I am not receiving compensation for it (other than from Seeking Alpha). I have no business relationship with any company whose stock is mentioned in this article.