I have a confession to make. I basically skipped the April, 2013 Portfolio Review for my public Dividend Growth Portfolio ((NYSEARCA:DGP)). I got caught up in the excitement of the DGP's 5th anniversary and kind of let the formal Portfolio Review slide. This is a catch-up.
For those not familiar, the DGP is a public, real-money, real-time portfolio that I launched in June, 2008. It is public and transparent to demonstrate the results that can be achieved with the dividend growth strategy. Questions are suggestions are welcome, but ultimately I am the CIO (Chief Investment Officer) for the DGP, and all decisions about it are mine.
The DGP contains a portion of my actual retirement assets. Its objective is stated in its "constitution":
The goal of the Dividend Growth Portfolio is to generate a steadily increasing stream of dividends paid by excellent, low-risk companies. The numerical target is for the portfolio to
deliver 10 percent yield on cost within 10 years of inception. I am more interested in the ability of this portfolio to produce income than its sheer size.
I have written about this portfolio numerous times, most recently here: "Happy Birthday! The Dividend Growth Portfolio Turns 5". One of the guidelines I follow is to give it a strategic review twice per year. These reviews are meant to take a step back and examine the portfolio from 30,000 feet. They are distinguished from ongoing portfolio monitoring in that they deliberately bring a strategic high-level perspective.
Methodology
There is always interest in these articles about how things get done. Here is a summary of what I do at these formal semi-annual reviews:
Summarize what has happened since the previous review.
Detail what actions have been taken since the last review.
Go through each stock, position by position, and assess how that holding is doing from a performance and strategic point of view.
Establish any to-do items that result from the review.
Compute statistics for the portfolio as a whole as well as each holding.
I do this on a Word form that I have developed over the years. Here are two snapshots of that form.
Performance Summary
Stock-by-Stock Examination
The first snapshot shows the summary and review area of the form. The second snapshot shows the area where I go through the portfolio one stock at a time, examining its performance compared to my expectations, and stating what actions to take with regard to each holding.
By far, the majority of actions are to continue to hold each stock. This is a low-transaction portfolio, reflecting one of the basic tenets of dividend growth investing, namely that it is based on long-term decisions and patience.
Performance Summary
The DGP has underperformed the S&P 500 in total returns by a little since the prior review last October. But since inception, the DGP has outperformed the S&P 500 by a considerable amount. I compare the DGP to the S&P 500 for my own general interest, and because lots of readers seem to appreciate the comparison. Beating the S&P 500 - what many would call alpha - is not a specific goal of this portfolio.
The DGP's purpose is mostly about generating increasing dividend cash flow streams. If I have a benchmark for that, it is that I want the dividend stream to beat inflation, which it does handily.
Achieving the goal of generating increasing income has been very successful. This screenshot is from my website, where the DGP is updated every month.
A few notes about dividend growth.
The numbers from 2008-2012 are actuals. The dividend cash stream has increased each year as follows:

2009: +57%
2010: +15%
2011: +9%
2012: +11%
These percentage increases in the dividend cash stream are identical to the percentage increases in each year's yield on cost. Mathematically, they are two ways of expressing the same thing.
The projected income increase for 2013 is +19%. A couple more dividend increases are still expected over the rest of the year, but they are mostly done for 2013.
The projected increase for the next 12 months is +6% over 2013's projected number, but this should rise, as all of the stocks in the portfolio will probably announce dividend increases over the course of the next 12 months. Plus, the portfolio's dividend stream will benefit from "extra" dividends paid by shares that will be purchased with reinvested dividends. The Income Estimator tool that I use does not know about these future events yet, so they are not built into the 12-month projection.
I believe that I am on schedule, or a little ahead of it, to achieve the DGP's principal goal of generating 10% yield on cost within 10 years. Translated to dollars, that goal is the equivalent of saying that I want the portfolio to deliver $4678 in income in 2018, 10 years after the portfolio was launched.
Notes on Individual Stocks
Most of the 16 stocks in this portfolio are doing more or less what I want. A few have had disappointing dividend increases, such as BHP Billiton (NYSE:BBL) at 4%, Alliant Energy (NYSE:LNT) 4%, and McDonald's (NYSE:MCD) 5%. I continue to hold AT&T (NYSE:T), which has had a string of 2% increases; I may need to decide at some point whether this deserves to keep its place in the portfolio. But for now, I like its 5.2% yield.
Some other stocks delivered annual increases that were in the good-to-great range. These include Chevron (NYSE:CVX) 11%, Darden Restaurants (NYSE:DRI) 10%, Hasbro (NASDAQ:HAS) 11%, Philip Morris (NYSE:PM) 11%, and Omega Healthcare Investors (NYSE:OHI) 12%. Realty Income came through with a 19% increase earlier this year after completing a major acquisition, becoming the first stock in the DGP to crack the 10% yield on cost mark on an individual basis. Other stocks approaching that mark are Kinder Morgan Energy Partners (NYSE:KMP) and OHI.
In short, there is nothing I see that requires special scrutiny at this time except for one special situation that I will discuss next.
Intel
Intel (NASDAQ:INTC) failed to raise its dividend in August, meaning it has gone 4 consecutive quarters paying the same dividend amount. While it can be argued that an increase wasn't "due" until later in the year or even early next year (based on the months in which increases occurred in prior years), I don't see it that way. I consider its dividend to be frozen, since it hasn't been raised on more than a year.
My "constitution" for the DGP says this:
Investigate and seriously consider selling any stock for these reasons:
(1) It cuts, freezes, or suspends its dividend.

[There are 8 total reasons. None of the others apply here.]
So I have investigated and seriously considered selling INTC because of its dividend freeze. I decided to "conditionally hold" the stock for a while. The conditions that must be satisfied are:
INTC's price must not drop below a point that I would have a 15% loss on the position. That price is 20.79.
INTC must raise its dividend by the declaration of the payment due next February.
If either condition fails, I will sell INTC and reinvest the proceeds elsewhere. I am aware that lots of dividend growth investors have already sold INTC when it failed to raise its dividend "on time."
Reinvesting Dividends
I reinvest the dividends in this portfolio, but I don't drip them. I accumulate them to $1000, then buy a stock I am interested in. It could be more of a stock that I already own, or it could be a new position. Reinvesting dividends brings another layer of compounding into play, and therefore it accelerates the overall dividend growth in the portfolio each year.
The following chart illustrates the acceleration in dividend growth from reinvestments.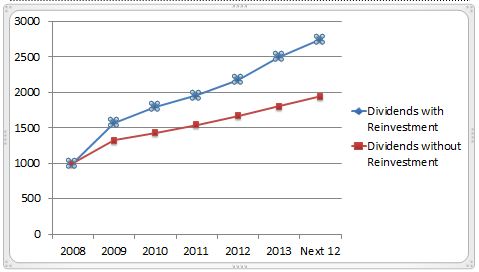 The red line shows what the portfolio's dividend growth would be at a constant rate of 8% per year, which I believe is the approximate average dividend growth rate across the entire portfolio. The blue line represents the actual income from the portfolio. Over the next 12 months, I expect to receive about 41% more income than if I had not reinvested dividends. This gap has developed in just 5 years. Because of the reinvestments, the gap should continue to widen every subsequent year.
Transactions
By its very nature, dividend growth investing does not normally lead to lots of trading. This year, there have been only 6 transactions.
Two were to reinvest dividends. In March, I bought $991 of Lorillard (NYSE:LO) with accumulated dividends, and in August I bought $1045 of PM. Both were new positions in the portfolio.
Back in February, I did some rebalancing to trim two oversize positions. Under new rules designed to increase the DGP's diversification over time, I trimmed some shares of MCD and PepsiCo (NYSE:PEP), and I used the proceeds to buy DRI and OHI. These were also new positions, bringing the number of stocks in the portfolio to 16. It used to have just 10, and I want to bring that up to 20-25 to spread risks around more than I originally had.
The next purchase with accumulated dividends is expected to take place in January. It looks like there will be three such purchases next year. As the dividend stream continues to increase, the frequency of reinvestments increases too, as the dividends accumulate to $1000 faster.
Disclosure: I am long BBL, HAS, MCD, T, CVX, KMP, OHI, LNT, PEP, DRI, LO, PM. I wrote this article myself, and it expresses my own opinions. I am not receiving compensation for it (other than from Seeking Alpha). I have no business relationship with any company whose stock is mentioned in this article.