On Friday, a new series of Clean Air Act standards were proposed by the U.S. Environmental Protection Agency, and these proposals have been met with support from those who are for the proposed changes and critique from those who are against the proposed changes.
These standards, which are intended to cut carbon pollution from new power plants in order to combat climate change and improve public health have actually allowed for both supporters and critics to agree that these regulations could be the final blow to the new and continued construction of coal plants here in the United States. In the wake of the new set of proposed regulations I wanted to take a closer look at how the revenues of Chesapeake Energy (NYSE:CHK) could see a considerable increase if such regulations were to be passed into law.
Company Profile
Headquartered in Oklahoma City, Oklahoma, Chesapeake Energy's operations are focused on discovering and developing unconventional natural gas and oil fields onshore in the U.S. Chesapeake owns leading positions in the Eagle Ford, Utica, Granite Wash, Cleveland, Tonkawa, Mississippi Lime and Niobrara unconventional liquids plays and in the Marcellus, Haynesville/Bossier and Barnett unconventional natural gas shale plays. As of August 22, 2013 Chesapeake was the second-largest leaseholder in the Eagle Ford with a total of roughly 485,000 net acres of land.
Performance and Trend Status
On Friday shares of CHK, which currently possess a market cap of $17.36 billion, a forward P/E ratio of 12.53 and a beta of 1.42 settled at a price of $26.58/share. Based on their closing price of $26.58/share, shares of CHK are trading 0.83% above their 20-day simple moving average, 7.79% above their 50-day simple moving average, and 28.02% above their 200-day simple moving average. These numbers indicate a short-term, mid-term, and a sustainable long-term uptrend for the stock, which generally translates into an aggressive buying mode for most traders. From a cash and debt perspective, Chesapeake has a total of $677 million in cash and $13.29 billion in debt on its books as of June 30, 2013.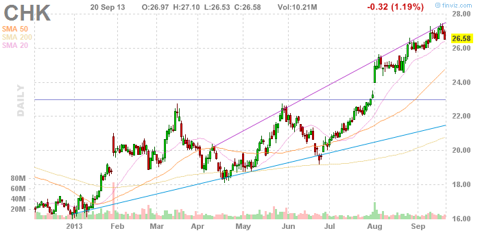 Overview of the Proposed Regulations
According to the EPA's press release, "newer, larger, natural gas-fired turbines would need to meet a limit of 1,000 pounds of CO2 per megawatt-hour, while new small natural gas-fired turbines would need to meet a limit of 1,100 pounds of CO2 per megawatt-hour. New coal-fired units would need to meet a limit of 1,100 pounds of CO2 per megawatt-hour, and would have the option to meet a somewhat tighter limit if they choose to average emissions over multiple years, giving those units additional operational flexibility. These proposed standards will ensure that new power plants are built with available clean technology to limit carbon pollution, a requirement that is in line with investments in clean energy technologies that are already being made in the power industry".
These regulations, if approved, would not only benefit Chesapeake Energy, but they would benefit the entire natural gas sector from the drillers to the service providers and down to the ancillary component providers.
How Would Chesapeake Energy Directly Benefit From The Proposed Rule Changes?
Based on the EPA's proposal, a new set of standards would require all newly constructed power plants to use cleaner technologies such as nuclear power and natural gas. Since Chesapeake Energy is the second-largest producer of natural gas here in US the benefits to both quarterly and annual revenue as well as overall growth could end up being significant.
As a result of these new proposals, Jonathan Fahey also points out the fact that, "as utilities rely more on natural gas to generate electricity, demand for the fuel will increase and prices could rise. That would mean more revenue for domestic natural gas drillers such as Chesapeake Energy".
I strongly believe that by considering the company's recent average quarterly revenue of $3.655 billion over the last four quarters and coupling those numbers with a conservative impact estimate of 10% as a direct result of the proposed EPA rule changes, I see no reason why Chesapeake won't be generating average quarterly revenues of near $5 billion and annual revenues of $16 billion by the end of 2014.
Conclusion
When it comes to those who may be looking to establish a position in Chesapeake Energy, I'd continue to keep a watchful eye on a number of additional catalysts. In this instance, I'd keep a closer eye on the proposed regulatory changes which were introduced on Friday as any indication of their passage and subsequent implementation could translate into higher, more sustainable revenues for Chesapeake over the 2-5 years in the very least.
Disclosure: I am long CHK. I wrote this article myself, and it expresses my own opinions. I am not receiving compensation for it (other than from Seeking Alpha). I have no business relationship with any company whose stock is mentioned in this article.