Our article last week highlighted the coming rollout of BBM apps for Android and Apple IOS phones which may hold promise for BBRY. Our feeling now is that BlackBerry (NASDAQ:BBRY) CEO Heins must fall on his sword for this to materialize. Three big headlines have surfaced since we wrote: 1. Friday's pre-release of a "kitchen sink" $950 Q2 loss. 2. A botched BBM rollout over the weekend. www.trustedreviews.com/news/bbm-for-ipho... 3. The WSJ report on BlackBerry "Jetgate in Waterloo". Here are some excerpts:
Canadian smartphone maker BlackBerry Ltd., BB.T -16.08%which on Friday said it was set to post a loss of almost $1 billion for the quarter ended Aug. 31 and slash 40% of its workforce, only two months ago added a larger plane to its corporate-jet fleet. ...

The company purchased a 2006 Bombardier BBD.B.T -0.63% Global Express in July, ...

"Earlier this year the company decided to sell both [Dassault] planes and replace them with one longer-range aircraft," company spokesman Adam Emery said in a statement. "The company considered several options and selected a used Bombardier aircraft, which was eventually delivered in July," he said. ...older Dassault jets were spotted in Europe as recently as early this month, including on a flight to Marseille, France.
Sorry Thorsten, but in our opinion, three strikes and you are out! We posted this picture over the weekend: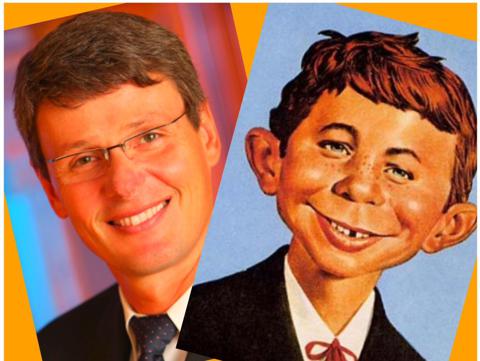 We think after this past weekend's 3 faux pas (that we know of so far), the picture has many additional meanings. It also marks the must exit of Thorsten Heins. We think it's actually appropriate for him to voluntarily resign and forgo his severance package, but perhaps keep his shares in order to call upon him for needed information as the company changes guard. One question that begs to be asked: where are the insiders' Prem Watsa, with 10% of BBRY, founder Mike Lazaridis with 5.7% and Primecap Management Company with 5.1% and Viking Global with 14.062 million shares? Prem Watsa resigned from the board in order to pursue a deal with the company and avoid conflicts. Mike Lazaridis is rumored to be mulling a bid. Where is Primecap and Viking Global. Are they not madder than ... ? Here is what we think a long can do to mitigate this fiasco: sell in the money calls, preferably the $5.00 calls which is an important threshold because it is where the projected cash on BBRY's books equals its market-cap. It also is the price where institutions watch out for as many need to sell shares below $5. Clearly this is a price the shorts in BBRY are eyeing as a target to get the price of BBRY below. We also are wondering if that is the price that both Mike and Prem are eyeing for a lowball offer to take BBRY private. Either way it's the price to watch for as we see this continued saga unfold. Thorsten, it's time to pack your bags.
Disclosure: I am long BBRY. I wrote this article myself, and it expresses my own opinions. I am not receiving compensation for it. I have no business relationship with any company whose stock is mentioned in this article. But will be selling calls to capture the volatility in this name.